In Memory of Esther Blum z"l
On the first day of school this year, Rabbi Shawn Fields-Meyer took a photo of a group of friends sitting outside her office, smiling beneath their masks, happy to be together again.  "And right in the middle of this group of people was Esther," Rabbi Shawn recalled. "That snapshot for me is part of how I see them: a magnet for others; someone who was engaged and welcoming and wanting that connection."
On Wednesday, November 3, the Milken community received the tragic news that Esther Blum, 16, had passed away. To their friends, classmates, and teachers, Esther, who used they/he pronouns, was known for their impactful presence, endless creativity, and infectious happiness that helped everyone else find joy in the monotony of their own lives.
Esther had an immediate impact on those around them and an undeniable presence in and out of the classroom. "I felt [Esther] in my heart," Ms. Benperlas, Esther's Hebrew teacher, said after just one month of teaching them. 
Ms. Guth, Esther's history teacher, said that despite being a quiet student, Esther "always [participated] at the right moment, when the conversation was stuck, or a new perspective needed to be brought in." Esther spoke when they had something valuable to contribute, able to singlehandedly shift the conversation in a new direction when teachers needed it most.
"Esther brought great questions to class discussions," Rabbi Shawn said. "They took everyone else's comments seriously and took learning and exploration really seriously." Esther's contemplative nature played well in an environment like Beit Midrash, where the class engaged in theological discussions. "Esther was creative and thought about the world through a lens of exploration and careful possibility." They weren't afraid to explore things deeply and find new ways to look at life.
Rabbi Shawn recounted one assignment she gave to her ninth-grade Beit Midrash fellows in which students focused on a specific question regarding a Torah verse, and analyzed their thoughts in the form of spoken word poetry. "Every student finds something meaningful to them, but then they turn it into something edgy and thoughtful," Rabbi Shawn said. "Esther was a person who was drawn to that — to the serious study and the creative aspect of the piece."
Their poetry was "powerful and fascinating as an exploration of eternal questions through a modern lens," Rabbi Shawn noted.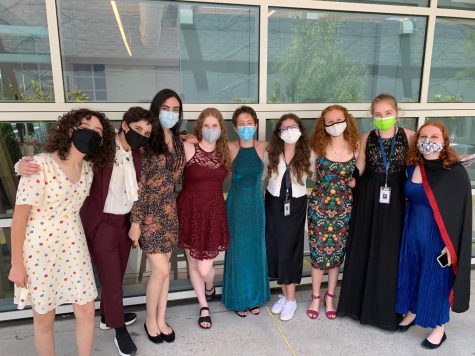 During their sophomore year, Esther became involved in Creative Writing, where they really opened up by demonstrating their feelings through deeply personal poems and other artistic writing pieces. As Creative Writing teacher Mr. Moran put it, "they expressed themselves eloquently and beautifully."
But Esther's presence in the Creative Writing class wasn't just about their writing. During one virtual workshop of Esther's poems, they caused the entire class to erupt with laughter. Though Esther was muted, "their camera was on, and they were just bouncing all over the square in the Zoom room with wild gesticulations, quite clearly yelling back at us as we were critiquing their work," Mr. Moran recalled. "It was just so charming and interesting. I told them afterwards that they needed to start a YouTube reaction channel." Moments like these made the class enjoyable for everyone, even in the dreary virtual environment. Esther always made the people around them smile.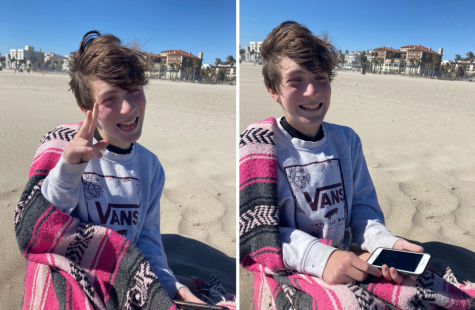 One cold 60 degree day in June, Esther visited the beach with a few friends for their birthday. "I didn't think we'd go in the water," Ayla Kattler '23 recounted, "but [Esther] said, 'Of course I'm going in!' and they ran in, and swam as far out as they could."
Ayla continued: "The wind was whipping sand at us, but they just had so much joy for the ocean, and for just enjoying life and immersing themselves in it as fully as they could. I think that was really emblematic of their spirit–so loving, so open, [and] so contagiously joyful."
Whether playing guitar, surfing, or dancing with Milken's Israeli Dance Company, Esther was always ready to jump into things and look for adventure wherever they could find it. "They always looked a little embarrassed when they were dancing… because they knew how good they were," Ayla said.
Through their participation in the singing ensemble Kol Echad, last year's spring play "She Kills Monsters," and the Sketch Comedy Club, Esther demonstrated their remarkable spirit on stage. "They weren't someone who came in and demanded a lot of attention, yet still had a real presence once they took the stage," Ms. Figoten, the theater director, said.
Throughout their time working together, Ms. Figoten noted that Esther was very self-assured. Esther "seemed comfortable on their own path and their own journey, and had a perspective that was different than everyone else— a singular point of view."
Reflecting on Esther's confidence, Ayla said, "Esther was someone who felt very comfortable saying no. I think it's representative of how sure Esther was in himself: their comfort in their own skin, their knowledge of their abilities, their strengths, their weaknesses, and just the knowledge that they could move through the world knowing who they were."
May Esther's memory be a blessing.
View Comments (2)