Running Late: Milken Clamps Down on Late Work
"My teacher only collects assignments on a specific day of the week," Seth Cohen '23 explains.
After a few classes, Seth accumulated five assignments that had yet to be turned in. As he ripped out the pages, he mistakenly handed in all but one assignment, leaving it sitting alone in his notebook. When Seth checked his gradebook the following day, he saw the big red letters on the top of his assignment center: "MISSING – 50%." Seth quickly rushed to his teacher's office and turned in the remaining page. But when he checked his gradebook again, the grade had stayed the same. "Why bother putting in the effort… if it doesn't change the grade?" Cohen wonders.
On January 7, 2022, after years of changing guidelines, the Milken administration officially announced another shift for the practice policy: Rather than accepting work up to a week late, assignments "must be turned in on the assigned due date. If practice is not turned in by this time, 50% will be entered in the gradebook." While some teachers have been hesitant to make this change, others have adopted the new policy with open arms.
In 2020, at the height of the pandemic, the Milken administration was looking for ways to reduce student stress. As a result, they implemented a new late-work policy. Students could turn in assignments throughout the entire duration of a unit, prior to the unit's assessment, and be given full credit. However, many students were unaware of this policy change. According to teachers, those who were aware only used it when absolutely necessary and generally turned in assignments on time. This privilege was viewed as a safety net, and not as a consistent routine.
Dr. Dooley, a 9th- and 10th-grade History teacher, said that she experienced 90-98% on-time completion that year. Ms. Kattler, a Jewish Studies teacher, and Mr. Rudajev, a Math teacher, said that the vast majority of their students would also turn in work on time.
However, returning to school in person relieved the need for this lenient policy.
So, in 2021, the administration issued an official communication declaring a new policy for the upcoming school year. This year, students would be able to turn in their work one week past its due date for full credit.
The policy was so clearly communicated to students that the due date for practice work felt optional. Naturally, students began to utilize the policy as a method of relieving stress and managing assignments, rather than as a backup option for when an assignment couldn't be completed.
As a result, Dr. Dooley explained that her on-time completion rate went down to about 50%, "which as a History teacher is really difficult because I'm assigning homework assignments for the day's learning," she said. When students do not complete their assignments by the due date, in-class discussions suffer. This phenomenon, according to Dooley, "took away from conversation in the classroom because about half the class wasn't prepared to have that conversation."
By the end of the one-week threshold, Dr. Dooley says she only received about 75% of the assignments, "which is far lower than my typical 90-95%." Even with the ability to turn in late work for equal credit, roughly a quarter of Dr. Dooley's students failed to submit their assignments. "My assessment scores were far lower this year than they were in the past […] because students simply weren't doing the practice assignments that were helping them prepare for the assessments," Dr. Dooley said.
According to Mr. Kiley, a Division 9/10 learning specialist, students "were getting a little too comfortable with that week-long window."
While many teachers struggled to keep track of assignments being submitted late, some were unbothered by the extra workload. "I'll do it… we have time," Mr. Rudajev explained.
Other teachers found the added workload more difficult. "It's quite impossible, particularly with the amount of students that we have," Ms. Kattler said.
Mr. Lindsay, the Head of Division 11/12, explained that the teacher feedback was the sole reason behind adjusting the policy going into the second semester. "Students are the ones living it, and the teachers are the ones seeing [the] firsthand impact of it," he stated. The cycle of practice to assessment was breaking down, according to teachers, because students weren't successfully completing their work.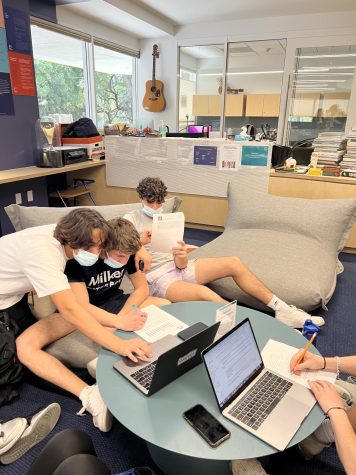 "Mid-year shifts are tricky," Mr. Lindsay noted. Although the administration was hesitant about changing the policy between semesters, they ultimately made the switch because of the sheer amount of teacher feedback.
While the new policy has resolved some issues, it's also created entirely new ones.
Though the administration has been in the process of adopting the standards-based grading system — which grades a students' comprehension of class material, rather than non-academic factors like class behavior, participation, and punctuality — the changes to the late work policy seemingly betray this goal. Mr. Lindsay, however, stresses that changing policy is usually a two- to five-year process of iteration, trial, and error. The administration felt that teachers' voices took precedence over following this pure standards-based policy.
While teachers were initially supportive of the policy change, some have noticed that although students are turning in homework on time, the quality has decreased. "I think students are feeling rushed, or maybe they don't feel like it's worth their time to put in the effort," Dr. Dooley says.
Under the new policy, assignments turned in late receive a 50% credit. However, missing assignments also receive a 50% credit, regardless of whether they're ever completed. Once a student misses a due date, there is no numerical incentive to complete the work.
"I'm worried that if a student misses a reading assignment, they just aren't going to do it, which is going to snowball and potentially impact them on the assessment," Dr. Dooley said.
Other teachers take issue with the lack of repercussions for missing assignments. "I think there should be some sort of penalty for turning it in late, and then I think there should be an even harsher penalty for not turning it at all," Mr. Rudajev explained. "Why should it only be binary: 50 or 100?"
As Milken moves toward more progressive grading reform, the administration has run into some growing pains. After three policy changes in only two years, one can only wonder what's next for Milken's late work policy.
View Comments (1)