Milken Freshman Daniella Mani-Chaim: Creating Art One Rubik's Cube at a Time
It all started with a love for sneakers and art, which later turned into a Rubik's Cube business with over 25,000 followers. "Just a 14-year old girl creating art one cube at a time" is how Milken freshman Daniella Mani-Chaim describes herself in her Instagram bio. And that's exactly what she does. About a year and a half ago, Mani-Chaim created @iamthecubist and continues to wow people daily with her incredible and massive creations.
After walking into her uncle's house and seeing a cool, pixelated art piece on the wall, Mani-Chaim was inspired. The idea of creating artwork from Rubik's Cubes came to her mind. "I told my mom to buy me 1,000 Rubik's Cubes," she insisted. It took a month of pushing and convincing, but it was all worth it in the end for Daniella to create artwork for others. Mani-Chain now has 100,000 Rubik's Cubes in her home and continues to bring her imagination to life.
One of Mani-Chaim's most popular pieces is a large portrait of Kobe Bryant. Since most are big fans of Bryant, Mani-Chaim created her own version of his portrait. She included multiple colors and found a way to deliver all the necessary shadows and details through Rubik's cubes. She places the cubes in a formation to make it appear as if the artwork is pixelated, similar to the artwork she viewed at her uncle's house.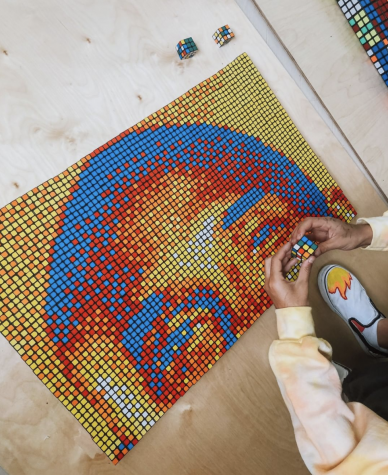 Mani-Chaim says her artwork is mainly geared towards "everyone." Her work is so creative that it is not guided towards any specific person but rather anyone who loves unique and creative pieces. Daniella works on custom pieces all the time and has the ability to graph out a photo on her computer, send the final result back to the customer, and begin the construction process.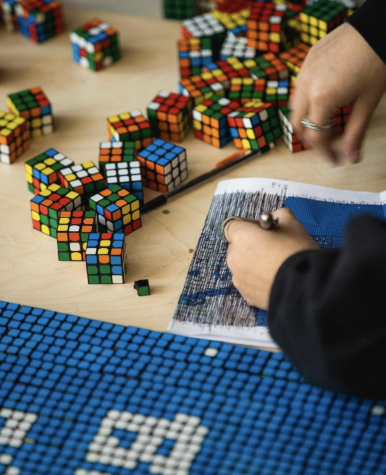 Daniella's pieces are extremely thorough and appear to take an extensive period to complete. Daniella says each piece takes around "15 hours in total" and that she sticks to a "specific process for her projects." She said that she starts out with just the picture and graphs it out on the canvas she intends to use. After she has planned it out meticulously, she begins solving Rubik's Cubes and placing them in their designated regions. Mani-Chaim pointed out that she "never seems to run out of cubes" because she has an estimated 100,000 cubes at her house. She also professed that she was not some sort of Rubik's Cube master as she can only solve one in around 40 seconds; many would see as masterful. Once all Rubik's cubes have been solved, placed, and attached, the piece is delivered to the client.
While scrolling through Daniella's Instagram, it was apparent that a large portion of her work was celebrities and cultural icons. Mani-Chaim said that she enjoyed making these and that she has always liked incorporating important societal figures in her artwork. She also says that these styles are popular among her clients, and they request certain people to be depicted in the piece. Mani-Chaim has also found a way to incorporate her love for sneakers into works of art.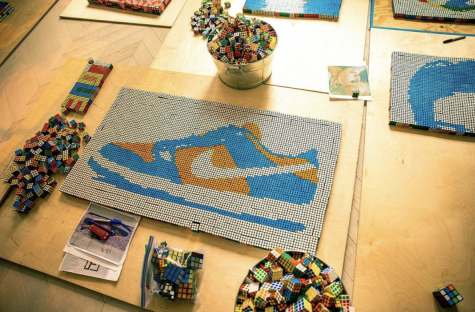 In mid-April, Chaim walked into the New York City-based contemporary clothing company, Alice and Olivia, in Beverly Hills. She was wearing a shirt with the words "The Cubist" across it. The cashier became interested and spoke to the manager. A few days later, she received an email about a possible collaboration. 
Not only was Mani-Chaim able to display her artwork in their Beverly Hills location, but with each purchase from the store, customers were entered in a raffle to get the chance to win an art piece by Milken's very own artist. 
"Follow your inspiration. Push through, and anything you imagine will happen"- Daniella Mani-Chaim.