The Prince St. Pizza Diet: NYC's most Famous Pizza Shop is Now in LA
"LA water is trash… I don't even wanna shower in it," said the enthusiastic worker behind the counter after I inquired about the silver water filter labeled "New York Watermaker." To my surprise, I learned that this water is shipped from New York to Prince St. Pizza in Los Angeles, to strengthen the gluten in the dough and thus achieve pizza perfection. Who knew New York's own tap water was the secret to making the best kind of pizza dough?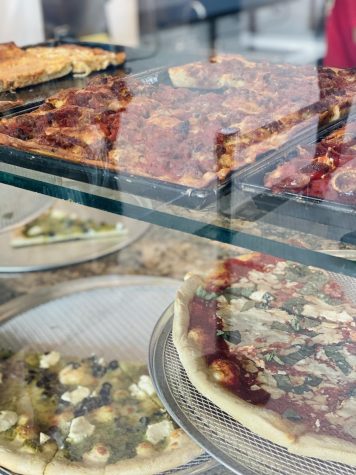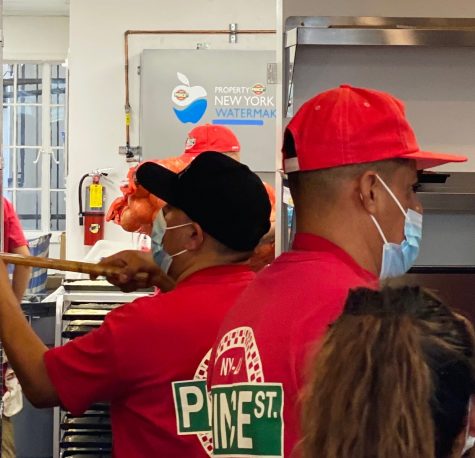 On November 14, 2020, Los Angeles welcomed New York's most beloved pizza place and truly no other square can compare. It is hard to miss the long line of hungry customers on 9161 Sunset Boulevard, wrapping around the small shop with a dark green sign and large gold letters, which reads Prince St. Pizza.
This family-owned restaurant, which opened in 2012, has fully taken over New York, making their pizza one of "The absolute best slice(s) of Pizza in New York" according to Grub Street. Famous for their square slices, Prince St.'s most popular flavor is their "Spicy Spring" made with homemade spicy sauce, thick pepperoni, curly cuts, and fresh mozzarella. Second to the "Spicy Spring" is "The Madhappy" square, made with homemade spicy vodka sauce and fresh mozzarella. "The Madhappy" does, in fact, have pork inside the sauce, but no worries, Prince St. does not leave those who are vegan, vegetarian, and Kosher hanging. They also offer "The Mercer Margherita,"  "The Green Machine," and surprisingly, a Vegan Pie.
When Milken student Bella Melamed '22, visited the pizza shop with her brother, the line did not appear to be very long at first. However, to her surprise, "It ended up being the longest wait ever." Four hours later, Melamed finally made it into the shop, ready to get her slice. To her dismay, she was told she had to wait another hour. Ravenous and tired after four hours of waiting, Bella Melamed and her brother were finally able to indulge in the layers of soft bread and creamy cheese. "I took a bite, and oh my, that was well worth the wait," said Melamed.
After seeing mouthwatering photos of pizza all over my Instagram feed, I had the opportunity to try out the famous spot a week after opening. Unlike Melamed who waited for hours, my friend and I waited for roughly 25 minutes in the socially-distanced line, smelling the delicious aroma of warm bread and tomato sauce. A connection easily formed among those who waited in the line as everyone was there for the same reason: to indulge in pizza heaven.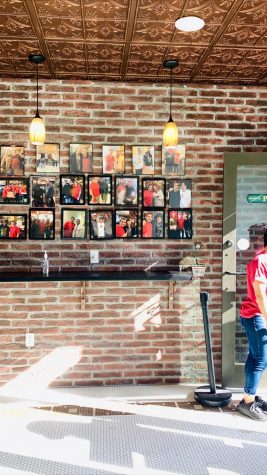 Madhappy, a lifestyle and clothing brand, even collaborated with Prince St. Pizza to create trendy T-shirts, hoodies, and crewnecks with Prince's red and green logo. The Pizzeria members were wearing these colorful colored T-shirts, giving the shop a fun vibe.
As we got to the glass counter, I analyzed the wall of celebrities who have visited Prince St. from the likes of David Dobrick, Lil Yachty, Josh Peck, and The Kardashians. It was clear that we made the right decision. If they all loved it, hopefully, we would too.
When the employee brought my friend and me our slices, which were bigger than our faces, my friend complimented the T-shirts stacked on the table next to us and the staff generously gave them to us for free.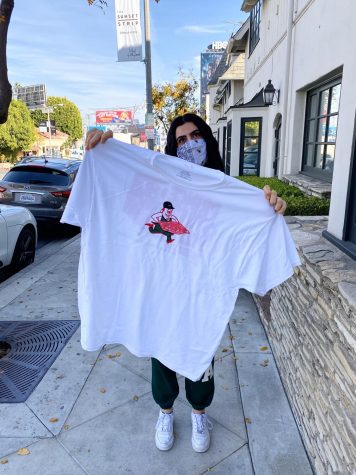 Even better than the look of the shop, was the pizza, of course. I ordered, "The Madhappy" and the delicious pesto-sauced slice, "The Green Machine," made with mozzarella cheese, and olives. They certainly did not disappoint. "The Madhappy" had a thick and crispy crust with the creamiest spicy vodka sauce. This square was definitely worth the hype and my friend, Leila, quickly agreed. She got the same two slices as well as the meaty "Spicy Spring." For those who eat pepperoni, this pizza's crust was "crisped to perfection" according to Leila. However, she found the pepperoni pieces too oily and salty for her liking.
Disregarding the pepperoni mishap, Leila and I sipped on our diet cokes and devoured our pizza squares in our brand-new Prince St. T-shirts with smiles on our faces.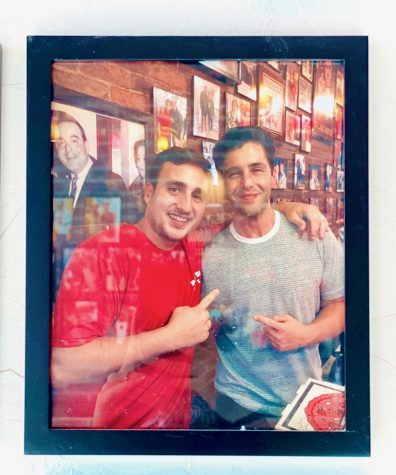 Prince Street Pizza is here in Los Angeles and is here to stay! Whether waiting in line, picking up, or ordering for delivery, I certainly recommend grabbing a slice to try for yourself.