Taking Responsibility for Injustice Through Areivut Week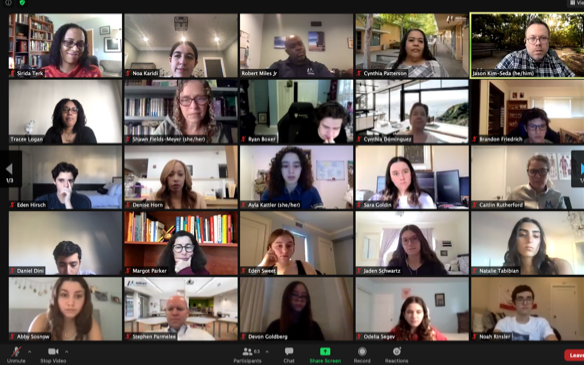 This year was the first time that a non-binary Persian speaker has come to speak at Milken Community School. Milken's Genders and Sexualities Alliance, Feeling Colorful Alliance, and Persian Culture Club united to bring Matthew Nouriel to speak as a closing Arievut Session. Norah Soormaghen '26, who attended the presentation by Nouriel, felt this was incredibly powerful because she was "hearing someone's story who is in [the LGBTQ+] community and is Persian and talking about that." 
Matthew Nouriel is the drag queen The Empress Mizrahi and a non-binary Persian digital activist and content creator. They came to Milken to discuss the intersection of their Jewish, Persian, and non-binary identities. Nouriel spoke about their journey coming out as gay to their Persian family and the negative reaction they received, using drag as an outlet to cope with that reaction, and then finally coming out as non-binary and the way their mother supported their gender identity. 
While Norah Soormaghen is not a member of the LGBTQIA+ community, she felt deeply connected to the experience of being raised by Persian immigrant parents. She was ecstatic to have the opportunity to hear about the experience of someone in the Persian community trying to find the balance between their identities and finding the outlets to cope when the balance did not work. 
The Areivut Week programming at Milken Community School which brought Nouriel to campus is a week that involves guest presentations, student and faculty panels, and presentations all with the goal of Areivut—taking responsibility for the self and others, which is one of Milken's core values. The goal of these programs is to create a space for education, reflection, and action on issues of diversity, equity, and inclusion through optional lunch-and-learn sessions hosted by faculty and students. Many English and Jewish Studies Classes required students to attend one session minimum from the many options in order to obtain credit for a practice assignment. This year had over 20 sessions on topics of race, ethnicity, gender identity, antisemitism, neurodiversity, and human rights (with focuses on different communities). 
There was also the recent addition of an Areivut day in which the entire school had classes switched for Areivut learning either in the beginning or second half of the day. Sadly, while there was a group of students who vocalized a desire to be able to attend every session, many only attended for the credit and some did not even attend Areivut day which was mandatory. 
Rabbi Shawn Fields-Meyer, 11-12 Division Rabbi, says, "Our exploration of the strength that comes from diversity is another way we have grown the program while keeping our goals." She is referring to the program's expansion from 14 sessions mostly focused on racial diversity to over 20 sessions bringing in alumni, organizations and more in a wide variety of ways. 
As part of Areivut week, Milken had a neurodiverse journalist speaker as well as a session on the history of 504 and disability rights which was the first time having a session focused on physical and neurodiversity. 
Leah Soormaghen '26 attended the Latine (the more gender inclusive and linguistically correct term for Latinx or Latino) teacher panel and she feels that it was a great experience because "you don't really think about teachers and the experiences that they have had." She feels that by hearing that she gained a lot more respect for her teachers and "I felt closer to them knowing where they come from and what their background is." 
Sara Goldin '23 also attended the panel and she felt that the most impactful part was learning how "teachers who we do not tend to perceive as Latine because of the color of their skin are actually so deeply rooted in their culture of being Argentinian or being Mexican."
Goldin loved the Asian American Pacific islander (AAPI) Panel since she came in with very little knowledge of the culture and diversities within the AAPI community and felt that "it gave me such insight into the beauty of that community and the asian continent as a whole because there were so many different perspectives of what it means to each of them to be a part of that community." As a whole Goldin believes the lunch-and-learns are a great source of education specifically because "they are your teachers, they are your friends" who are leading and participating in these panels "and you are learning about the beauty of who they are [because] they are willing to be vulnerable and share that."
The idea of having an Areivut Week started in the end of May 2020, at the height of Covid, with George Floyd's murder. Everyone in the country was talking about the questions that emerged from his death and larger cultural questions about racial diversity. Rabbi Shawn said, "There were realizations by many different parties that in the midst of this national conversation and crisis there was a profound invitation or opportunity for us to deepen our learning as a community." Milken faculty and alumni wanted to be able to respond in a proactive way and they finally gathered in a meeting with students, faculty, alumni, parents and more at the end of June to organize the first Areivut week to take place in the following school year. 
 The original goals were learning and reflection on not only what is happening in America as a nation but how that intersects with our own community and identities. According to Ms. Sirida Terk, Coordinator of Diversity and Inclusion, the goals of the program are "education, reflection, and activation but the main focus in the first year was reflection," however this year the focus is on education as well as "developing an awareness of and an appreciation for the diversity that occurs here and the contribution that diverse groups of people bring to the broader community." 
According to Mr. Beau Lindsay, 11-12 Division Head, this is an opportunity "to remind everyone that as a nation, a city, there are massive issues we have a lot of work to do on." The Areivut program expands to translate learning into action on "social issues we are all grappling with."
Mr. Lindsay says that the biggest change to the Areivut programing is canceling classes on Wednesday for career discovery and for intensive learning around diversity and inclusion that is more than just a lunch period. To culminate Arievut week, students gathered for a town meeting to hear a senior sermon from Ayla Kattler framed the week as well as Ms. Terk "working with student leaders to have share-outs and then break up into student-led workshops."
After the week was over, Rabbi Shawn sent out a form to students asking about their experiences. "A lot of students indicated that they wanted to take every session and that it was hard for them to choose just one," Rabbi Shawn explained. With the richness of opportunities, it was a struggle to choose which lunch-and-learn to attend from the many options. Many students were challenged by year-long lunch programs, such as Global Beit Midrash, Yozma, clubs and more, asking them to skip the Areivut sessions for a previous commitment they made.
This contrasts sharply with the amount of people from the 11/12 division who attended Career/Diversity and Inclusion training day. The 11/12 division had their first half of the day dedicated to career day, like usual, in which they listened to alumni panels. The second half of the day was dedicated to the new addition of attending Diversity and Inclusion sessions. The first session was run by an organization outside of Milken that was brought in while the second was run by someone within the community. The idea was to utilize this time to connect the idea of preparation for careers beyond Milken with helping students to understand the diversity they will be interacting with outside of Milken. To create a space in which students can hear from experts in areas that are relevant to their future lives. Mr. Sean Herstein, Jewish Studies Teacher & Division 9/10 House Leader, said that this is "expanding the scope of the day from 'let's meet people …[different] types of careers you might be interested in.'" It also explores what it means to have a job and "how these issues might impact the way you choose where you want to work, what you want to do." Finally, these additional experiences bring awareness to what students may "encounter in the world" after having graduated high school.
View this post on Instagram
Austin Cefalu '24 stayed to attend the Areivut events and he went to the session on "Calling In versus Calling Out," hosted by Ayla Kattler '23. He feels that this was his favorite session of all of the programming done for Areivut week. It discussed different ways of addressing bigotry that a person experiences first hand. For example, if a family member says an insensitive comment "you can call out, rebuking them publicly, or you can call in, off to the side, asking why they said that, what they think it really means, and explain to them what it really means." This is a way of creating a safer, more comfortable environment for everyone without breeding hatred in the process. As a whole, Cefalu's takeaway was "that the world is a lot more complicated than people really assume on face value and it takes lot of personal effort as well as community [effort] to try and resolve issues."
However, of the 140 seniors at Milken, only 70 attended career day this year. As the day's scheduling switched from Career panels to Diversity and Inclusion panels, a sea of 11th and 12th graders were seen walking up to the flagpole with the dismissal slip in their hands. Of the around 270 students, 100-130 had other 'obligations' at that time despite career day being a mandatory experience for students to graduate. Ms. Terk, Ms. Wendy Ordower, and Ms. Carolyn Camras are working with the providers of some of the sessions to create a second opportunity to complete this mandatory experience. In the original experience there were over 13 different options per session in order to provide everyone a space in which they felt interested. Sadly, this range of options will not be possible to replicate as largely for those missed on the primary opportunity. Dr. Sarah Shulkind, Head of School, found the addition of Diversity and Inclusion in Career Enhancement day amazing, however in terms of the attendance she wants us to really contemplate why so many students chose to miss the Areivut workshops.
View this post on Instagram
When the 11/12 divisions were in Career/Diversity and Inclusion Day, the rest of the school spent half the day focused on Areivut. Grades 9/10 attended sessions learning in a more traditional and artistic format, about concepts of responsibility. For example, 10th grade focused on the power of language and how language can be very insulting and traumatizing. And given the power of words, what is their responsibility to others even if they find the words funny or don't feel hurt by it. They learned about still being responsible with their words through ethical use of speech because phrases like "that's gay" suggest that it is acceptable and allowable to use these phrases in Milken's community. Their artistic activity was exploring how identity is not just who you are but how you want to be seen and what you want to leave behind through decorated masks in ways that would represent their identity.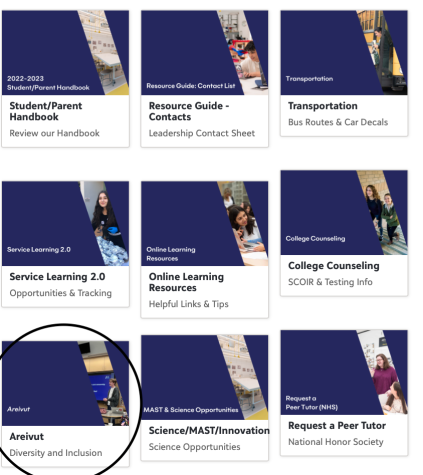 While the program is still expanding and finding areas of growth, it has evolved a lot in the past three years. Many students want more social justice within their lives at Milken. Leah Soormaghen wishes that similar to Friday Oneg which gives people a chance to participate in different activities, she wishes "we could have Areivut once a month to let people to explore new things." As a whole, Milken is trying to highlight service, social justice, and responsibility which must be taken in response to the injustices of the world, within and outside of our community. This can especially be seen with the recent creation of an Areivut resource tile accessible by everyone via MyMilken. 
Leave a Comment
About the Contributor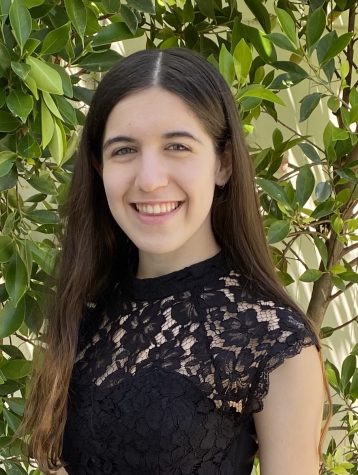 Noa Karidi, Staff Writer
Noa Karidi is a Junior at Milken, and this is her first year writing for The Roar. She is excited to utilize The Roar to inspire change through articles...