L'Door V'Door: Why Milken's New Parking Situation is So Controversial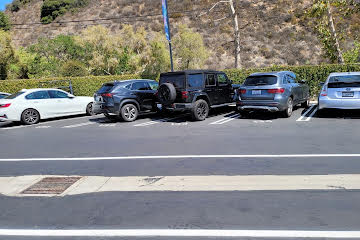 In an effort to avoid the extensive drop-off line that stretches across the Mulholland bridge at 7:57 am, three minutes before class starts, senior Aidan Dorner '23 passes the one west lane to enter school from and makes an illegal u-turn in front of the middle school. As a result, he can enter from the east direction of Mulholland, narrowly making it onto campus on time, trying to avoid a tardy that will ultimately result in Milken's newest policy: lunch detention. 
Upon his arrival, however, he was immediately reprimanded by Head of Security Cody Leary for his dangerous measures taken to avoid being late. But this effort was in vain: as Cody's harsh yet valid reprimands for Aidan's driving ultimately allow his arrival to class at 8:03, granting him a tardy regardless. 
This school year marks the first time in 13 years that students have parked on campus. This change has created lots of controversy at Milken, and each student, parent, and student driver has their own respective opinion. Some don't like the change, and others love it. All the while, administrators have been making efforts to solve the issues surrounding parking. 
Last year, students parked at the West Lot, a parking lot on Mulholland adjacent to the elementary schools Mirman and Westland. Parking at West Lot required a shuttle to get to school and back to the cars in the morning and afternoon, while the teachers parked on campus. Students were required to arrive at West Lot by 7:40 am latest, 20 minutes before classes began. Now that students are parking on campus at the same time that parents are dropping their children off, there has been a significant increase in traffic to enter campus, as there is only one entrance. 
In 2012, the Skirball Cultural Center halted Milken's partnership after continuous reports of dangerous behavior such as speeding and lack of conduct. Later during the 2016-2017 school year, it was reopened to students, but privileges were again revoked. During an interview with Head of School Dr. Sarah Shulkind in 2019, she explained how she had begun to meet with the Skirball Center to attempt to mend the relationship. Later in July 2020, Skirball hired a new President and CEO, Jessie Kornberg, which created an opportunity for a fresh start with Milken in regards to the parking situation.
 Earlier this month, Dr. Shulkind described her communication with Skirball, in which they were "trying to find ways that we could partner and mutually benefit each other." As a result, faculty and administrators are now permitted to park in the Skirball parking lot. Furthermore, due to the mended relationship with Skirball, all families, faculty, and staff members of Milken have been given membership to the Skirball Cultural Center. 
There also seemed to be more problems with the West Lot than one would think at first glance. "It added additional traffic [at Mirman], and we were trying to be good neighbors," Director of Operations and Security Mr. Carlos Sanchez said. The West Lot is adjacent to Mirman and Westland, two schools for young children. With so many new drivers in the same area as drop-off for those schools, it was deemed dangerous and had potential to cause risky situations. 
Mr. Beau Lindsay, 11-12 Division Head also explained how running buses all day from the West Lot to campus had its cons. With hundreds of students parking at West Lot, not all of them were guaranteed to show up at the same time. Any outliers who arrived or left outside of the 7:30-7:40 or 2:50-3:10 windows often took a school bus entirely by themselves.  "It wasn't good for the environment, or anyone," Division 11-12 leader Mr. Lindsay explained. "We're excited to have students back on campus."
However, many students do not feel the same. Coming in and out of school has felt uncomfortable and hectic for many student drivers since the transition to parking on-campus. "It stresses me out even more after a long school day," Ariel Hanasab '23 complained. 
After school, students battle to leave their parking spots, blocked in by the pick-up lines. Students reverse dangerously close to traffic behind them, while security guards scramble to direct drivers out safely. "It's been challenging for the security team, but I think we're accommodating to it," Head of Security Cody Leary said. 
On campus, there are not enough parking spaces to accommodate all of the drivers. Many students are stuck on waitlists who could otherwise be driving to school. "We pay all this money to come here and we can't even get a parking spot," said Lily Kohanzad '23, a senior who is currently on the waitlist for a spot. In response, Mr. Carlos Sanchez explained "Unfortunately, the only way the wait list is going to move is if someone loses their parking privilege". Even so, students who have parking spots on occasion have been told to park at the middle school when Milken hosts large events. When an event for grandparents happened on campus September 13, parking spots that belonged to students were taken up by grandparents, and many student drivers had to relocate to park at the Middle School. 
This lack of wiggle room on campus has many students frustrated. "The line at around 7:50 in the morning is past the bridge," Aiden Pourbaba '23 said, "and personally, leaving campus is a big mess. It was shorter to just take a bus to West Lot."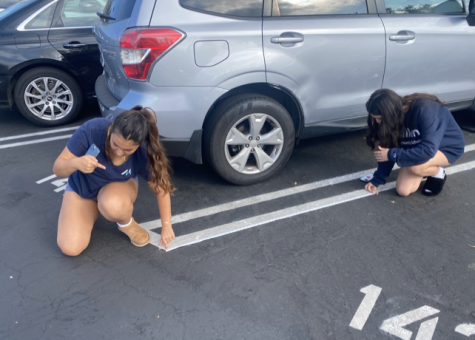 But that isn't the only place with a lack of wiggle room: most stalls on campus are compact parking spaces. According to Regular Provisions Sec. 12.21A4 of the City of Los Angeles, Compact stalls should have dimensions no less than eight feet (8′) in width and fifteen feet (15′) in length. An exclusive Roar investigation revealed that most parking spaces on the are 6.8 feet in width and 17 feet in depth. The parking lines on each side, however, are 1.125 feet wide, so the space has a width of 9.05 feet. Technically, this stays within the acceptable width dimensions. Mr. Sanchez also told The Roar, "The spaces are legal, and there haven't been any issues with people parking."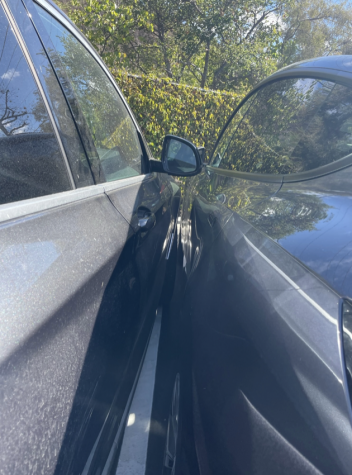 However, some students disagree. "My car doesn't even fit," Ariel Hanasab '23 complained. The larger parking spaces have the same depth of 17 feet, but are 7.65 feet in width.
Additionally, students sometimes must leave class to move their car or fix their parking. Sitting in AP Statistics, Tyler Moshfegh had to leave to move his car for his tandem partner. So many student drivers feel frustrated and want a resolution to the congestion in the mornings and afternoons. 
Some, however, are excited for this change. "We are blessed to have this opportunity to park on campus and be closer to class," Jacob Melamed '23 says. One anonymous senior found a way to accommodate the parking struggle by switching spots with their classmate. That way, their schedule aligns better with their tandem partner." Other students love their parking spots. "No one parks in my tandem parking spot, so I have no stress leaving and arriving at school." Coby Isaacson '23 says. 
This parking situation has even extended to affect the Athletics program. While coordinating with DeToledo High School for a girls volleyball game at Milken, the Director of Upper School Athletics, Barbara Iversen, reached out the school via email. In the email, she states, "Dismissal time for Milken is now 3:00 pm. The seniors now park on campus which makes coming into Milken a nightmare…If you want your buses to enter Milken without waiting in the carpool line you are going to have to arrive at our entrance at 2:20/2:30 pm. Anytime after that you will be in the pick up line for about 25 to 30 minutes to enter the lot". 
"I've been [working] in schools for 17 years, and the first few weeks of any start of school traffic is bad," Mr. Sanchez said. "And then it starts to work out." School has been in session for more than a month, and yet, the congestion that this new parking plan has created has not worked itself out yet. However, in an email to 12th grade students, the Division 11-12 Leadership Team acknowledged "challenges and opportunities of parking on campus," and have already taken steps to try and solve it.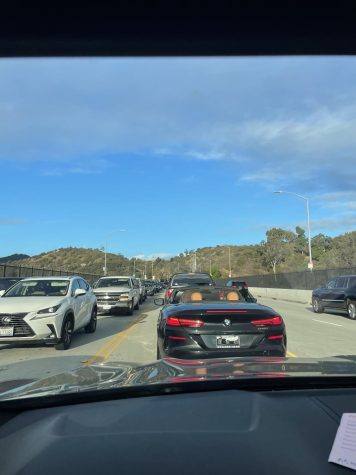 To start, they have hired more security guards to work on traffic control. In addition, on September 16, an email was sent out from 11-12 division heads to the senior class, addressing the parking issue and offering some ways to help. Seniors who have first period classes free can arrive at school no later than 8:45 am, rather than 8:00. The administrators also announced in this email that the library will be left open past 3:00 pm. In the email, administrators state, "If time permits in your schedule, [students] can leave a little later to avoid traffic and give them the time they need to decompress." This is intended to lengthen the window of pickups, thereby lessening the congestion that occurs around 3:00 pm. Secondly, seniors who have last period blocks free may also leave campus early with a dismissal pass. These passes are granted through parental permission. Otherwise, security guards are not allowed to let students arrive late or leave early.
Because this arrival and dismissal rule does not apply to juniors, it has caused some problems among seniors who share their tandem spots with juniors.
View Comments (3)