Dissecting the Enigmatic Theories of Taylor Swift's Upcoming Release, 'Midnights': A Guide for Non-Swifties
"I'll tell you more at Midnight," Taylor Swift declares as she makes her way off the stage of the late August 2022 VMAs. As Swift, in a sparkling Oscar de la Renta dress, accepts the award for 'Best Short Film,' given to All Too Well 10-Minute Version, she welcomes the opportunity to announce her new album coming out October 21. This sprouted yet another one of her iconic hidden messages mere hours before Midnights was announced. Swift's fanbase, known as 'Swifties' couldn't help but jump right in on this chance to solve her witty puzzles, commonly known to Swifties as 'Easter Eggs.' 
In the month since Midnights was announced, Swifties have been blowing up the internet with their long shot (but somehow realistic) theories of Swift's next big move. From genre assumptions, to music videos, and way too many track title theories, the internet's got it all. Is Swift going to release track 13 as a single? Is she hiding a marriage from the world?  As creators have blown up Swiftok (Taylor Swift TikTok), the question of whether or not these theories hold any truth has arisen. On that note, let's dive right into these somewhat practical (and completely absurd) theories.
View this post on Instagram
Taylor the night of the 2022 VMAs, where she announced Midnights during her acceptance speech for 'Best Short Film.' 
Theory 1: Who is Niceboy Ed?
On September 17th 2022, Swift posted a TikTok captioned: "The Making of Midnights,' which was simply a montage of Swift in different stages of the creation of her new album. In this TikTok, Swift used a completely random song, rather than her own, titled 'Life You Lead.' The artist of the song, niceboy ed, has absolutely no identity to date. With no social media presence or following before Swift's TikTok, fans have begun to investigate nice boy ed's true identity. Swifties have been going crazy with theories, some thinking it's Swift's very private husband Joe Alwyn singing, while others speculate the artist is Alwyns's childhood best friend. Our personal favorite theory is that the song takes lyrics from one of the unreleased tracks in Midnights, and Swift herself is using a voice changer as niceboy ed, meaning she created the artist entirely to play with her fans. 
Theory 2: MIDNIGHT SHARP
Ever since her announcement at the VMAs, Swift's Instagram bio has had the words "October 21. Midnight sharp." While many artists simply start the promotion of their upcoming projects, with Swift it always means something more. Fans have connected the 13 letters in 'Midnight sharp' to the 13 tracks on the album, concluding 'Midnight sharp' is an acronym for the track titles. Swift's lucky number also just happens to be 13. Fans have been scrounging any and all 'Midnight' related posts, but it wasn't until the TikTok she posted with niceboy ed's song that the fans finally got their answer. The lyrics of the song have Swift written all over them, containing the use of the word 'Golden' over and over, which any educated Swiftie knows is a trademark Swift word, especially as Swift holds a tendency to hide clues and hints in anything and everything she can. Throughout her musical career, the lyrics 'Golden' and 'Gold' have been recurring in some of Swift's most popular songs, namely 'Goldrush' and 'Daylight.' With the release of 'Life You Lead,' fans have applied the lyrics to the MIDNIGHT SHARP acronym, where titles have been flowing seamlessly.   
Theory 3: Lucky Number 13
Swift recently captioned a TikTok post, 'Midnight's Mayhem with Me,' capitalizing each 'M.' Fans on Twitter have been going wild trying to figure out the significance of this, quickly connecting the letter M to the number 13 once Midnight's 13th track title 'Mastermind' came out, connecting to M being the 13th letter of the alphabet. Fans have concluded that Swift has to be doing this on purpose, speculating that she is going to release the single 'Mastermind' on October 13th, 8 days before Midnight's official release. 
Staying on the track of 13s, Swift's album announcement at the VMA's was exactly 13 years after the 09' Kanye West incident, where Kanye publicly humiliated and disrespected Swift, coming on stage during her VMA acceptance speech saying Beyonce was more deserving than Swift. Thirteen years later, Swift's dress held an uncanny resemblance to the dress she wore during the acceptance speech at the 09 VMAs. Fans are unsure whether this is a stab at Kanye or merely a coincidence, but it has sure stirred up the conversation.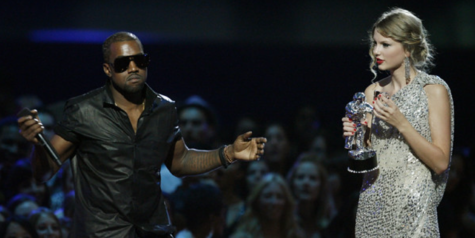 Theory 4: Midnights is Lovers' Sister Album
Twitter and TikTok have been teeming with theories that 'Midnight' was originally intended to be a follow-up album to her seventh studio album, Lover, before the pandemic created the "happy accidents" of her latest original albums, Evermore and Folklore. Fans believe 'Midnight' is the belated "B-Side" to Lover, Swift's last album release before COVID, towards the end of 2019. The lighthearted and uplifting album included tracks like 'Daylight,' directly opposing themes introduced in Midnights. In Jimmy Fallon's November interview with Swift she shares: "How far is too far in advance? Can I hint at something three years in advance? Can I even plan things out that far?" leading fans to think Midnights has been in the works for quite some time. 
Theory 5: Lover House
Since the music video for Swift's 6th album Lover dropped in 2019, Swifties have been contemplating the layout of the color-coordinated house, where the pop-icon lives with her fictional 'lover,' who inspired the album. Fans have concluded that each room of the house represented an album in Swift's career, where at the time the stairways were left undefined without an album assigned to them. With the release of Swift's two most recent albums, fans found that the hallway colors fit unseemingly well with the aesthetics of her latest releases: Folklore and Evermore. Now, the pop star has revamped the theory by publicly liking a TikTok claiming  the late-night sky behind the house represents Midnights. If this is true, fans are concerned Midnights might be Swift's last album ever.  
Theory 6: 'Midnight Rain' Theory
In the two-week span from September 21 to October 7, Swift played around on the social media platform TikTok, creating a segment called 'Midnight's Mayhem with Me,' where she unveils a new track from Midnights each day. Swifties have connected the dots between the title of track 6: 'Midnight Rain' (announced September 28) with Swift's partner of over 6 years, Joe Alwyn. Swift and Alwyn are said to have 'met after midnight' at behind a dive bar, where it rained the whole night long. Their anniversary also happens to share a date with the announcement of the song title, which to Swifties seems too coincidental to be meaningless. Many Swifties speculate that 'Midnight Rain' is a love song to Alwyn, and some even think that the track is going to include an official engagement announcement.
View Comments (5)
About the Contributors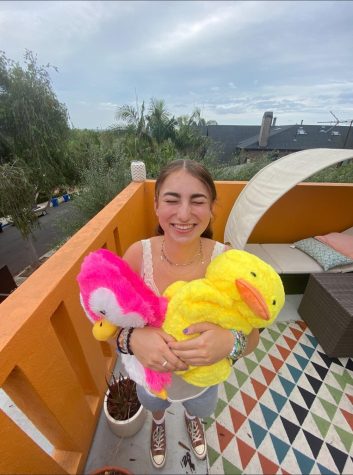 Reese Dembo, Staff Writer
Reese Dembo is a current sophomore at Milken, and this is her first year writing for The Roar. As a beach bum, Reese is obsessed with surfing, pancakes,...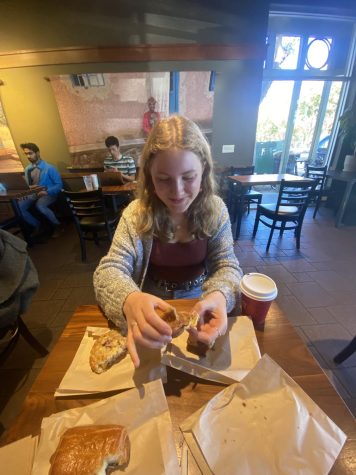 Ella Breskal, Staff Writer
Ella Breskal is a sophomore at Milken and this is her first year being a part of The Roar. Ella finds comfort in the beach and has an immense love for...