Death of the Artist: A Controversial Kanye West Album Ranking – 2022
No, don't worry, Kanye West is not dead. Death of the author is a literary concept based on the notion that an author's background and character should have no effect on deciding how to interpret or enjoy their work, regardless of how cruel or evil the author may be. Essentially, they are dead to you.
And as you may or may not know, Kanye West has been nothing short of controversial lately. Posting such outrageous Instagram posts that the Meta corporation who owns the app thinks West has been hacked. He is "off the rails!" says senior Garrett Cooper. West has been particularly angry about Pete Davidson and ex-wife Kim Kardashian, and his Instagram has been his primary source of communication about the situation. He has been criticized and has angered many with his invasive comments.
That brings us back to the concept of Death of the Author. Do we ignore the controversial persona and just enjoy his music, or do we stop listening? Personally, and selfishly, I say keep listening.
I love Kanye. Everyone around me knows I love Kanye. And as a member of the top .01% of Spotify Kanye listeners in 2021 (prestigious, I know), I am expected to know my stuff. With all of this in mind, I have created my personal ranking of Kanye West's 12 (Spotify-accessible) albums with their top 3 songs. Fair warning, it may prompt some friendly discourse. I am an opinionated woman, and I stand by it. Please enjoy.
#1 The College Dropout– 2004
A Kanye classic. This album is the epitome of classic Kanye. Not only is this album full of bangers, it feels like summertime. And that is beautiful. Additionally, it's fun, catchy, funny, and conceptually interesting because of the whole theme of dropping out of college. In particular, the "skits" songs, which are essentially satirical slam poetry that criticize the education process.
"Through the Wire"

"Two Words"

"Last Call"
#2 Graduation– 2007
Graduation is a close second. Again, classic Kanye, and a frequent #1 favorite album from many Kanye fans. This is such a feel-good album, and the songs are upbeat and happy. This album advanced his career pretty quickly and is one of his more popular classics, such as "Stronger" or "Flashing Lights." This is also some of the best album art of Kanye's discography. In a sense, it is kind of the transition between today's Kanye and classic Kanye. Many of the songs send the message that Kanye has reached success, he is no longer working for it- he's made it.
"Drunk and Hot Girls"
"Champion"

"Goodmorning"
#3 Watch the Throne– 2011
This album should be tied for #2. The only thing keeping it at #3 is that Graduation is a more famous classic. But this album is just so beautiful. Also, there are so many samples jam-packed in the album, and they each add something different. With over 22 samples each song has its own vintage, nostalgic feel all the while being so incredibly catchy. Also the power couple that is Jay-Z and Kanye just takes any listener's breath away. I am a Jay-Z hater (no I will not elaborate, that is for another article), and yet somehow, the two are able to build off of each other so beautifully and make a great album. One could go on about this album forever. Not only that, it's the classic party album. When you hear "Ni**as in Paris" play at a party, you know it's time to head for the dance floor. Chef's kiss. Thank you for this beautiful gift, Kanye.
"That's my B*tch"

"Otis"

"Ni**as in Paris"
#4 808s and Heartbreaks– 2008
This album has everyone's heart. It feels like swimming underwater as a kid and looking at the world through your goggles. It radiates that exact feeling of awe and euphoria. And other than that analogy, it has some cool noises and electric sounds that scratch your brain. These electronic beats are not only super fun and cool, but fun fact: when it first came out, it was pretty revolutionary on the hip hop scene. It completely changed the course of Hip Hop because before Ye, no one really did autotune, and if they did, it was considered tacky. But as soon as Kanye did it, it became cool. And for that, once again, thank you Kanye.
"Paranoid"

"RoboCop"

"Coldest Winter"
#5 Ye– 2018
The production on this album is amazing and probably Kanye's best. The whole album radiates anger and passion in such a powerful way. It offers a weird kind of longing. The main and kind of only problem with it is that it's not long enough. It's only 20 minutes, which feels like a scam because this album is beautiful, including the album art. The mountains are a beautiful mountain range in Wyoming nicknamed "Ye Mountains." It is also especially easy to love this album because it is so short. There's not really any room for the songs to suck because there are literally only seven of them. When there's that few, who in their right mind would put a bad song on a seven-song album?  This is the album you pick to scream to in the car with the windows fully rolled down if that offers any explanation of the feeling that this album radiates.
"Ghost Town"

"Violent Crimes"

"Yikes"
#6 My Beautiful Dark Twisted Fantasy– 2010
Kanye really got Bon Iver and Nicki Minaj on the same album. That's hot. In my and Co-Editor-in-Chief Spencer Davis's humble opinion, it is Kanye's most experimental album. And it is especially significant because the whole album flows beautifully from song to song. It's a great album, and for that very reason it lands at the top half of my list.
"Hell of a Life"

"Monster"

"Dark Fantasy"
#7 Late Registration – 2006
Late Registration no doubt has some mother bangers, but honestly not enough of them for it to be on the higher half of the ranking. Again, a classic Kanye album, as it is his second-ever release. All around, a bunch of the songs have really impactful lyrics and meetings such as "Roses" or "Hey Mama." Additionally, it is one of his many albums revolving around school, which West clearly has a passionate dislike for. Kanye would definitely be disappointed in my low ranking of this album though, because as he said in an MTV interview I'm $600,000 in the hole right now on that album."
"Touch the Sky"
"Diamonds from Sierra Leone"
"Roses"
#8 Kids See Ghosts– 2018
Kids See Ghosts is the culmination of years of friendship and collaboration between some of the two of the biggest artists in hip hop, that being Kanye and Kid Cudi. After many trials and tribulations between the two of them, they came together to make a beautiful album. The album is amazing. There is not one skip. Although it's not exclusively a Kanye album, it deserves to be present on the list. This is especially significant because as of now, Kanye and Cudi are not on good terms. In Kanye's most recent album, Donda 2, Kid Cudi was supposed to be featured on it but because of the Pete Davidson and Kanye discourse, Cudi was uninvited. So enjoy this collaboration, because it's probably the last one you'll ever hear.
"4th Dimension"
"Freeee"

"Reborn"
#9 Donda– 2021
Yes, the album art is just a black square, which is symbolic of this album being lazy and sloppy. It felt unfinished, the production poor, and was separated into too many parts. For multiple songs on the album, there are second parts to them at the end of the album and are essentially the exact same song twice. As a result, it feels too long. What makes no sense is that he is so successful and has so much funding to make music, yet he lazily releases a completely lackluster album. However, bonus points for sampling Lauryn Hill in "Believe What I Say." At the end of the day, I still enjoy it because it reminds me of the transition from summer to school this year, because that is the time when the album was released.
"Believe What I Say"

"Jail"

"Pure Souls"
#10 Yeezus – 2013
Kanye's most aggressive album. It features a lot about the black experience in America. Fuses aggressive energy with these serious topics. There are super intriguing samples, for example "Blood on the Leaves" samples "Strange Fruit" by Nina Simone. "Strange Fruit" is often studied in History classes on lynching, making Yeezus a super impactful and soulful album with a real connection to racism.
"Bound 2″

"Blood on the Leaves"

"Black Skinhead"
#11 Life of Pablo – 2016
When Life of Pablo was originally released, it was not super liked, but Kanye has actually refined and changed it over the years since its release. This made many enjoy it more. It's kind of our generation's Kanye album, because of the time of its release. It was released when many of us were becoming our own individuals and discovering ourselves, including our own music taste. Most noteworthy of the album is that it features a super controversial line about Taylor swift on the song "Famous", that is highly suggested to listen to.
"Fade"

"Feedback"

"Waves"
#12 JESUS IS KING – 2019
If you're not Christian, or really not religious at all, this album might not be for you. It is purely gospel and hard to get into. But regardless, the album simply did not hit. A lot of Kanye's lyrics can be silly or fun, but singing about Chick-Fil-A being closed on Sunday simply foolish. The album is arguably worse than Kanye's "Lift Yourself" with lyrics that consisted of "Poopy-di Scoop-diddy-whoop." Other than that, there is really no more to say. Non-Gospel fanatics, you can go home.
"Follow God"

"Every Hour"

"Water"
Leave a Comment
About the Contributor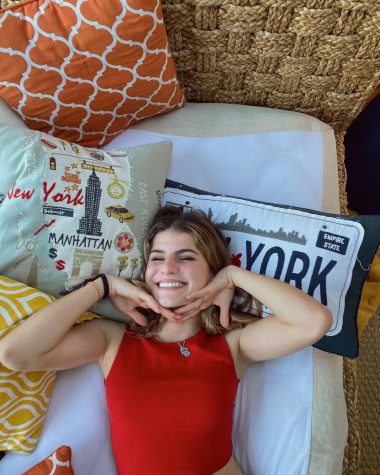 Stella Goldstein, Staff Writer
Stella Goldstein is a senior at Milken and this is her second year writing for The Roar. She decided to take Journalism this year because she loves writing...