I Read These BookTok Picks So You Don't Have To
A good book recommendation sometimes feels hard to find. But, with the technology we have now, it might be just one post or scroll down. Taking the world by storm, the viral content-creating app TikTok has been able to influence many facets of everyday life. TikTok has the ability to make anything a commodity overnight and to cancel it even quicker: from a concealer that promises to hide all blemishes, to a scandal that will force a person into complete online ostracization. This app has the power to choose what trends, and these trends naturally cycle back into our daily lives.
TikTok is unique in the sense that every explore page, called the "For You Page" on TikTok, is curated for each user; no two people's For You Pages are the same. "I spend about two hours a day on TikTok…it's the only app that can distract me from basically everything," says junior Lily Kohanzad '23. These are created by an algorithm that is able to glean interests based on interactions like time spent on a video, whether or not the user liked the video, or whether the user commented or shared. This algorithm is able to hone in on niches that captivate the user so intently that the creepiness of the whole thing is overshadowed by the addictiveness of the curated content.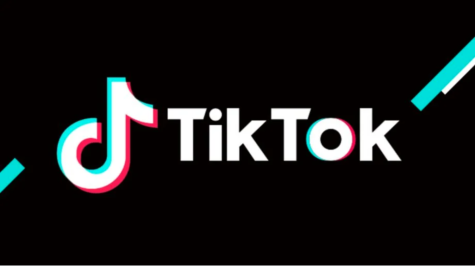 My For You Page has been filled with book reviews and recommendations. TikTok lingo has named this side of TikTok "BookTok." Creative, right?
When I had COVID over winter break, I spent a lot of time on TikTok (and Netflix and Hulu, and HBO Max). After scrolling past countless Booktok videos, I decided to actually read them. I had been influenced. 
As I had anticipated, many of the books were overhyped; but some of them exceeded my expectations and found a place on my list of favorites. These reviews are meant to help guide you through what to read from TikTok and trust me, don't waste your time reading the bad ones.
It Ends With Us by Colleen Hoover
Readers are promised that by the end of the story they would be emotional wrecks, with tears and snot and everything. I was snot-free. It Ends With Us follows the life of Lily Blossom Bloom (what a creative name…), a shy and reserved girl living in an abusive household, and how she got herself out of that situation. 
The story is loosely based on Hoover's mother's experience with domestic violence and how she ended her own cycle of abuse. And yet, the whole story feels romanticized. The "romantic" undertones that foreshadow the eventual abuse are written in a way that seemed to imply that every person deserves a "gallivanting, won't-take-no for an answer" type of romantic partner. The impact of the book is overshadowed by how it has been publicized: the "romance" outweighs the depictions of abuse. 
As for the writing, the book reads more like fanfiction written by a 13-year-old than a novel written by an accomplished contemporary author. The difference is most noticeable in the pace of the plot: 90 percent of this book is spent on romance, five percent is spent on abuse, and the other five percent is spent on getting to know the new love interest. This book would work better as a daytime soap opera because it lacks the depth and gravity needed to portray domestic abuse in a poignant way. Hoover wrote Lily Bloom, the story's protagonist, as a co-dependent woman, unable to live without some form of love interest in her life, rather than as a result of her trauma, but because she is just "drawn" to them. 
The book could have been so powerful if Hoover had handled one topic rather than piling on as many disturbing things as she could think of, and really worked to create a subtle and nuanced story about getting out of an abusive situation. Another MAJOR critique: Ryle Kincaid, Lily Blossom Bloom, Atlas Corrigan; how can a reader really empathize with this story if the names are so ridiculous that they can't take it seriously? The idea was there, but a few too many things got in the way of it being a touching story. 
Verity by Colleen Hoover
I've read plenty of thrillers, and Verity by Colleen Hoover didn't let me down. On par with Gillian Flynn's novels, this is a great book to get yourself back into reading. 
The setup for the plot was so creative; Lowen Ashleigh becomes a ghostwriter for severely incapacitated writer Verity Crawford and goes to her house to go through her notes. During her time there, she has a sense there is something more sinister going on, and once she finds evidence, it's almost too late. 
The book reads really nicely, and it doesn't feel corny. The fast-paced plot was just intricate enough to keep me on my toes until the very last page. Hoover created characters who were able to create such an eerie vibe to the book that made me so uneasy that I had to put the book down a few times. It was gripping, and the ending was so unexpected, which is something that rarely happens in other books. 
Before reading this book, I would definitely check trigger warnings. There were very graphic scenes surrounding child abuse, and I needed to put the book down just to calm myself. I am definitely team manuscript (this is me shamelessly telling you to read the book to understand this reference), and I would love to see a sequel to this book sometime in the near future.
We Were Liars by E. Lockhart
We Were Liars by E. Lockhart was genuinely one of the worst books I have ever read in my life. In essence, this book was just lines and lines of pretentious nothingness, but the author failed to be pretentious enough for it to work. 
The story follows four kids–who call themselves the Liars–and their summers spent on their own private island on the east coast. They are all a part of the Sinclair family, a perplexing family, with a long, dark history of feuds and secrets and skeletons in closets. While this sounds almost reminiscent of The Secret History or maybe even Dead Poets Society, it was so far from anything I have ever read, and hopefully, I will never have to read anything like this again. 
The characters were all unbearable, but the protagonist was just so insufferable that it makes it hard to finish the story. All written one-dimensionally, the characters were completely stagnant, and there was no aspect of character growth whatsoever. The plot suffered at the expense of the poorly written characters. A lot of the plot relied on the characters, so not even the so-called twist could save it. As for the style of writing, the only adjective that adequately describes it is "millennial." Laced with metaphors that were way too abstract to even begin to understand, it's hard to enjoy the verbosity of this book. Not to mention the corniness, because it really doesn't get any worse than this: "He was contemplation and enthusiasm. Ambition and strong coffee." The only place this style of writing can be found is in inspirational Instagram posts that encourage "positivity and radiance." The ending made no sense, and it felt like an easy way for the other to end an already crappy book. Do yourself a favor and pick up literally any other book you can find. 
Normal People by Sally Rooney
Although this book is seemingly just a coming-of-age story of two normal people, it deals with themes of human identity, class, and navigating relationships. The book follows the lives of Marianne and Connell, teenagers from the same small town in rural Ireland, each coming from different socioeconomic levels. Throughout young adulthood, Rooney writes about how each of them traversed through the different social, cultural, and economic circles of small towns and big cities. 
Rooney has pioneered her own distinct style of writing: she uses minimal punctuation, and the dialogue is written without quotations. The book is filled with dialogue, so after the initial shock of not having quotation marks wears off, it becomes almost easier to read once you've adjusted. It is quite an adjustment but don't be thrown off, the story Rooney tells is worth it. Rooney has a gift for writing about the most mundane, everyday things without much of a plot, yet creating a book that readers just cannot seem to put down. Although you could argue there is a plot, this book is there to highlight the complexities of normal, everyday people. 
The book looks to touch on emotional poignancy, but getting past the facade, it is really just two people who are a bit codependent on each other. As the story goes on, the protagonists both become increasingly frustrating, and the story starts to feel really repetitive. Although the characters can be annoying, and their interactions can feel repetitive, they are written with complexities that only really masterful writers can grasp and master. It feels real and relatable and painful, that's what makes it beautiful. 
As with many of the books I read, the beginning is written so nicely, but by the end, it just fizzles out and leaves me disappointed that such potential seemed to be wasted. I will give Rooney credit as she has both pioneered and mastered a new style of writing that is both vulnerable and relatable, that will appeal to many groups of people. Rooney is able to write very thoughtfully, and that is ultimately why her books are so good. I really would recommend this book, but take it with a grain of salt, because it takes some getting into to really enjoy it.
My Year of Rest and Relaxation by Ottessa Moshfegh
A considerable number of the books on this list don't have a set plot, they just follow the lives of characters; out of all of them, this is the only one that is pretty flawless. While the reviews on this book are very polarized, you have to read the book as an ironic commentary on society, laced with Moshfegh's clever humor. 
The story is set in 2000, right before 9/11. The narrator, a troubled woman in her mid-to-late 20s finds life so unbearable that the only viable course of action for her is to hibernate for a year through creative self-medication. What makes the book is the narrator's odd obsession with Whoopi Goldberg. It doesn't make any sense, but what about this book does? It is just a compilation of absurdities that really make you laugh out loud and then think really hard about what just happened.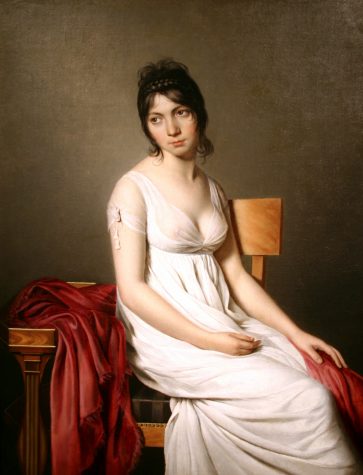 Each character brings a new element of humor to the story: the eccentric Dr. Tuttle, who truly believes in the powers of any and all narcotics, Trevor, her emotionally abusive boyfriend who kind of resembles Patrick Bateman in a sad, wanna-be way, and Reva, her insecure and neurotic best friend. 
While many might find this book beyond slow and repetitive, the characters make up for it. The need for more rest and relaxation is pretty ubiquitous in society, and this book is really a commentary on the pressures of life, even if life has dealt you the best hands. This is a parable of the lengths some will go to alleviate it. This book is rumored to be in production as a film, which is really exciting!
Leave a Comment
About the Contributor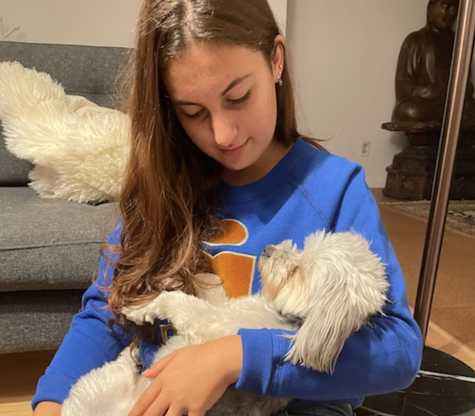 Julia Noorani, Staff Writer
Julia Noorani is a Senior at Milken and this is her second year as a staff writer for The Roar. She enjoys writing about things that are going on at Milken,...