Super Bowl 2022: Who Won the Ad Game?
In Super Bowl L (2016), the Denver Broncos crushed the Carolina Panthers 24-10. But all I can remember are the three words that will forever be associated with that day: Puppy Monkey Baby. 
Whether you're watching the football game or the half-time show, sometimes all you remember are your favorite Super Bowl commercials. Some are better, some are worse, some are even more memorable than the game. This year was different and quite crypto-filled. 
Most Effective
There are some ads that will make you laugh hysterically and some that will make you say "aw." Some will even make you cry. Oftentimes these stick with you for whatever reason, making them memorable and therefore more effective at selling the product.
Celebrity Appearances:
Don't Miss Out on Crypto: Larry David FTX Commercial: 8/10
Crypto is a hard thing to advertise, especially to people who believe its simply a bad concept. This Ad takes TV star and writer Larry David and shows you all the other concepts he considered bad, such as the wheel.
Sally's Seashells | Big Game Commercial 2022 | Squarespace: 7/10
Euphoria star Zendaya is Sally who struggles to sell seashells by the sea shore. With Sqaurespace, Sally is able to expand her business and build a sea shell empire.
Nissan Presents: Thrill Driver (Eugene Levy): 8/10
Schitt's Creek star Eugene Levy finds his James Bond side when driving a yellow Nissan.
Lay's | "Golden Memories" Seth Rogen & Paul Rudd Super Bowl LVI Commercial: 9/10
Before his wedding, Seth Rogan expresses his nervousness to his best man, Paul Rudd. In order to cheer him up, Rudd offers him a bag of Classic Lays. They proceed to look back on all their fond memories when Lays were there for them.
Bud Light Seltzer Hard Soda – Land of Loud Flavors (Guy Fieri): 7/10
Bud Light Seltzer Hard Soda takes us to the Land of Loud Flavors. A land ruled by none other than Guy Fieri and his army of bleached hair, leather wearing people.
Salma Hayek and Arnold Schwarzenegger are Hera and Zeus in the new BMW Ad. It's time for the immortal couple to retire on Earth, and what better car for the God of lightning than an all electric BMW.
Greenlight — "I'll Take It" (Ty Burell): 7/10
Modern Family star Ty Burell is a big spender. Greenlight teaches us to be careful with our money.
Hellmann's: Mayo Tackles Food Waste (Jerod Mayo and Pete Davidson): 7/10
Jerod Mayo tackles those who try to waste food. Pete Davidson is no exception.
"A Lot In Common" | AT&T Fiber (Demi Moore and Mila Kunis): 6/10
Demi Moore and Mila Kunis both believe they are the most admired alum of their former high school. A comedic reality hits them hard when average Anna wins for using AT&T Fiber.
Uber Don't Eats (Jennifer Coolidge, Gwenyth Paltrow, and Trevor Noah): 8/10
Uber Eats now delivers products other than food, like cleaning supplies and home goods. Jennifer Coolidge, Gwenyth Paltrow, and Trevor Noah figure out the hard way, that you can't eat everything from Uber Eats.
Lindsay Lohan – Planet Fitness: 7/10
Lindsay Lohan has been out of the sight of the media for years and she's doing better than ever. Why? She started going to Planet Fitness.
References to Pop Culture
The First-Ever All-Electric Chevy Silverado – New Generation (The Sopranos) | Chevrolet​: 7/10
Chevrolet introduces the first ever All-Electric Chevy Silverado. The Ad draws mafia-drama fans in with a reference to The Sopranos.
Dr. EV-il | 
#EVerybodyIn
| General Motors: 7/10
Mike Myers returns as Dr. Evil with his henchmen in the General Motors Ad. Dr. Evil has decided to change his ways and become Dr. Good. His first step in saving the world is switching to an all-electric GM.
Generational/Life
Pringles | Stuck In: 9/10
Pringles uses their biggest design flaw as a comedic form of empathy. If your hand has ever gotten stuck in a Pringles can, you'd understand.
2022 Big Game Commercial: Welcome to Irish Spring: 6/10
Irish Springs pays tribute to their history and heritage in this strange yet funny ad.
Liquid Death Big Game Commercial With Kids Hydrating at a Party: 8/10
Don't worry parents, these kids aren't drinking beers. They're drinking Liquid Death, water that is packaged in an environmentally friendly way.
Amazon's Big Game Commercial: Mind Reader: 8/10
Ever feel like Alexa is reading your mind? Amazon shows you it's a good thing she doesn't.
Lizzo in Real Tone 

#SeenOnPixel: 8/10

Google Pixel demonstrates how their cameras are able to show the true tones of those with darker skin.
TurboTax Live 2022 Super Bowl Commercial "Matchmaker": 6/10
TurboTax never fails to match you with the right person. In any situation.
Odd Ones Out
Robo Dog | The All-Electric Kia EV6: 6/10
Kia pulls our heart strings with the adorable Robo Dog.
Push It | Flamin' Hot: 7/10
These wild animals can't get enough of Flamin' Hot chips and snacks.
Avocados from Mexico – Big Game Commercial 2022 – 

#AlwaysGood: 7/10

Avocados from Mexico comedically shows us how guacamole has brought people together for thousands of years.
Coinbase Super Bowl Commercial: 10/10
Coinbase lures in new users with the chance to win $3 million with a simple QR code. The only way to scan it was by downloading the Coinbase app.
Least Effective
Even though companies try hard to reach their Super Bowl audience, they tend to fail, sometimes traumatically. Some leave us in a state of confusion or just utter disgust. Some we'll never remember because of how ineffective they were.
Celebrity Use
Doja Cat x Taco Bell | The Grande Escape Super Bowl Ad: 3/10
Doja Cat appears in a strange Taco Bell ad while her cover of Hole's "Celebrity Skin" played in the background.
"The New Frontier" Salesforce Super Bowl Ad | Join 
#TeamEarth
w/ Matthew McConaughey & Salesforce: 1/10
Salesforce presents us with possibly the most confusing Ad featuring the most over-used actor.
2022 Toyota Big Game Commercial Ft Tommy, Leslie, and Rashida: "The Joneses" | Toyota Tundra: 4/10
Toyota attempts to advertise using actors with the last name "Jones."
Booking.com I Idris Elba says things: 2/10
Idris Elba talks about Booking.com.
Rocket Homes and Rocket Mortgage | Super Bowl LVI | Dream House with Anna Kendrick and Barbie: 2/10
Anna Kendrick teaches us, as well as Barbie, about Rocket homes and mortgage.
T-Mobile Super Bowl Commercial 2022 Miley Cyrus, Dolly Parton: 5/10
Superstars Dolly Parton and Miley Cyrus deliver a rather disappointing performance in this T-Mobile ad.
Pangea | Official Film – Turkish Airlines (Morgan Freeman): 3/10
Morgan Freeman feels out of place in this Turkish Airlines commercial.
"Goodbye Cable" Super Bowl | 5G Internet | Verizon (Jim Carrey): 4/10
Jim Carrey plays an aggravated Cable guy in this Verizon ad.
Sam's Club VIP with Kevin Hart: 5/10
Kevin Hart struts around Sam's Club showing off his VIP status.
References to Pop Culture
Michelob ULTRA | Welcome to Superior Bowl (The Big Lebowski): 3/10
Michelob ULTRA tries their best to reference the Big Lebowski.
Generational/Life
Vroom Official Big Game Commercial 2022 | Flake the Musical: 4/10
Ever tried to sell your car but the buyer pulled out? Vroom made a musical about it.
Here's to the Lazy Ones | Cutwater Spirits: 5/10
Are you lazy and unwilling to mix your own cocktails? Cutwater is the way to go.
Meet Cue: A New Smart Device for Your Health: 5/10
The rest of the home devices meet Cue.
Odd Ones Out
Can Seth embrace electricity again? (Wall Box): 3/10
Seth was struck by lightning and is scared of electricity. Wall Box is a safe solution.
Superior Bowl | Caddy (Michelob ULTRA): 2/10
Michelob ULTRA confuses the audience with this ad for seltzer.
Declaration | ClickUp : 4/10
The Founding Fathers discover Click-Up.
Old Friends. New Fun (MetaQuest): 1/10
Meta horrifies viewers with this Ad.
Leave a Comment
About the Contributor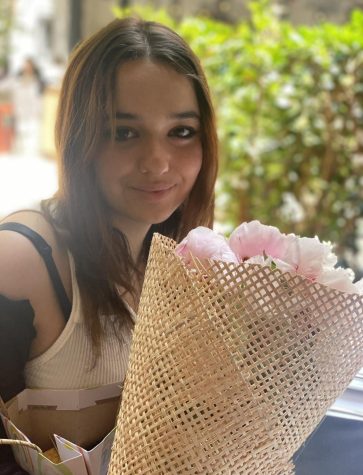 Tevelle Bitton, Culture Editor
Tevelle Bitton is currently a junior at Milken Community Schools and has loved writing since she can remember. This year will be her second year writing...