This Camera, This Camera, or This Camera: How 'Hot Ones' is Different from Other Celebrity Interviews
"I think I might die."
Margot Robbie, Academy Award-nominated actress, sits, pursing her lips, fanning her face, and closing her eyes. Her brain fogs as she tries to remember the question that was just posed to her. In front of her is a plate of spicy wings, and a row of hot sauces, ranging from bright yellow to deep red. Eight wings have been eaten, and two remain. 
Sean Evans, the Hot Ones' host who is supposed to be interviewing Robbie, sits across from her, giving up on his question. All he says is, "Careful around your eyes."
Hot Ones is an internet interview show in which celebrities answer questions while eating increasingly spicy wings. Evans has interviewed athletes, musicians, actors, celebrity chefs, comedians, and more. The interviews are well known for being incredibly well-researched, and Evans often leaves the guest wondering how he was able to find such a deep-cut question. By focusing on what the celebrities really want to tell the viewers, he sets his conversations apart from interviews that focus on drama that has already been addressed online.
 It was created in March 2015 as part of the Complex Networks' online food magazine and YouTube channel: First We Feast. Hot Ones has had 17 seasons, with 243 episodes and seven special episodes as of February 1st, 2022. Hot Ones is a part of First We Feast, which has over 1 billion views.
Chris Schonberger, the First We Feast founder who has a passion for trying obscure hot sauces, came up with the idea for a celebrity interview show in which the celebrities had to eat increasingly spicy chicken wings. Schonberger pitched the idea to Sean Evans, who was working at Complex in New York.  
View this post on Instagram
 When Evans and Schonberger started to create Hot Ones, with Evans as the host, the network wanted the videos to be about five minutes long. The first Hot Ones episode was uploaded to YouTube on March 12, 2015, and it featured rapper, Tony Yayo. The episode was only five minutes and twenty seconds, and it only featured a plate of wings, with an unknown hot sauce lineup. The episodes are now 20 to 30 minutes long. They had to expand the length of the episodes to ask more questions so they could show the full reaction to the spice. Hot Ones was originally posed as a show where the questions got juicier as the wings got hotter, but they soon gave up on that format because the guests had a harder time focusing on the questions as their whole body was suffering from the "wings of death." Another notable detail about the first episode is that the show censored any profanity. If anyone has seen the Gordon Ramsay episode, they know that Hot Ones is no longer censored.
 In the second episode, which was uploaded on May 12, featuring Anthony Rizzo, the hot sauce lineup was uncovered. It featured well-known sauces like Cholula and the Tabasco Green Pepper Sauce. As the show has progressed, Noah Chaimberg, the founder of the hot sauce boutique, Heatonist, has met with Chris Schonberger to taste test and select the hot sauces for each season.  Each hot sauce is picked to have a specific effect on the guest. For example, The Last Dab is designed to be less spicy than the previous two sauces so that the guest can cool down before being able to promote themselves. The show is expertly thought out so that the wings and the questions come together into one Hot Ones journey. The first Hot Ones sauce was developed in 2016 and sold exclusively on Heatonist. With season four in 2017 came the Last Dab, the final sauce in the lineup, whose name is inspired by the tradition to put an extra "dab" of hot sauce on the last wing. The day it went on sale, Heatonist sold over 10,000 bottles of the Last Dab. In 2018, Hot Ones sauces made over 7 million dollars,  a company representative told the Verge. Although Hot Ones' first sauce, Homeboy's Fiery Chipotle, was retired in 2018, there are now nine Hot Ones sauces available for purchase on Heatonist. The most infamous sauce that is not made by Heatonist but has stayed in the lineup since season two, Da Bomb Beyond Insanity has a tendency to derail the interview into a series of questions that don't get answered. The most viewed video, featuring Gordon Ramsay, has 102 million views. Evans described the demand for having Ramsay on the show as an albatross around his neck that has followed him "from the internet to the airport, to my family get-togethers."  In the episode, Ramsay came equipped with a bag of hot sauce remedies including Pepto-Bismol, citrus juice, and a bag of donuts from a bakery. Because Ramsay took matters into his own hands, he broke from the usual format of the show and strayed even further away from a traditional PR interview.
View this post on Instagram
 In celebrity interviews, many interviewers talk about their previous interactions with celebrities, as well as rumors and drama that are going around. Most of the interviews are all about what the celebrity is promoting. While that is often the purpose of the interview, it seems to be the bare minimum. When the internet exists, people don't need to hear a plot synopsis from an actor when they can look it up in seconds. Interviewers also love asking about interactions with other celebrities. Famous people spend a lot of time talking about other famous people. Traditional celebrity interviews make celebrities seem untouchable, and often unrelatable in an age where some younger celebrities will film videos of themselves simply eating lunch to post on TikTok.
Part of what makes each episode of Hot Ones so special is the research process. In preparation for each episode, Chris Schonberger listens to podcasts featuring the celebrity. Sean Evans watches every video and interview with that celebrity, and Evans' brother Gavin reads all the articles about the celebrity. Because of the extensive research that they do about each guest, Sean Evans asks deep-cut questions that leave the guests in disbelief. In Zac Efron's interview, Evans asked a question, to which Efron starred in disbelief, saying, "How did you know that? I don't even think my publicist knows that. Jesus man who'd you talk to?" These moments of sheer amazement at Evans' research skills make it even more impressive that the research team is only made up of three people.
View this post on Instagram
As well as asking deep-cut questions, Evans is also a master of getting people to talk about what they are passionate about. In November, Sean interviewed  Jeremy Renner, who plays Hawkeye in the Marvel Cinematic Universe, as well as appearing in The Hurt Locker, the Mayor of Kingstown, and more. "In addition to acting I know that you've acquired and renovated dozens of homes over the years, and in a 2014 interview with Larry King, [you] called building a house the closest thing to producing a movie. Do you have a favorite wood?" Evans asked. After the question was asked, Renner comfortably talked about building houses, something he is passionate about. Getting guests to talk about what they are passionate about not only makes them more comfortable with Evans, but it also gives the viewer unique insight into what their favorite celebrities do besides being famous. By using a long-winded lead-up to the question, Evans gave us so much more information about Jeremy Renner than we would have received had he only asked what his favorite wood was. According to Renner, ironwood is a favorite for building houses because "it's very lasting."
View this post on Instagram
 In the episode with Margot Robbie, Evans asks Robbie about different skills that she learned while shooting movies. She talks about having to learn to breathe underwater for five minutes, as well as learning to roller skate on a moving carousel. 
While these are interesting tidbits, Evans goes on to ask Robbie about her time working at Subway. "What was one of the more bizarre sandwiches that you ever made from behind the counter?" Evans asked. Questions like these set the interview apart because Evans asks questions that everyday viewers can relate to. Learning to hold your breath underwater makes Margot Robbie more of a celebrity, but making creative sandwiches at Subway makes her more like us. 
"Is it true that you once crushed four pounds of pasta to win a bolognese eating competition?" Evans asked later on in the interview. 
Robbie laughed and said, "Oh my God you've really done your research, yes." 
Another aspect of Hot Ones that makes it more comfortable for the celebrity interviewee is that Evans also eats the wings. Even after eating over 2,000 spicy wings on the shows, he still struggles with super-spicy sauces like the Last Dab Apollo and Da Bomb. "How are you okay?" Robbie asked after a Da Bomb aftershock hit her mid answer. Evans always mirrors the guests' hot wing journey. If the guest eats the whole wing, Evans eats the whole wing. Because he does the challenge with them, he makes the guest more comfortable.
Hot Ones humanizes celebrities in a way that other interviews can't. "We all know what it's like to die on hot sauce, so even if you bring in somebody who's won Academy Awards or has a whole shelf full of Grammys when it all comes down to it, we're all humbled by hot sauce," Evans told Whalebone Magazine. 
Because Hot Ones has such a wide range of topics, and the hot wings add a new interesting element, the YouTube series appeals to such a large range of viewers. Hot Ones leaves the viewer with an increased connection to Sean Evans, their favorite celebrities, and unfathomably hot sauces. Hot Ones is available on the First We Feast channel on YouTube, as well as on Hulu and HBO Max.
Leave a Comment
About the Contributor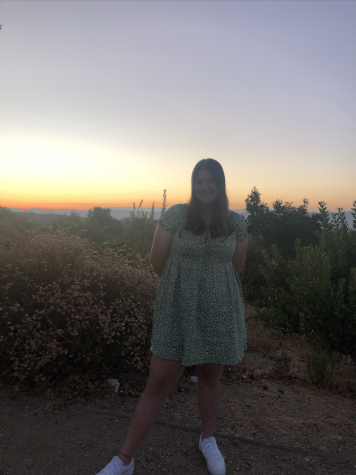 Miriam Herstein, Deputy Editor
Miriam Herstein, The Roar's Deputy Editor, is a senior at Milken who has been in Journalism for two years. While she enjoys writing about student clubs,...