'Red (Taylor's Version)': Does the New Album Live Up to the Original?
"And maybe we got lost in translation
Maybe I asked for too much
But maybe this thing was a masterpiece 'til you tore it all up"
The lyrics from "All Too Well" strike a chord with listeners as they take in the poetically heartbreaking narrative captured in one of the most popular songs on Red, Taylor Swift's fourth studio album. Released in 2012, the original album consists of 16 songs, with an additional six in the deluxe edition. 
These lyrics are even more impactful nine years later as Swift recreates her torn up masterpieces. Fans worldwide have spent the last two months listening to Red (Taylor's Version)  as if the songs were brand new. While many spent quarantine lounging at home, Swift has been working to re-record her first six albums. April 2021 marked the beginning of Swift's journey of re-releasing a significant portion of her discography. 
In 2005, Swift signed with Big Machine Records, owned by Scott Borchetta, where she spent the first 13 years of her music career. Releasing her first six albums with them, Swift transformed herself from a small-town country singer into one of the biggest names in the music industry. However, in 2019, when her longtime enemy Scooter Braun bought Big Machine Records, Swift's master recordings were included in the deal. Braun then sold her masters to Shamrock holdings – the deal reportedly costing roughly $300 million dollars. Swift, who was not given the option of buying her own work before hearing about Borchetta's deal with Braun, decided to take matters into her own hands. 
View this post on Instagram
Starting in November of 2020, Swift was able to re-record and re-release the albums owned by Braun under the name "Taylor's version," gaining full ownership of her new master recordings. Red (Taylor's Version), now produced by Christopher Rowe through Republic Records, was released on November 12th, with nearly exact replicas of the original songs. The album includes all of the recordings from her deluxe edition of Red, along with an additional nine unreleased songs, which Swift refers to as "From The Vault." These "From The Vault" songs include tracks that Swift originally intended to include on the album, but never released. With nine vault tracks on Red (Taylor's Version), Swift included a variety of features like Chris Stapelton, Phoebe Bridgers, and Ed Sheeran. 
While most of the songs are indistinguishable from the originals, slight changes make the biggest differences for die-hard fans. 
Upon listening to "Holy Ground (Taylor's Version)," there are subtle, yet noticeable changes in rhythm and overall cadence, just from listening to the first few seconds. The beat feels slower and lacks the same excitement and character that the original song brought. Before, "Holy Ground" was the perfect song to jump around and dance to, and Taylor's Version doesn't evoke that same feeling. 
Similarly, when first listening to "All Too Well (Taylor's Version)," listeners can instantly recognize that the electric guitar sounds much more subdued than in the original recording. While her vocals sound vastly improved, with less strain on many of the high notes, it fails to capture the intense emotional heartbreak that Swift was going through when it was first recorded.
While many of the differences between the two albums are subtle, Swift brought a completely new twist to "Girl at Home (Taylor's Version)" and it surpasses the original by leaps and bounds. ELVIRA, who previously worked with Swift on other remixes, produced the song with adjustments to the acoustic elements of the original version. With the original being unpopular among fans, Swift revamped it with a more upbeat and pop variation that adds a refreshing change from what fans were expecting. While the pop modification of the song sounds great on its own, it detracts from the country feel that is consistent with the rest of the album. But despite this, the new version is much more well-received. 
As a whole, Red (Taylor's Version) feels much more fine-tuned and well produced in comparison to the original. Swift's voice sounds more mature, with her notes sounding much smoother and softer than they did nine years ago. However, many of the songs lack the same sense of raw emotion that the original recordings provoke.
While the rerecordings of the original songs were subpar in many aspects, Swift made up for it tremendously with the vault tracks. Each song perfectly encapsulates the overall feel of Red while also capturing Swift's journey as a young songwriter and musician. 
"Nothing New (feat. Phoebe Bridgers) (Taylor's Version) (From The Vault)," a favorite among many, conveys an emotional message about the difficulties that young women face when trying to live up to societal pressures. It captures the fear that many women have of growing up and losing the sense of novelty that comes with being young. I found the lyrics to be deeply relatable, especially when considering that Swift was in her early twenties when writing the song. Having Phoebe Bridgers, one of the biggest up-and-coming female singers, as a feature on the song helps to universalize the lyrics and capture a sense of relatability among listeners. 
View this post on Instagram
"All Too Well (10 Minute Version)(Taylor's Version)(From The Vault)" exceeded all expectations (both musically and in its use of parentheses). One of my favorite things about the original version was how clear the narrative of the song was. It felt like a story, with context and exposition, and a clear narrative arc expressing the emotional turmoil of one of her past relationships. With Taylor's Version, it took that sentiment to a new level, with powerful lyrics and emotional storytelling — a combination that's oftentimes difficult to come by. While the production of the song isn't revolutionary and sticks to the same four chords, the lyrics keep the song exciting throughout the entire ten minutes.  In comparison to the original, this version feels much more produced, with less focus on acoustic guitar and a cleaner touch. I find that I gravitate more toward this version than the shortened version, as the original feels unfinished in comparison.
Swift also announced a short film to go with the song, starring actors Sadie Sink and Dylan O'Brien. All Too Well: The Short Film, written and directed by Swift, has amassed over 59 million views in the two months since its release. With flawless acting and beautiful filmmaking, viewers can truly conceptualize the story that the lyrics convey.
Leave a Comment
About the Writers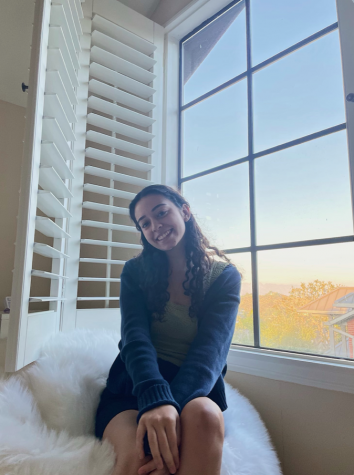 Maya Ziv, Staff Writer
Maya Ziv is a current junior at Milken, and this is her first year taking journalism. Maya has always had things to say and ideas to share, and she is...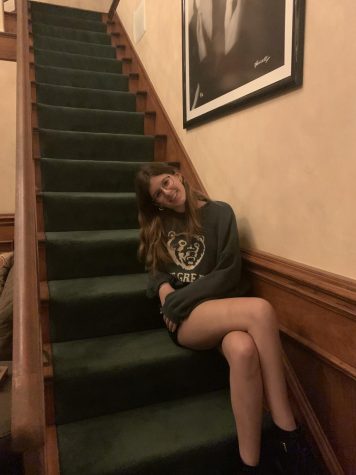 Sofia Goldenstein
Sofia Goldenstein is a junior at Milken and this is her second year taking journalism. She enjoys writing about school events and Tv shows. "I love to...