Chic ou Tragique?: The Disastrous Outfits of 'Emily in Paris'
Spoiler Warning: The following article includes spoilers from the 1st and 2nd season of Emily in Paris. 
Heartbreak, drama, romance, and French attitude have returned to Netflix with the new season of Emily in Paris. Emily Cooper (Lily Collins) is still working in Paris, the city of love and passion, with new friends, new enemies, and new secrets. The only things that could possibly distract you from the steamy affairs, menage a trois, and exaggerated drama are the disgracefully grotesque outfits. Shaming the fashion capital of the world.
Emily in Paris appears to be the perfect mix of Gossip Girl and Sex and the City with a French twist, giving the viewer a painful cliffhanger at the end of each season, like the dilemma of Emily's relationship with Gabriel. The outfits of Emily in Paris, however, were far more painful than the cliffhangers.
While some characters are dressed to perfection according to their roles, personalities, and situations, others greatly lack believability and simply function poorly. There is almost no in-between perfectly fitting or unbelievably horrendous.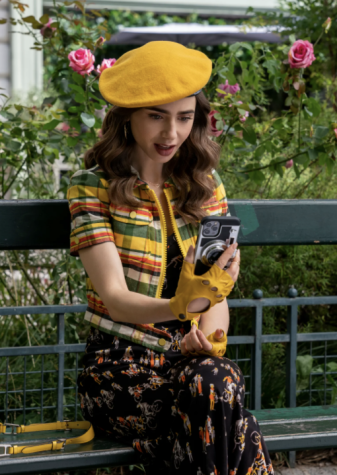 Some of the worst outfits on the show are worn by Emily herself. Each of her outfits are over-the-top, mismatched, and outrageously expensive. There is almost no way a girl living in a tiny one room closetless apartment with her best friend, could afford to go out in a $700 vintage purple leather Courreges jacket and a $1,300 Valentino dazzling purple sequin dress or go to bed in a $780 hot pink silk pajama set with orange stars on it. Just her outfits in the second season total up to over $150,00, and that's not counting her gloves and tote bags. This makes it incredibly difficult for the audience to relate to the main character.
Despite the fact that other shows like Sex and the City feature the main character wearing opulent clothing, the character, like Carrie Bradshaw, remains relatable. Carrie Bradshaw (Sarah Jessica Parker) talks about spending her entire paycheck on a pair of designer shoes. Her outfits are also believable as she mixes rather expensive pieces with second-hand and thrifted finds. This is part of what made Carrie such a likeable character.
Another important aspect of relating to a character is making the audience feel that the character is a real person, not a celebrity. It appears that a hair-and-makeup crew are following Emily around everywhere. While that may be true on set, it shouldn't be so obvious in front of the camera. Despite the fact that the story is fictional and overly romanticized, the audience still needs to feel connected and comfortable with the main character.
Not only does this impact the way we identify with a character, it could also affect how well the actor is performing. When watching the second season of Emily in Paris, you can see quite an obvious decline in the quality of acting. According to Inc. research shows when an actor dresses like their character, it can improve performance. Lily Collins plays Emily, an American girl living in a tiny European apartment and working for a marketing firm.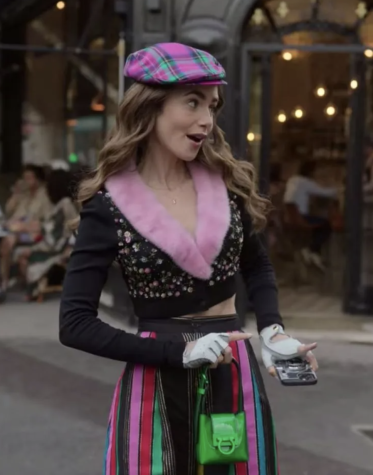 Theoretically, her character, Emily, should be making a decent amount of money but not too much. So when Collins is dressed in lavish clothing and designer footwear, it could be making it harder for her to connect with her own character. 
Thankfully, Camille, Emily's French "frenemy," who is the girlfriend of her love interest Gabriel, and Sylvie, her strong-headed French boss, dress absolutely perfectly. Camille exudes a very Chanel-esque grace and French flair. She is dressed to the nines when attending an event, but she is still able to keep it casual when visiting a cafe. If Camille is wearing a more expensive outfit there is no need to question her since she hails from a wealthy family who owns a champagne brand. Sylvie's clothing portrays her character beautifully as a strong, independent, French businesswoman. She dresses professionally while maintaining her confidence and sexuality in her style. 
Emily in Paris is one of those shows you watch to de-stress at the end of a long day. But what's the use if her "not-so-chic" attire is just cause for headache? While providing the cheesy romantic drama-fantasy that we love, it misses the bit of reality that helps us thoroughly enjoy the show. 
Leave a Comment
About the Contributor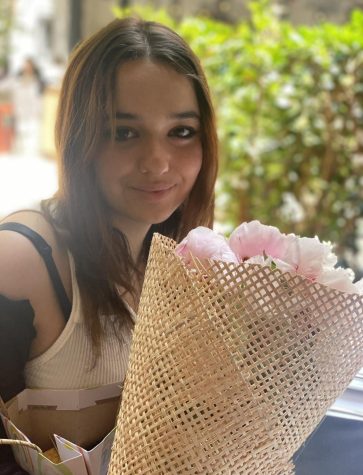 Tevelle Bitton, Culture Editor
Tevelle Bitton is currently a junior at Milken Community Schools and has loved writing since she can remember. This year will be her second year writing...