Blasts from the Past: Top 12 Fashion Trends that Traveled Back to the Future
Look over there! Shoulder pads! A scrunchie! That woman's clothes date all the way back to 1985!
"Wait a minute, Doc, are you telling me you built a time machine?"
Nope. But the way we dress today might make you think we've traveled to the 80s…or 90s..or 70s..or even the 1800s?!?! 
Since 2019, we've seen several trends in the fashion industry that have crawled back up from past decades and centuries. Many of these "current" trends date back to the early 2000s, 90s, 80s, 70s, 60s, and yes, even the 1800s!!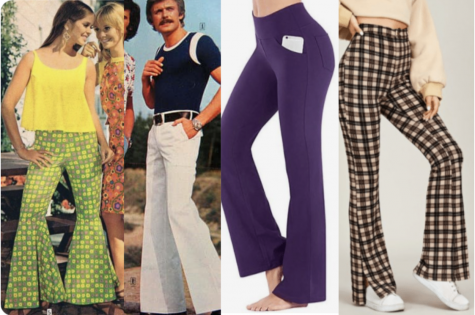 1. Flare-Leg Pants
During the 60s and 70s, flare legs were possibly the most popular form of pants. Both men and women would rock them in classic denim, colorful fabric, leather, solid colors, and hypnotizing patterns. Recently, flare-leg pants have made a comeback. Flare-leg leggings, jeans, and sweats have been on the rise as comfortable and convenient clothing in the time of Covid.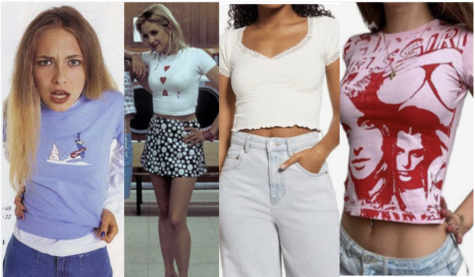 2. Baby tees
The 90s fashion scene introduced simplicity after three decades of extreme looks and outrageous colors. Soft cotton, form-fitting baby tees became popular for young women and teen girls, often matched with a high-waisted mini skirt. In the early 2000s, bold worded (such as the famous Britney Spears "DUMP HIM" tee) baby tees were popular to match with low-waisted pants. For the past few years, baby tees have returned to the same audience of teenage fashion through the popularization of simple or "essential" clothing stores like Brandy Melville.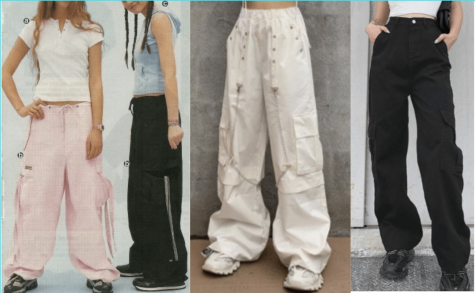 3. Baggy pants
One of the most obvious returning trends is the all-out 90s skater, grunge, alternative look. In the 90s, this look consisted of messy hair, ripped clothing, and baggy pants. Now, this look is referred to as "skater" or "alt" (short for alternative). Oversized jeans and cargo pants, such as Pacsun and BDG (Urban Outfitters), have risen in popularity among teenagers.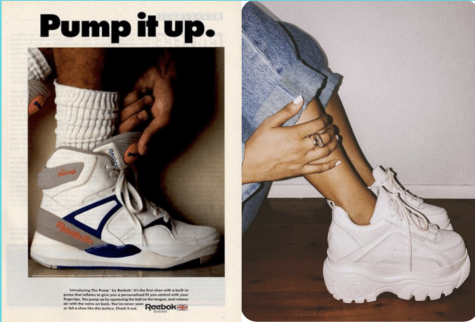 4. Chunky Sneakers
"The bigger the better" was a common theme of the 80s. Big shoulder pads, big hair, and of course, big shoes. Lately, designers and major shoe companies have begun to market chunky sneakers. FILA sneakers are the most commonly seen chunky sneakers, especially among teen girls. Even celebrities, like Kylie Jenner and Ariana Grande hopped on this trend.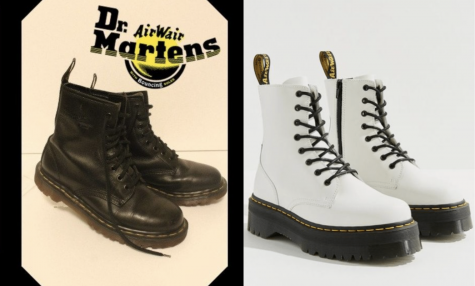 5. Doc Martens
Throughout the 90s, the classic Doc Marten boots were booming with popularity. "Docs" were matched with just about every category of apparel. People wore them to school, work, events, in dresses, jeans, and skirts. Though they've always been around, Doc Martens have once again peaked in the current fashion trends. Not only the classic black booties, but new colors, designs, and heights such as white, shiny plastic shell, rose side stitching, and platforms.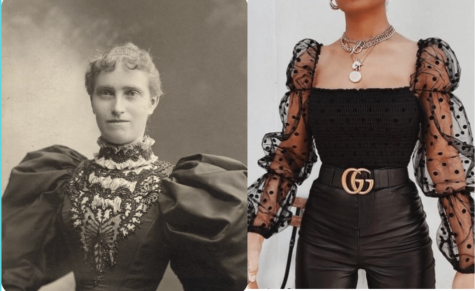 6. Puffy Sleeves
Remember the puffy sleeve trend? Probably not since you weren't alive. But that fashion was alive and well 200 years ago – and now it's back! In the "olden days," men wore shirts with puffy sleeves matched with vests and extremely unfortunate white wigs. Women wore long dresses with puffy sleeves and some unflattering puffy undergarments. Puffy sleeves have now returned with a new and (thankfully) improved look. Mainly in female-oriented clothing, colorful cropped tops with sheer puffy sleeves give new life to the "ye olden" trend. 
7. Scrunchies
In the 80s, big hair came with big responsibilities. Measly rubber hair ties were not going to cut it. Therefore the rise of the scrunchie. In millions of colors, fabrics, and patterns, scrunchies were not only convenient but stylish as you could wear them on your hand like a bracelet. As of the late 2010s, scrunchies have slid back into style, despite the lack of big puffy hair.
8. Corduroy
Corduroy is a special fabric with soft cords that run down in parallel lines. Though it was invented in the 18th century, the 70s were corduroy's time to shine. At the time, corduroy came in every form of clothing from pants and jackets to skirts and hats. Now, high waisted corduroy bottoms are back in style. High waisted corduroy pants and button skirts can be seen in an array of pastel colors and, of course, the traditional brown shades.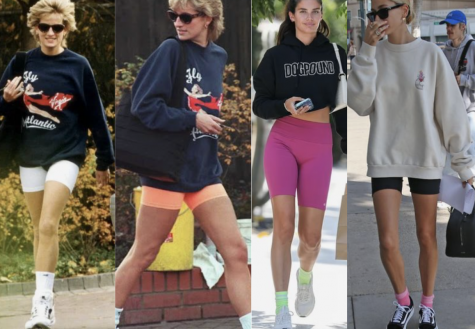 9. Bike shorts
In the 80s, Princess Diana famously wore and essentially popularized brightly colored bike shorts, casually breaking royal expectations. Though I've never seen Megan Markle wear them, high waisted bike shorts are back in every color and pattern imaginable. Today, bike shorts are worn for workout and casual purposes, often matched with an oversized hoodie or t-shirt.
10. Plaid Skirts
When the classic chick-flick "Clueless" aired in 1995, a plaid bomb was dropped on the fashion industry. With a little help from Rachel (Jennifer Anniston on "Friends"), Cher (Alicia Sliverstone) and Dionne (Stacy Dash) started a plaid revolution. In the mid 90s, plaid skirts and blazers were all the rage. And for a brief moment in the early 2000s, Britney Spears re-introduced this plaid school girl look in her "Hit Me Baby.." music video. Recently pastel and dark toned plaid skirts have regained popularity, both tight and loose. 
11. Low Waisted Jeans
The early 2000s were a time for young party-girl celebrities like Paris Hilton, Lindsay Lohan, Kim Kardashian, and Britney Spears to make some bold and, shall we say, interesting fashion statements. Full velvet outfits and bedazzled hats were nothing in comparison to the "rise" of low waisted pants, worn by absolutely everybody from 2000-2014. Though the past few years have been dominated by high rise, low waist is making its way back. Mostly low waisted jeans have been seen rising in popularity over the last year or so.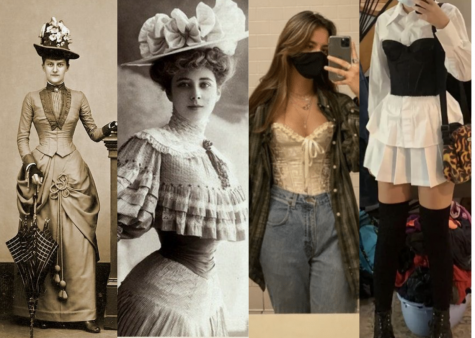 12. Corsets
Possibly the oldest returning trend ever to be seen, corsets date all the way back to 16th century Europe. These "old-timey" undergarments were originally meant to make female features fit the beauty standards of the time, decreasing waist size and pushing breasts upward. Now these somewhat restrictive clothes have come back in a totally new and different way. Corset tops have recently been redesigned to be outerwear in every color and style. Older looking corsets are also worn as tops for a new take on a vintage style.