Tie-Dye for Toys: Freshman Designs Clothes To Fundraise for Children's Hospital
It all began when Sabrina Barlava '24 had a brief three-day stay at the Children's Hospital of Los Angeles in 2017. While recovering from back surgery, she was supported by her friends and family who visited her. But, she noticed other kids did not have that same luxury, and that the toys they were given helped them feel less alone. 
"I wanted to find a way to make [the other children] feel as comfortable as I got to feel," Sabrina said. 
In order to make her idea a reality, Sabrina set on creating an organization to raise money for the Children's Hospital of Los Angeles in the hopes of giving toys to the children there. While she began with simple fundraising, it eventually evolved into making and selling clothes, using the profits to give back to the place that provided her so much comfort during a difficult time. She labeled this project "Upper Patch." Just last year, Upper Patch was able to raise 2,000 dollars to provide toys for patients at the Children's Hospital. 
Two years after her experience at the hospital, Sabrina seized the ability to begin her journey of giving back. When presented with the 20% Time Project at Sinai Akiba Academy Middle School, she had an opportunity to pick one passion project to work on once a week during her Social Studies period. Sabrina recalled the impact toys had on lonely children in the hospital, and decided to dedicate her time to finding various ways to raise money. 
She began with simple lemonade stands and GoFundMe campaigns. From there, she eventually came up with a new method to achieve her goals: clothing design. 
With her grandmother's encouragement and support, she decided to design a jacket for herself. She created the name Upper Patch, but as she was just starting middle school she did not have the time to fully commit to the project. That is, until this past summer before her freshman year of high school. She combined her passion for community service and her enjoyment of being creative by creating the Upper Patch Instagram and using it as a tool to make and sell items with the profit going towards the Children's Hospital of Los Angeles. 
Her process begins when she receives a direct message on her Instagram account. From there, she uses their message and requests to create a unique design, primarily on sweatshirts, hoodies, jackets, shirts, or shoes. She tie-dyes the clothing and adds unique patches. Or, she hand-paints shoes to match what was asked of her.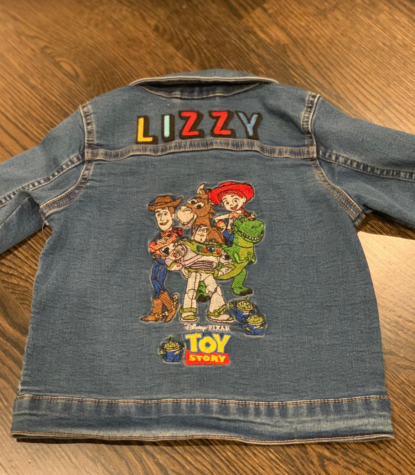 She is currently working with Ms. Camras and Ms. Ordower on a toy drive, hoping to further her goal of getting more people involved in her project. Even if not through her and Upper Patch, she "just wants to be able to help more people," and have more money and toys donated to the Children's Hospital.
Ms. Ordower gave her thoughts on Upper Patch, saying, "Sabrina's personal project is authentic and innovative, using her love of creating art and clothing to fund the gifts for the children at CHLA. This is a good example of outside-the-box creativity in service."
Sabrina has high expectations for the future of Upper Patch. She wants to begin selling premade items to expedite her process and grow the non-profit. "I just hope to raise more money," she said. She has set a lofty goal of raising 5,000 by the end of this year.