Why You Should Take a Walk
Ms. Acker and Mr. Hodgkinson on Maintaining Physical and Mental Wellness During a Pandemic
After a middle-school student shared something concerning during a class reflection activity, the physical education and wellness team took immediate action, sending a link to sign up for a meeting with Ms. Margot Parker, the division counselor for 6th-8th grade. He opted into this meeting, taking advantage of the online counseling. From there, a class activity made the student come to a recognition: he had a "scarcity mindset," and was not thinking in terms of growth and positivity. It was this event that prompted the student to shift his effort and commitment to the class, acting like an entirely new individual. 
During this pandemic, maintaining a healthy body and mind can be increasingly difficult. Students are not only on their computers for hours each day, but have a limited ability to socialize or take a break. Further, teachers and administrators have had to adapt their typical methods of handling student's well-being. Moreover, physical and mental health are intrinsically connected. As a part of the State of the School program, I sat down with Ms. Lisa Acker, the Head of Student Services, and Mr. Dimitri Hodgkinson, the Instructional Leader for the physical education and wellness program, to discuss the changes that have been implemented, as well as the effect that these changes have had on students and Milken as a whole. With that, they also offered their advice on navigating life on Zoom and how to create positive, healthy habits during the school day.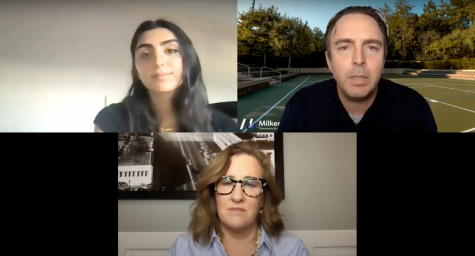 "Everything is flipped," notes Ms. Acker . The pandemic has brought exponential changes to Milken's faculty, students, and organization as a whole. With the term unprecedented being used in reference to nearly every change, the only apt comparison of the impact of COVID-19 is that of a natural disaster. So, like in a natural disaster, it is essential for people to take care of their mental health and continue to make personal connections, even if they occur online. 
One small step students can take to improve their mental health is to understand and practice mindfulness. This is a type of meditation focused on awareness of one's own feelings and sensations. Ms. Acker notes that this will create a more positive and calm mindset during these constantly changing and uncertain times. In order to achieve this, she also recommends that people schedule in time to bring their minds back and to have moments of joy. 
Mental health and physical health are inseparable. Mr. Hodgkinson emphasizes that while many often focus on the aesthetic and body-related impacts of exercise, it is important to note its social, emotional, and spiritual benefits. 
"Staring at screens all day is fatiguing itself," he says. While he has found that, in general, students have been doing well balancing their personal and school life, he hopes to combat physical inactivity and to encourage healthy habit formation during the school day. In short, his advice is simple: "Get out, get your eyes off your screens."
The schedule changes have been formatted to allow for breaks in the day and in the week that facilitate such activity. Mr. Hodgkinson recommends walking at various points throughout the day, as doing online school removes many of the natural breaks that occur in a typical day. In particular, he hopes students will start their day with some quick exercise and also by taking a moment to close their eyes and breath. "Eat lunch and then go for a light walk," he encourages.  The one-hour lunch break is the ideal time to get out of the house after students have eaten. He has gotten creative himself with walking, adding weights, and listening to podcasts while getting out of the house and off the screens. 
While the new schedule allows for more breaks in screen time, teachers have received mixed feedback on its efficacy, with some students enjoying the new schedule and others missing the longer passing periods. Nevertheless, it was intended to allow students more time to get their homework done during Lishma and on Fridays, using parent and student feedback in the process. 
"The level of dedication to meeting students' needs is really incredible," Ms. Acker said, making note that the true feelings of students will not be fully known until the results of a survey are collected.  The implementation of surveys is just one step that has been taken to gauge student feedback and be used to adapt the school's programs and facilities. The newfound emphasis on student feedback will not end with the end of the pandemic. But rather, are indicative of the administration's commitment to adaptability and willingness to better the school year by year.