College in the Age of COVID: How Milken Seniors Are Coping
Kayla Nickfardjam
Co-Editor-in-Chief 
"You know on my last day of school at Milken, I was dressed as a hot dog! It was Purim!" laughs Milken senior Joey Rabinek. "I literally was not paying attention in class, watching the shpiel with my friends, and not really taking school seriously because I sprinted all the way through senior year and I was at the end chilling. Then, the next day, I was at home. Everyone's life has changed." 
Indeed, life for Milken students and the world at large has dramatically changed to exist largely within the confines of the home and through the lens of Zoom. With no definitive answer as to when life will go back to normal, the future, now more than ever, remains a huge question mark for high school seniors. 
For Rabinek, this added uncertainty on top of the unfamiliarity of life beyond high school poses a unique challenge. Many seniors have had to face the reality that their freshman year of college is likely going to be somewhat different than they had originally imagined. What college will actually look like is still very much "up in the air right now," Rabinek says. The soon-to-be freshman at Tulane University adds that the University is currently "working under the impression right now that school is going to start as planned originally, so we're not really doing anything different than we would have at this point."
Daniela Siman who will be attending Washington University at St. Louis echoes this, noting that her university has not yet laid out a plan of action: "They haven't said anything. They're trying their hardest to make sure we don't go online." 
There are some students who are beginning to get some answers. Lauren Shayfar, who will be attending UCLA in the fall, notes that the university is no longer offering guaranteed housing and that there are talks of implementing a hybrid system in which smaller classes can be held in person while the lectures would be accessible online and, regardless, "they'll definitely have the online option for anyone who needs it or can't travel."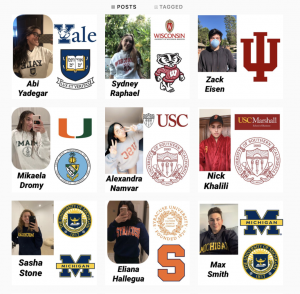 Seniors have mixed feelings about the possibility of virtual classes. "I'm not really stressed about it" says Tyler Yedidson, another future Tulane student. "I know that whatever happens with it, even if the first semester is online, I'm just learning to deal with it and accept the new reality with college." Daniella Siman worries about how online school could potentially affect her college experience: "Freshman orientation, for example, is supposed to be really good. You're supposed to meet everybody there and I wouldn't want any of that to be ruined, that would just suck."
Alexandra Namvar is conflicted about the potential of paying full tuition without experiencing staple college events like USC tailgates and Sorority Rush Week. She adds that if school does not start in the fall, she might defer for a year or a semester as Namvar feels "that there's no point in paying that much tuition for online school." 
College counselors are also dealing with the consequences that the pandemic has had on the college admissions process. Jessica Jackson, one of Milken's own college counselors, notes that by the mid-March time frame when the Safer-at-Home orders went into place, many students had already submitted their applications and were still waiting to hear back from colleges. As a result of this time apart, Jackson says, "I'm not seeing them as often. We don't have as many weekly college counseling classes in the spring of senior year so I'm really connecting with seniors only when they reach out to me. So I think that felt really challenging for me because I really care about these students." Ms. Jackson has spent the last year and a half working with the seniors and all of a sudden she can't see them. "They're getting these admissions decisions and then I'm just sitting in my apartment waiting and wondering, 'Did they get in?' I'm left feeling a little helpless in terms of wanting to be there for them but physically we're so separated so it's challenging to know what they need at this moment. " 
Nevertheless, Ms. Jackson and the rest of the College Counseling Department have been hard at work keeping up with seniors and getting up-to-date information about adjustments to the college admissions process. She notes that some colleges have been taking measures to accommodate the circumstances including extending their enrollment commitment deadline, which often falls around May 1st (for the national deadline) to June 1st. That being said, she wonders "if students are going to be able to make the most of the extensions because it's not like extending it a month gives them an opportunity to visit the campus just giving the environment we're living in". She adds that for years, tons of colleges have been test-optional, test- flexible, or even test-blind when it comes to standardized testing. Jackson thinks that for some colleges who were already planning on moving in this direction, "this pandemic has really pushed them to move forward with creating a test-optional policy knowing that students very well may not be able to take standardized tests on the same timeline that they were expecting." For some institutions, the testing flexibility will only apply for a year while for others it will change for three years, or even indefinitely. 
In terms of what college might look like for the class of 2020, Jackson says "uncertainty is the theme that we hear across the board and it really will depend from college to college and also from state to state what colleges are able to do in terms of opening their campus or needing to continue with virtual learning in finding a hybrid of options." She notes that the College Counseling Department is in touch with colleges and institutions every day to try to obtain up-to-date information. But with the class of 2020 matriculating to between 40 to 50 colleges, she advises "it's going to be in the best interest of the student for them to be regularly checking their email and getting the information directly from the source." 
As for parting advice for the seniors, Ms. Jackson encourages seniors to "feel the feels and allow yourself to grieve that this was not the senior year that you wanted. "At the same time, she implores students to balance out the feeling of grief with excitement and know that the Milken community and families are really excited and proud of them. "There will be a new normal but we will certainly have an opportunity to do some things differently, which is exciting and new!"