Mikayla Weissberg and Julia Simon
Voices Editor and Community Editor
Welcome to Mikayla and Julia's weekly Bachelor review! We are so pleased to have you in attendance. Each week, we're giving personal opinions and highlights of the episodes as they're released every Monday on ABC at 8/7 central and available to stream on Hulu. Last week's episode includes the tense home-town date competition and a third-grade love letter. Prepare yourselves for takeoff.
These girls had their flight with Pilot Peter cut short: 
Natasha
Natasha went on her first and last one-on-one this week, which consisted of an extremely touristy venture around Lima. The whole thing screamed, "We're friends but have no romantic connection." At their dinner, Peter basically asked Natasha if she liked him, and she didn't really respond. It was all a little awkward, so there was no surprise when Peter decided not to give her a rose, especially because he privately told the cameras that he's falling in love with Madison and doesn't feel that way about Natasha. Apparently there was a real orchestra playing the background music during their dinner, which was revealed during Natasha's limo ride away.
Kelley
Kelley, Hannah Ann, and Victoria F. embarked on a nerve-racking Three-On-One date with Peter. Out of these three ladies, one would be sent home while the other two got to bring Peter back to meet their families. The whole date, Kelley was absolutely certain that she wouldn't be going home that day because she's a mature attorney and the other girls act like little children. I mean, she's not that wrong, Hannah Ann literally wrote him a list of reasons why she loves him with little hearts as dots over the i's. That whole interaction reminds us of writing love letters to our sixth-grade crush, but, hey, I guess Peter likes her childish vibe. Anyway… Peter ended up choosing our overdramatic Victoria F. and prepubescent Hannah Ann over the classy attorney, but this probably is in Kelley's best interest because they don't seem to be on the same wavelength in regards to what they want in a relationship. While in the SUV back to rejectland, Kelley goes on a huge rant about the remaining contestants and Peter. We hope to see our grown-up, adult attorney on Paradise.
Most Jaw-Dropping Moment:
Victoria just does not like Peter
During the complete mess of a three-on-one, Peter pulled Victoria F. aside for a customary chit chat. Victoria F, of course, took offense at this and immediately began complaining that Peter was always "in a mood" when he talked to her. LITERALLY WHAT?? It's starting to feel like Victoria F. is the one in control of this relationship. Peter lets her get away with all of the temper tantrums and immaturity that she throws at him. Later, he takes her to a van (giving everyone watching a brief moment of hope — maybe Peter's finally come to his senses and is going to send Victoria home??) but it is sadly to give her a rose. That's right. Instead of telling her off and booting her straight back to Virginia Beach, he rewarded her childish behavior. Again. This most definitely had viewers screaming at their television screens.
Funniest Moment: 
Hannah Ann's letter 
In an attempt to prove to Peter that she has some emotional depth, Hannah Ann wrote a "Things I Love About You" list on a piece of pink paper. We're not quite sure how a list that 4-year-olds craft for their mom on Mother's Day is effective at showing emotional depth and personality, but sweet Pete surely fell for it. Peter used to worry about her age inhibiting his ability to have a serious relationship with Hannah Ann and, if we were him, the little hearts as dots over the i's would have red flags popping up. What made this moment even funnier was Peter's clear love for this cringey gesture.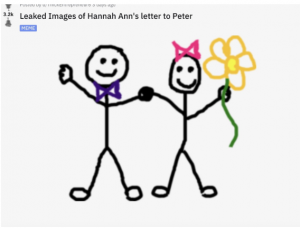 Who we want to win:
Julia

: Madison

Mikayla

: Madison
Who we think will actually win:
Julia

: Madison

Mikayla

: Madison
Who's Left:
Hannah Ann
Kelsey
Madison 
Victoria F.
See you guys next week! Love you so much!