Fire Season Returns: How the Getty Fire Affected the Milken Community
The Roar Staff
"When I went out to my driveway, the sky was completely red — I thought that my street was on fire!" recalled Jessica Schiff, a Milken eleventh grader, who jumped out of bed at 2 AM to her mother screaming, "Fire!" The Brentwood family was overwhelmed and terrified by their close proximity to this unexpected natural disaster. 
On Monday, October 28th, the Getty Fire broke out early in the morning after a tree branch fell on a phone wire, forcing many people to evacuate their homes. At 5:20 am, Milken Community High School announced that school would be closed until it was safe to be on campus. Students went back to school on Thursday once Milken was no longer in a mandatory evacuation zone and the fire was 27% contained. Though students are back on campus and the fire is currently 79% contained, many families are still dealing with its devastating effects. Milken's primary concern at the moment is to accommodate families who were evacuated or otherwise affected by the fires.
Senior Mikaela Dromy was evacuated from her home at 2:40 Monday morning. When talking about her experience, she revealed a scary moment, "My parents ran into my room and said that we had to leave immediately, and I had to pack a full suitcase in 30 minutes." Jessica Schiff explained that her family "ran around the house" hastily packing up their necessities and valuables into the car: "We were really lucky to have friends checking on us to see if we were ok and had family members to stay with during the evacuation. When we watched the footage on the news, I was shocked— the whole experience was just really frightening." Schiff and her family were able to return to their home when the evacuation was lifted three days later on Thursday.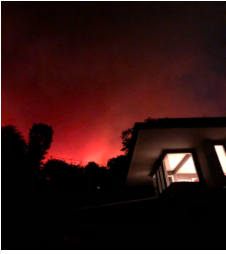 During difficult times like these, it is vital to recognize the people who put their lives at risk to help keep Milken safe. Mr. Nathan Humphreys, Director of Operations and Campus Safety and his operations team worked extremely hard to ensure that the campus stayed safe during the Getty Fire. Receiving a call Monday around 3:00 AM by the Campus Safety Team, Mr. Humphreys made his way to campus and was granted permission by the LAFD to keep a watch on the fire on campus. He and his team worked tirelessly, staying on campus late into the nights and arriving early in the mornings to monitor the situation. 
Luckily, no ash from the fires landed on campus as the fire blew in the opposite direction of Milken. Ultimately, Mr. Humphreys and the administration decided that it was necessary to close school Monday through Wednesday, as Milken was placed in the mandatory evacuation zone. When the evacuation orders were lifted on Wednesday evening, the majority of roadways to campus were open, and air quality was reported to be healthy, the Senior Leadership Team decided that it was safe to reopen campus on Thursday. 
Many students and parents were frustrated by Milken's decision to inform them at 5:30 AM of whether school was going to be open or closed. However, Mr. Humphreys explained that "These types of emergencies are unpredictable," and all other schools that are a part of the Mulholland Education Corridor Association were also informed around 5:30 AM. 
This is not the first closure due to fires in Milken's history. In December 2017, the Skirball Fire broke out near the Sepulveda pass, only three miles from Milken. The Milken campus was closed off to the faculty and student body for four days. Just like the recent Getty fire, many Milken families were affected by the natural disaster in 2017.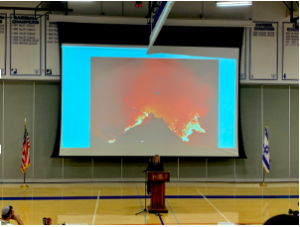 Andrew Turquie was awakened by a banging from the fire department alerting his family that there was a fire threatening their neighborhood. Turquie and his family live in Mandeville Canyon, and Turquie could see the fire burning from his house. The family quickly packed a bag and evacuated to a hotel. Turquie was evacuated for three days, but he used this as an opportunity to help the community. Turquie and a couple of his friends stocked up on supplies from Rite Aid and delivered them to the firefighters combating the fire. They donated all sorts of supplies like water, food, chapstick, and other supplies that the firefighters needed. The Roar asked Andrew what motivated him to do this and he answered, "These firefighters are risking their lives to protect my home, and we felt the need to help them". Turquie safely returned to his home on Thursday with no damage, and his group of friends is a perfect example of how the Milken Community stood up in these challenging times.
On Friday November 1, following the fires, the community gathered in the gym to reflect on the chaotic week. First and foremost, a standing ovation was given for the security and operations teams who were granted special permission to monitor the campus at the peak the fires. This was followed by a heartfelt blessing by Rabbi Shawn Fields-Meyer honoring the heroic firefighters who were selflessly putting themselves in danger even as we spoke. The somber mood drew a contrast to the heartfelt stories of kindness shared by the students. Claudia Johnstone, an evacuee, spoke of the generosity of her friend, Jay Blakyman, who walked to her house to warn her of the fire, and Dylan Seidel, whose family graciously hosted her during the evacuation. Dr. Shulkind expressed her gratitude in an email following the meeting: "I will never again take it for granted having our entire student body together at school and able to return safely to their own homes for Shabbat." This emphasis on community is Milken's number one priority. 
In a time of tragedy, the Milken community has been there to support each other and vows to continue that support to aid in the aftermath of the Getty Fire. Last Thursday was the first day back from the fires and Yozma was immediately brought to action during their meeting. Ms. Camras, the director of Yozma, spoke with The Roar: "In response to the fires, Yozma was active today and instead of doing our normal session we decided to focus on the crisis at hand."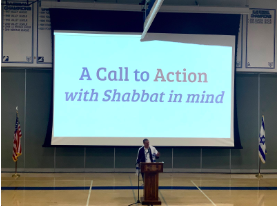 Each Yozma group brainstormed ideas that will be implemented both long-term and short-term to aid those affected by the Getty Fire or express gratitude to those who aided the situation. She noted that on the next day, Friday, Yozma will partner with the administration, Beit Midrash Fellows, and service learning department to organize a letter-writing campaign after the Town Meeting. The Healing Spirits group will organize letters to our own Milken families and to individual members of Milken operations teams. The tenth grade Beit Midrash Fellows will set up a table for people to write letters to firefighters. Further, Yozma Jewish World Watch will collect cash donations to purchase donuts for the local LAPD. Yozma Hunger will have a letter writing campaign to the LAPD as well, particularly for securing homes of those who have been evacuated. 
While these groups offered short-term singular, other groups focused on the need of the future when "there is still likely to be a need, when maybe we're no longer thinking about it." Ms. Camras and Ms. Ordower detailed a toy drive being held by the Children's Group in December that will be given to children of firefighters or families affected by the fires. Moreover, multiple other groups pledged to thank the firefighters and first responders through gift baskets at times when there is not necessarily a fire. 
However, to those not involved in Yozma or the Beit Midrash Fellowship, Ms. Camras notes that these groups are intended to inspire the greater Milken community. Ms. Ordower recommended that people donate funds, based off her communication with various organizations, to non-for-profit groups, as it is difficult for them to go through the process of sorting and redistributing other donations. She also suggested that people consider fostering animals, as due to the influx of displaced pets, many animals may be euthanized to accommodate the increased population. 
On such short notice, the community has come together in support of one another. As Ms. Camras said, "what's so beautiful about it is that this must be done today for tomorrow. When a crisis comes you have to act now. And I think what Milken is really extraordinary at is bringing our community together to be able to activate ourselves, engage, and understand our Jewish obligation to the world."
Once again, Los Angeles is facing the ravages of fire season. However, the bigger fires get, the stronger the Milken community becomes. 
For those interested, Ms. Camras has offered some options for donations
The correct donation address for Red Cross Los Angeles: is:https://www.redcross.org/local/california/los-angeles/ways-to-donate.html
The correct address for Habitat for Humanity: https://app.mobilecause.com/form/9HPZYw?vid=2q9ik
Leave a Comment