Experiencing AIPAC 2019
Emily Vanek
Assistant Editor-in-Chief
For the past two years, I have had the privilege of attending The AIPAC Policy Conference in Washington D.C. which advocates for a strong relationship between the United States and Israel. However, this year, much more than in the past, allegiance to Israel has become a bipartisan issue, a platform for Democrats and Republicans to defend their parties and bash their opposers.
The general sessions created an ideal environment for prominent Congress members and well-known speakers to reference the current political controversies in America. Recently, the anti-semitic and anti-zionist comments of Representative Ilhan Omar have sparked pushback from members of both parties, and a substantial portion of speakers from both parties were not hesitant to condemn all forms of antisemitism and anti-zionism at the conference.
House Majority Leader and Democrat, Steny Hoyer stated: "When someone accuses American supporters of Israel of dual loyalty, I say: Accuse me." He went on to make a comment that was perceived as a clear shot at Freshman Democrat Congresswomen Ilhan Omar, Alexandria Ocasio-Cortez, and Rashida Tlaib. Hoyer proudly stated, "By the way, there are 62 freshman Democrats. You hear me? 62. Not three." His statements were an apparent attempt to denounce Republican claims that the Democratic Party does not publicly criticize–and even promotes–anti-semitism.
Although Hoyer countered such claims, there is still room to argue that the Democratic party does not actively condemn anti-semitism. Senate Majority Leader Mitch McConnell utilized his platform to call out the Democratic Party, saying, "I am troubled that leading Democrats seem reluctant to plainly call out problems within their own ranks." McConnell's claims derive from the actions, or lack thereof, regarding anti-semitism exemplified by Democratic officials. He alluded to Nancy Pelosi, the House Minority Leader, who has previously posed on the cover of Time Magazine alongside Ilhan Omar who has stated that "Israel is hypnotizing the world." Pelosi spoke at the conference and was one of the few who did not condemn Ilhan Omar's anti-semitic rhetoric in her speech, representing the type of passivity referred to by McConnell.
Anti-semitism and anti-zionism must be denounced publicly, and those who advocate for the US-Israel alliance must not tolerate anti-semitic people who continue to shame Israel and the United States for its unwavering bond.
On the last day of the conference, Prime Minister of Israel, Benjamin Netanyahu, presented a speech around the strengths of the Israeli-American union. He condemned antisemitism and anti-zionism and transformed Omar's mean-spirited comments into shared laughter as he joked, "It is not all about the Benjamins baby." He achieved all of this in one speech without mention of any political party. Unfortunately, he did this all from afar on video chat because the day before he was scheduled to meet with AIPAC, rockets were fired from Gaza to Mishmeret near Tel Aviv. In the shared sadness of the missiles and with the joy of listening to the Israeli Prime Minister, all 18,000 people, Republican and Democrat were unified.
Ultimately, supporting AIPAC need not be focused on American politics. Both Republicans and Democrats should stand together for the same cause regardless of their political differences, and AIPAC speeches should focus on uniting all Jews and Americans with a common goal to protect and honor the alliance between the United States and Israel. Afterall, anti-semitic actions are not only a problem for Jewish people, but they are violations of core international human rights and should be discredited by both Jewish organizations and human rights advocates everywhere.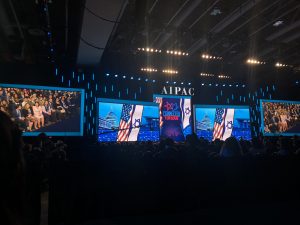 Leave a Comment