The Roar Hanukkah Series: Food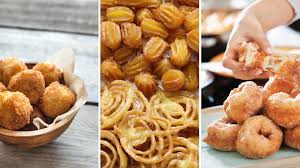 Sarah Pretsky and Julia Simon
Staff Writers
Hanukkah Foods
The best part of every Jewish holiday is the food. Classic Hanukkah foods include donuts and potato pancakes. The key ingredient to most Hanukkah dishes is simple: oil (and I'm not talking about the kind that comes from the Middle East). Vegetable, olive and truffle oil works as long as you have large amounts of it. The custom comes from the miracle when the Menorah in the temple burned for eight days post destruction. Thankfully, now, a gallon of oil is only $9.06 on Amazon, so you won't need to worry about running out the same way the Maccabees did.
Click here to buy your Hanukkah cooking oil
Latkes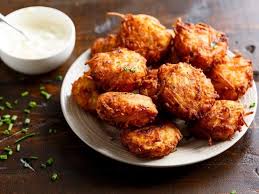 Latkes are a family favorite at every Hanukkah meal or party. The key is to cook the latke to a perfect crisp on the outside, while keeping it mushy on the inside, but not too mushy that it's raw. Latkes can be cooked in butter or, you guessed it, oil! Oil is not only a Hanukkah related option, but it is also healthier. If you would like to continue on a healthier track, try baking the latke, rather than frying it. In addition, to add some flavor, you can substitute regular potatoes with sweet potatoes. If you are looking to spice up your latke, consider adding jalapenos to the mix. To bring it back to the classics, two of the most common latke toppings are either applesauce or sour cream (or both? You decide!). These toppings add a little tang to your basic latke, improving both the taste and uniqueness of the snack.  Latkes themselves are tasty, but there are so many options of additional toppings that really make the snack so delicious.
Sufganiyot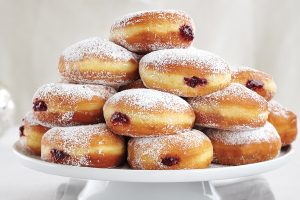 Jelly donuts, in Hebrew called Sufganiyot, are a common Hanukkah dessert. Instead of being a classic donut with a hole in the middle, these donuts are fluffy pillows filled with jelly. Like other Hanukkah foods, the fried donut symbolizes the oil that burned in the temple. The tradition of filling Hanukkah donuts with jelly originates from a German cookbook and has carried on throughout centuries. In fact, in 1920, the Israeli Labor Federation declared sufganiyot the official food of Hanukkah. Modernized sufganiyot are not only filled with jelly. Nowadays, sufganiyot can be filled with any gooey substance. For example, types of custard or Nutella. Making your own sufganiyot can sometimes be a laborious task. There are many different aspects that contribute to making a jelly donut: you need to make the dough, let it rise, fry it and then fill it with assorted types of jams and jellies. But luckily, many donut shops like Krispy Kreme sell these scrumptious Hanukkah treats.  
Click here for a sufganiyot recipe
Gelt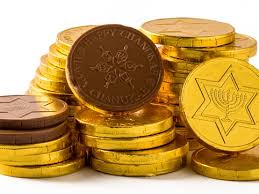 Gelt is a tasty treat that accompanies an engaging, family friendly game. Hanukkah gelt is translated to "Hanukkah money," so you can enjoy earning a little money while getting the delicious taste of chocolate. These chocolate coins are earned through  playing dreidel, or you can buy them at your local grocery store. While playing dreidel, the goal is to gather as many coins as possible so you can feast later. If you're lactose intolerant, don't worry! Gelt comes in dark and milk chocolate, making it a treat for almost anyone.
Leave a Comment