The Great Debate: City vs. Valley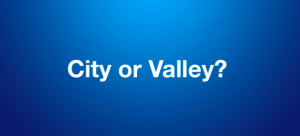 Sarah Pretsky and Julia Simon                                                                                  Staff Writers
Milken brings in a student population from all parts of Los Angeles. There has long been a dispute about whether the City or the Valley is superior. Which has better restaurants? Which has better shops? What about parking and transportation? When deciding where to hang out with friends, all of these factors must be taken into consideration. The time has come to finally determine which is better, city or valley.
Restaurants:
The city and valley are both known for their delicious restaurants. The City (specifically within the Melrose and Beverly Hills areas) is known for its more upscale restaurants and brunch spots. If you are looking for a more high-class, pricy experience, the city offers restaurants like Catch, Gracias Madre, Toca Madera, Il Pastaio and Porta Via. A more casual dining experience is hard to find in the city, but it has restaurants like Urth Café, which, although often crowded, provide this casual experience as well as amazing boba.
In the Valley, there is a wider range of less expensive restaurants and casual dining. If you are looking for a tasty breakfast, you can stop by More Than Waffles or Toast Café. For a quick bite, the Valley offers many In-n-Out Burgers, 8oz Poke and has two Crave Cafés, which are open 24 hours. You can also enjoy a sit-down dinner at Yamato, Lakeside Cafe and Stanley's. The restaurants in the Valley are less spread out and less expensive than the City's, but the City provides a more deluxe experience. Both the City and Valley provide great dining experiences. That said, many Milken birthday events are hosted in City restaurants and not the Valley.
Things to do:
The City is full of shops, hip areas, beaches, malls and culture. Near Beverly Hills is the newly remodeled Century City mall, which has a variety of clothing stores and restaurants. However, it is an outdoor mall which is great for most LA weather, but not when it rains. Every Sunday, Fairfax High School hosts a flea market. Vendors set up shop in the school's parking lot and sell vintage denim, jewelry and accessories. The entry cost to the flea market is $5 and all the proceeds go to the student association. Closer to the Pacific Coast are nice beaches, the Santa Monica Pier and the Third Street Promenade. The Pier is filled with fun rides, funnel cake, and it even holds free concerts during the summer. Year round, the Promenade is a great place to shop as long as the weather is nice.
In the Valley, there are also great shopping centers. Westfield Topanga is the biggest shopping center in LA County and has an extensive number of different stores for shoppers to explore. The recently added Village right next to the mall has a wide variety of restaurants and dessert vendors. Other than shopping, the Valley has mini golf parks and laser tag, such as Castle Park and Ultrazone, two inexpensive family fun centers in Sherman Oaks.
Transportation and parking
Finding parking in the city can be very challenging. Street parking is rare, but in some areas there are lots or garages. Unfortunately, the lots are usually very expensive. Parking in Santa Monica typically costs $15. Making matters worse, parking in many residential areas near Westwood or Beverly Hills is often restricted because of permit requirements. Although there is not much parking, sometimes driving is unnecessary in certain areas of the City because of the presence of Bird motorized scooters, which are accessible online through an app. On the contrary, It is very rare that one stumbles upon a Bird scooter in the Valley because the Bird hotspots are all in city locations and it is more useful there.
In the Valley, parking is much more accessible. The likelihood of finding street parking in popular areas is higher, there are fewer permit restrictions, and lots are cheaper to park in. Many facilities also validate parking so it is free or available at a lower cost. In both the City and Valley, there is an immense amount of Ubers and Lyfts ready to take you to your next location, but these rides are typically more expensive in the City due to high demand.
—————-
Let us know what you think in the poll below!
[wp_quiz id="27526″]
Leave a Comment