Milken falls short to Flintridge Prep in annual Homecoming game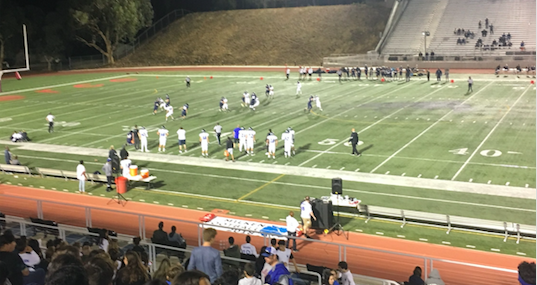 Jack Behar
Staff Writer
As the sun set on a Thursday evening, the Milken football team prepared for their Homecoming matchup against Flintridge Prep. Before the game, cornerback Matt Hason '22 told The Roar, "I'm very excited for my first homecoming game and I'm ready for the experience."As kickoff ensued the bleachers filled up with Milken students cheering on their classmates.
This game was especially important for the 4-3 Wildcats because a win would have resulted in a playoff berth. When asked up about what was needed for victory, senior Captain Max Ptasznik said, "We all just need to fight with our brothers next to us and stay focused through the whole game." Max also detailed that this was his last homecoming game and how thankful he has been for the football program.
The first half was a back and forth battle between the offenses of each team both putting up multiple touchdowns in the first half. Flintridge Prep opened the game with a rushing touchdown but was soon answered by a Gavin Leiberman receiving touchdown. In the second half, however, Flintridge Prep dominated the Wildcats in all aspects of the game. While, the game's final score was a 68-20 victory for Flintridge Prep,  a few Wildcats produced quality performances. QB Daniel Schrager '19 had a dominant performance, leading the aerial attack with 183 passing yards and 3 touchdowns. Gavin Lieberman '19 recorded 2 TD as Milken's strongest receiver. Running backs Max Ptasznik '19 and Zech Humphreys '20 combined for 127 yards rushing.
Although the final score was not one that the Wildcats desired, the team fought hard and supplied all who attended with a memorable experience.
Leave a Comment