AIPAC 2018 Emphasizes the Importance of Alliances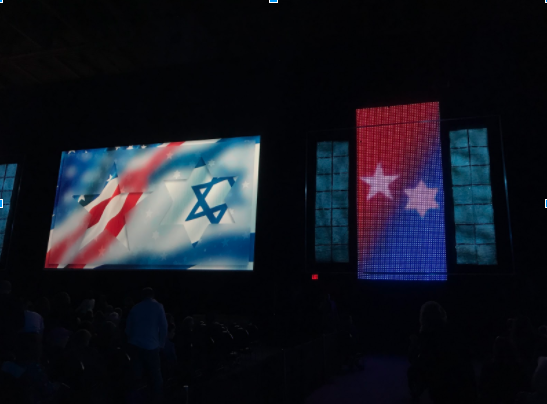 Emily Vanek
Staff Writer
At this year's annual AIPAC Policy Conference, the message of staying loyal to one's closest ally was emphasized. The mission of AIPAC (American Israel Public Affairs Committee) is to "strengthen, protect and promote the U.S.-Israel relationship in ways that enhance the security of the United States and Israel." This strong message is exactly why 18,000 people, including Jews, Christians, Republicans, Democrats, and others gathered at the Washington D.C Convention Center on March 4 until March 6. They came to support the one cause that they all agree on: keeping Israel prosperous and secure in the midst of terror. The majority of the conference was centered around how the United States is Israel's strongest ally and the US will defend it through thick and thin. When Israel is condemned by the United Nations, the United States always stands by its great ally. This strong bond between the US and Israel is instrumental to the prosperity of both countries. Many distinguished speakers spoke about this significant alliance, alluding to the importance of strong friendships and loyalty in one's everyday life.
During the general session, the most well-known figures took the stage. The United States Ambassador to the United Nations, Nikki Haley, was a huge success with the crowd. There was an abundance of cheers and even some members of the audience screamed, "We love you Nikki!" to which she responded, "I love you, too." Haley's passionate stance against bullying began at a young age as she was bullied for having Indian parents who wore a sari and a turban. She now has started an anti-bullying campaign and is able to employ her advocacy to her role in the United Nations. She recognized that many countries single Israel out, but as the new ambassador she revealed, "What used to be a monthly Israel-bashing session, now at least has more balance, but we're never going to put up with bullying." In the middle of her speech, she directly addressed the top Palestinian negotiator, Saeb Erekat, who recently had some advice for her: "He told me to shut up. Mr. Erekat, I will always be respectful, but I will never shut up." Her boldness to call out others for their wrong doing is exactly what the US and Israel need. Through her own self reflection and experiences, Haley drove home the point that the US will always back up Israel because they are friends and "standing up for your friends is critical.
All speakers addressed the importance of a true friendship, specifically between the United States and Israel. They agreed that the two countries are stronger together, which makes it a lot easier for both of them to prosper. A real friend is someone who one can trust to defend them, whereas enemies may inflict terrible things upon another. It is more likely for a nation or an individual to succeed when they focus on developing a true and strong alliance rather than having less meaningful friendships that do not allow anyone to thrive. This concept of mutual trust, support, and growth was brought up extensively over the course of the conference.
Senator Robert Menendez presented a message that pertained to the 4,000 students in the conference. His message branched off of Ambassador Haley's, connecting to the importance of standing up for what is right because students are the next generation. He added, "In recent days, we have been reminded of the power that rests in the hands of America's youth. When young people stand up and speak out for what they believe in, the world cannot help but listen." This year's theme at AIPAC was: "choose to lead." Menendez stressed the importance of the youth advocating not just for Israel's rights, but for their own. There were multitudes of lobbying sessions throughout the conference that provided students forums to voice their opinions and influence others to make a difference.
One of the most highly anticipated speakers, Prime Minister of Israel, Benjamin Netanyahu, spoke eloquently about Israel's "good, bad, and beautiful" components. The "good" regards its advanced technology and economy, and he encouraged the audience to invest in Israel because of how cutting edge it is. The "bad" is the malevolent terrorism that Israel is faced with day by day. Netanyahu specified, "I'm talking about Iran." The beautiful, according to the Prime Minister, pertains to the alliance between Israel and the United States. Netanyahu clarified that this sacred and holy alliance derives from "our shared values," which connects toMilken in that all students share similar values because they come from the Torah. Netanyahu added, "You know, they come from a certain book, a great book, a good book; it's called the Bible. It said that all of us are created in the image of God and those words inspired Jefferson when he declared, in the Declaration of Independence, that all men are created equal – all women too, by the way." As Jews, Milken students can rely on one another to share similar values because they are shown in the Torah. As seen through the Israel-America alliance, it is beneficial for everyone to have allies and friends to help them get through hardships.
When focusing on the "bad," Vice President of the United States, Mike Pence, centralized his speech around the ongoing violence in the Middle East, which is primarily funded by Iran. However, he did shine light on President Trump's courageous decision to recognize Jerusalem as Israel's capital and move the American Embassy from Tel Aviv to Jerusalem. This caused a lot of cheers from the crowd, who were overjoyed from this news. He announced that the United States will no longer certify the disastrous Iranian nuclear deal. Pence acknowledged Nikki Haley when promising, "the days of Israel-bashing at the United Nations are over." Most of his speech focused on Iran's disruption to Israel's well-being and growth. Everyone in the room was educated on Iran's goals to "carve out a corridor of influence running through Iraq, Syria and Lebanon creating an unbroken passage for its armies and its ideology." This news is definitely frightening, and can relate to the protestors outside the convention center, preaching to "free Palestine." Thankfully, there was no violence, but it demonstrates how the world is not at peace and many will continue to argue Israel's right to exist. Despite this threat, Pence reassured that with America and Israel working together, there is nothing they cannot overcome. Pence gave an example of Israeli growth and development in which America has played a key role. He said, "Today, Israel is a world leader in science and technology. That couldn't have happened without America's help. And now America's great and long investment in the State of Israel is paying real dividends for our people and for the world at large."
Overall, AIPAC's lasting lesson was that the substantial alliance between the US and Israel has played an instrumental role in helping both countries thrive. From this strong bond, students can learn that quality friendships are pivotal to success.
Leave a Comment