Catwalk for a Cause: Fashion With Compassion 2018
Emily Vanek
Staff Writer
On Sunday February 11, Milken hosted its 10th annual Fashion with Compassion event at Stephen S. Wise Temple. It was an enormous success with over 100 people in attendance and over 30 vendors. For those unaware of this event, it is a fashion show run by Milken students that helps raise money for a different cause each year. This year's proceeds are being donated to Neve Michael, the only integrative children's home in Israel to offer a wide range of professional services on one site, while providing each child with the love, care and professional treatment to overcome abuse. Students, parents, and faculty members gathered on Sunday afternoon to support this cause and the students modeling.
Models arrived at the venue early in the morning for hair and makeup, while vendors set up their areas for the crowd. The event officially started at 1:30PM and the guests piled in and snacked on burgers, hot dogs, Dippin Dots, Uba Tuba Acai, and more. Clothing vendors were also open, but some that stood out amongst the crowd included Crossed Clothing Company, 310 Club, Sane Boutique, Sku Jewelry, and more. Some of the vendors were created by Milken students, such as Crossed Clothing Company, while others were totally unrelated to the community. Alexa Salimpour '19 set up her company's booth, Sweetened By Alexa, which was initially meant to be a hobby of baking cookies for her family and friends' enjoyment, but it turned into a huge phenomenon within the school. Everyone wanted to try one of Salimpour's cookies, so she believed that, "it would be a great idea for me to bring my cookies to Fashion with Compassion because of the great cause that it is going towards." In addition, buyers and event goers were also more inclined to purchase products because 30% of the proceeds were going to Neve Michael. Danielle Kashfian '20 mentioned that she was a lot more prone to buy something because she wanted to support Neve Michael. On the day of the event, she exclaimed, "I really want a Crossed Clothing hoodie and I especially want to buy it today because I know it is going towards a great cause."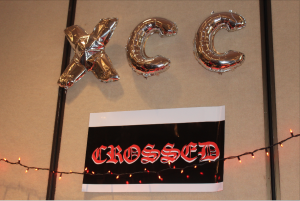 An hour into the event, guests gathered into the fashion show room while models lined up backstage ready to hit the runway. The chairs of this year's show, Ariel Nickfardjam '18, Aliyah Farahi '18, and Taylor Gabayzadeh '19, spoke at the beginning of the event, expressing their deepest gratitude and consideration for everyone who was involved in this process. Nickfardjam exclaimed, "Fashion with Compassion was an amazing experience that was a lot harder than I thought it was going to be, but I ended up learning a lot. It was the first time I felt that I was able to take my passion and do something monumental with it, such as contributing to an amazing organization like Neve Michael." Before models hit the runway, the mood of the show shifted to acknowledge Neve Michael. A bouquet of flowers was presented to a representative of Neve Michael who on its website refers to itself as a "safe haven for children 5 to 18 years of age who have been removed from their homes." The representative expressed his deepest gratitude to the Milken Community for putting on such an amazing event that helps strengthen an amazing cause.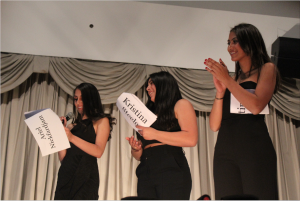 Once the show commenced, it was in full force and had the crowd roaring with excitement and interest. Pairs of models strutted down the runway, which was adorned with red roses, while the master of ceremonies announced their names and the clothing brand they were modeling. Morielle Galam '20 was extremely nervous walking for the show although it was her second year. After exiting the runway, she mentioned, "Wow, it was such an exhilarating feeling. As soon as I entered the runway, it felt like I was alone and all I could see were blinding lights. I completely owned that stage." To everyone's surprise, Coach Jason Walters made an appearance on the runway, leaving a lasting smile on the audience. He added, "I did not just do it for the laughs and the cheers, although that played a major role. I did it for the cause." As soon as the last pair of models got to the end of the runway, a huge boom of confetti was exploded from cannons. After the show, members of the audience said their farewells, while others ran to vendors to snatch their favorite items directly off the runway.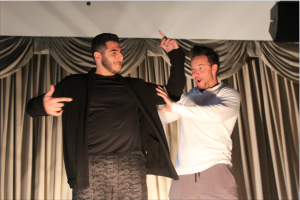 While this year's event left the audience with some treats, it also left everyone with a feeling of gratitude, appreciation, and pride to be able to contribute to the amazing cause, Neve Michael.
Leave a Comment