Milken closed December 5-8 due to Sylmar fires
Mira Berenbaum
Editor-in-Chief
UPDATE #3.5 12/6/17 @ 6:15 PM: Milken will be closed on Thursday the 7th and Friday the 8th for the third and fourth consecutive days. Please continue to check this article for the most up-to-date information. (This update has been modified)
UPDATE #2 12/6/17 @ 9:35 AM: Milken remains closed today with an increased danger due to the Skirball Fire. Please see this new article for details. We will post updates on that article as they become available.
UPDATE #1 12/5/17 @ 6:45 PM: Milken will be closed again tomorrow, Wednesday, due to continuing environmental concerns. Updates will be posted on milkenschool.org.
Due to fires in Sylmar that have quickly spread as the winds increased, Milken has closed its campus for Tuesday, December 5. At 7:00 AM, a mass text went out to all Milken families, and shortly after, calls were made home. Buses then diverted and students returned to their original stops.
Head of School Mr. Gary Weisserman said that he smelled smoke early this morning from his own home nearby. He spoke to the heads of the other schools near Milken and then went in to see for himself where he soon realized how bad the situation was. Deciding to close school, he noted that "safety comes first." Both classes and sporting events have been canceled for the day.
Milken is not the only school closed today. All neighboring schools on the Mulholland corridor chose to shut down today as well due to the poor air quality.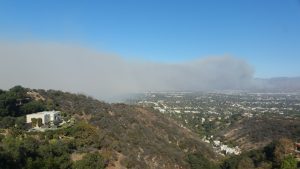 Director of Operations and Campus Safety Mr. Nathan Humphreys explained that the campus is not in any real danger; however, because the fire is only 15 miles north of campus, the air quality on campus is very poor. He explained that "the fire has consumed 2,500 acres and is being fueled by sustained 23-mile-per-hour Santa Ana winds. The fire was zero percent contained as of 7:15 AM this morning. The Creek fire broke out off Little Tujunga Canyon Road around 4 AM and is threatening homes north of the 210 Freeway." As of 11:24 AM, 4,000 acres have been burned and still zero percent containment. Humphreys added that it is important to stay indoors today.
Milken is planning to resume classes tomorrow, December 6, however, that is dependent on air quality. Updates will be posted on Milken's Emergency Update page. No extra days will be added to the end of the school year.
Leave a Comment