Operation Cheezed: 5 Milken Juniors Bring Free Pizza to School
Mira Berenbaum
Social Media Director
Today at Oneg, in addition to the free ice cream promised by Student Government, Milken students were also treated to free Domino's pizza courtesy of Aviel Dardashti '18,  Marcus Bernstein '18,  Josh Shayer '18,  Jack Wagner '18, and Zeke Levin '18.
Aviel Dardashti '18, head of the mission, brought down a cart of 35 large Domino's pizzas at the end of H Block classes. During this time, Student Government was preparing their free ice cream giveaway and Nagila Pizza sales. Marcus Bernstein '18 said, "We just wanted to give students a good time to celebrate the last day of school. We know that kids don't like paying $4 a slice for Nagila. Domino's is better, and we knew students would enjoy it. We had fun. Everyone had fun."
Jillian Stern '18 and Talia Harris '18 said, "It was legendary. Best prank ever."
Hannah Kekst '18 and Aaron Saliman '18 called the mission "lengen-dairy."
Jack Wagner '18 mentioned that one motive behind the free pizza was "to mess with the Student Government Nagila Pizza sales." For the same reason, Student Body Treasurer Josh Afshani '18 condemned the act and said, "Student Government sells pizza every Friday and that should be the only pizza." Alternatively, President Noah Cohen '18 said, "Students can do what they want." Both Afshani and Cohen were seen partaking in the free pizza celebration.
The Nagila Pizza sales area, usually packed on Fridays, was empty at 11:40 am due to "Operation Cheezed." While accidental, a positive spin is that Cohen '18 said, "We had a lot of leftover pizza and so we delivered 12 pizzas to be served for dinner tonight at Hope of the Valley Recuperation Center."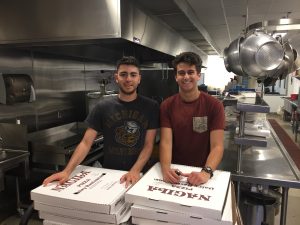 Dardashti mentioned that the group has been planning the mission for around two weeks. They did their research and claimed to have found that their endeavor did not break any school rules because of the school "institutional kashrut, individual choice" rule. According to the Student-Parent Handbook, the Kashrut Policy states, "When serving students, parents, faculty, or guests on campus, the school will provide certified kosher fare"…"The food which students bring from their home is open to personal choice. However, foods which by nature can never be kosher, should not be brought from home (i.e. pork or shellfish products and milk/meat combinations)." Milken's Administration was concerned that this operation blurred the line between personal and institutional Kashrut.
Because the Domino's pizza was not being sold, it falls under the food "brought from home" clause, and therefore is up to personal choice. Students were not forced to eat the pizza, and as a result, the group claims they did not break any school policy.
View Comments (1)