Jordan Anstey: Lessons From an Entrepreneur
Michael Schulman
Staff-Writer
"Live in today, plan for tomorrow" was the quote that inspired Jordan Anstey's freshman self to start his own clothing company, Free Maverick. Now, as a mature and reflective senior, he is "extremely proud" of all the work he and his business partner and best friend Spencer Cait, who attends De Toledo High School, have accomplished, but they are just getting started. The Roar sat down with this fascinating entrepreneur, artist and go-getter to learn his secrets to success.
Like any great company, Free Maverick is driven by a mission and a set of values. "Free Maverick was just a concept that we built our company around," Anstey explained. In this modern day of social media and conformity, the company is committed to teaching others to be "true to themselves and not letting others influence them or bring them down." The name itself is very symbolic, as a "maverick" is someone who is an "independent and open-minded person." When asked what makes a true artist, Anstey told The Roar that it is someone who "carries their unique soul and energy with them expressing it with everything they do." Inspired by this creativity and overall powerful message, Anstey and Cait were able to create clothing that everyone could enjoy.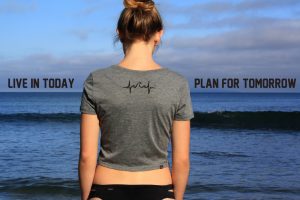 Anstey is a very "hands on" entrepreneur who was heavily involved in the creation of the logos, designs and look of Free Maverick clothing. Each piece of soft, comfortable clothing sports Free Maverick's signature logo of a wave. Free Maverick's clothing can be considered high quality, yet casual, perfect for a day at the beach. As of now, the company makes only t-shirts and tank tops for men and women, but they hope to expand their clothing options in the future. Apparel is now available for purchase at "The Beach House" store on Abbot Kinney and on their website, www.freemaverick.com. While still working on Free Maverick, it has been very tough this year for Anstey because he is in midst of the college process, and he plans "to revamp the company and expand next year."
Along with Free Maverick, Anstey and Cait have started another company that is connected to Free Maverick, called Indeep. Indeep promotes local DJs and creates opportunities for them to show their music to the public. Being an electro-house DJ himself and able to proficiently play the guitar, drums and piano, he has a deep appreciation for music. While he does not create his own music, Anstey created a platform called "DJ Night" where about "15-20 people come chill in a room where [he] and a few others DJ a 25-minute set, revealing all new music that [they] have found and kept secret from each other."
Whether it has been fashion or music, Anstey believes that "no one can stop someone from achieving their goals if they have a burning passion to share their innovative products with the world." However, that does not mean the "doubters" do not exist. In fact, Anstey explains that one of the hardest things about starting Free Maverick was dealing with people who would occasionally say that "it won't work" or "this is a waste of time." Anstey kept moving forward with his dream, and did not let the critics get in the way of his goals.
Two companies, multiple partnerships and numerous connections later, Jordan Anstey has accomplished a lot in the past four years. When asked about what advice he would give to young entrepreneurs, Anstey squashed the misconception that "a great company stems from a great idea," explaining that "an idea is only 10% of an entrepreneur's success. The other 90% consists of hard work, passion and perseverance."
Leave a Comment