Wildcats Secure First Ever CIF Championship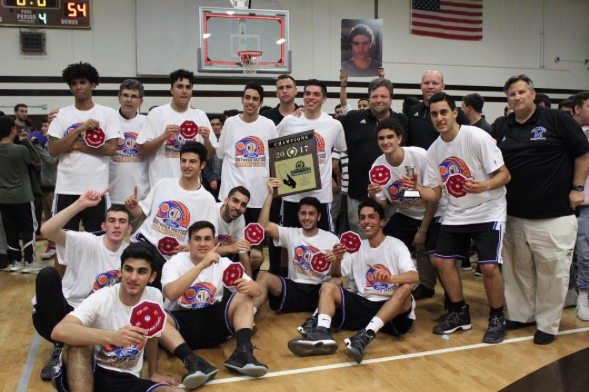 Jordan Brenner
Community Editor
Fans from both Milken and Shalhevet showed up in droves to watch the CIF Division 4A championship game. The two teams represented the first ever CIF championship matchup between two Jewish schools. To highlight the unity between the two schools and the Jewish community in general, the entirety of the gym, including students, parents, alumni and friends from both teams, stood up and sang "Am Yisrael Chai." This showing was in response to the recent rise in anti-Semitism and specifically, the Westboro Baptist Church protests at Shalhevet. The gesture, while nice, was short-lived.
In a passionate, close contested game that truly could have gone either way, the Wildcats ended up sneaking by the Shalhevet Firehawks 54-52 to secure their first Boys' Basketball CIF championship.
The fans were a critical component of the win. The Milken student section, dressed all in black, stood the entire game, and shouted remarks at the referees and the other team. Starting center Brian Pearlman '17 attributes much of the team's success to the fans' energy. Pearlman notes, "Not to sound cliché, but we couldn't have done it without the fans."
The game, held at Crespi Carmelite High School, drew the attention of the Fire Department as a result of the gym being filled over its capacity. Because of this, an estimated 400 fans were turned away at the door, preventing them from viewing the historic contest. The Fire Marshal even threatened to shut down the game midway through the fourth quarter.
During the actual competition, Doron Matian '18 had by far his most productive game of the season, scoring 11 points off of the bench. But perhaps his greatest moment came when he electrified Milken fans with a half court buzzer beater, giving the WIldcats a three-point halftime lead. Matian's shot was featured on the Channel 4 News, which he describes as, "something to remember for the rest of my life." Matian continued, saying, "Making crucial plays in such a big game was the best feeling in the world."
Milken's dynamic duo, including Amitai Afenjar '18 and Aaron Horouni '18, scored 18 and 11 points respectively. Kian Zar '17 also had a big night, launching and draining multiple three-pointers throughout the game.
The team will now face West High School in the first round of the Division 4 State Playoffs on Wednesday evening in Torrance, CA. Bussing will be available to and from Milken for students attending the game for $5, and tickets to the game will also be $5. Tickets to the actual contest must be purchased at the door of West Torrance High School's gymnasium.
Leave a Comment