The (Roar)ing 20's: Winter Formal 2017
Emily Vanek
Staff Writer
The electric, carefree atmosphere of the Roaring Twenties was in full force at Milken Community High School on Saturday, January 28th in the Hollander Gymnasium. For the second straight year, Milken and deToledo High School put on a joint formal with Milken standing in as host of this year's event. The annual formal takes place every winter, and each year has a different theme. This year's theme stepped back in time to the twenties: The Great Gatsby – the famous novel by F. Scott Fitzgerald – filled with lavish, jubilant wild parties. The 1920s is iconically recognized for celebrations with people dancing to jazzy tunes, sipping on bubbly drinks, and socializing with complete strangers. Obviously, the perfect time period to inspire formal.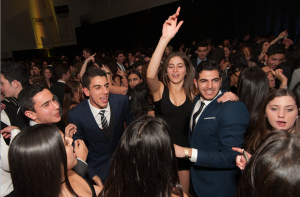 The venue was almost unrecognizable as it was decorated with impeccable designs that were reminiscent of the twenties. Last year, the two schools collaborated for the first time on the deToledo campus. This year was Milken's turn to host the event, and the Wildcats did not disappoint. This year's formal was the biggest one yet, with over 600 people attending between the two schools. One of the highlights of the dance was the two fountains: one, a "champagne fountain" with sparking apple cider, and the other a chocolate fountain with fruit and desserts to be dipped. In terms of decor, a TV screen enhanced the atmosphere by continuously playing the party scenes from the famous 2013 Gatsby film starring Leonardo Dicaprio.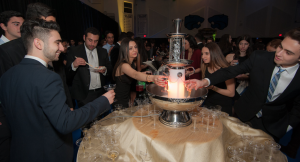 The collaboration with deToledo was a great opportunity for Milken and deToledo students to bond with one another. Many students at Milken have friends at the Jewish school in the West Hills and enjoyed the fact that both campuses could come together and share in a special night. Lindsey Rosenfeld '20 said, "I am so happy that we get to have this dance with De Toledo. I have so many friends from there, and I love spending time with my Milken friends and my out of school friends."
What comes naturally along with a Great Gatsby theme are of course great outfits too. Milken handed out jewelry and headpieces for students to wear during the dance and everyone was dressed to impress! Guys came in tuxedos or suits and girls wore fancy and elegant dresses. The room was very colorful filled with different dresses of all kinds.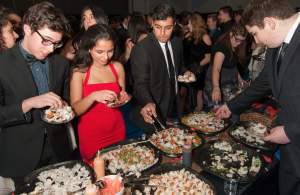 Overall, this year's Winter Formal had everyone saying "a little party never killed nobody!"
Leave a Comment