Milken's Campus Recycled
Michael Bolour
Staff Writer
Over the past couple of years, the Milken campus has experienced an influx of trash left by students. Specifically, student areas have been polluted with garbage left over from the lunch period. Whether it's food left on tables, chairs, or all over the ground, the trash makes doing work or just hanging out with friends unpleasant for everyone at Milken. In 2015, Milken's maintenance staff was burdened with the task of cleaning up an obscene amount of trash after each lunch period as students failed to complete the simple task of throwing out their garbage. Students were confronted by the problem during class meetings and were told that the campus' trash problem had gotten out of hand. However, the administration's efforts in encouraging students to keep the campus clean fell short. Now, Mr. Nathan Humphreys –– Head of the Operations and Safety department –– has partnered with Abby Zuckerman '17 and the rest of the Environmental Club to introduce a new and efficient organizational system for trash disposal on campus.

At the start of the new year, new "green" trash cans were placed all around campus to help make it easier for students to not only dispose of their trash, but to recycle. Prior to the change, students had nowhere to place their leftover plastic, paper and other recyclable items. Almost everything was placed in either the regular trash bins or the blue "cans only" bins. Now students have a variety of different trash bins, giving them more ways than ever to dispose of their leftovers. The first bin is for compost and is used for organic materials that could be broken down. The second bin, located just outside the school administrative office on the 3rd floor, is for plastic bottles and features a basketball mini hoop as an optional game for throwing away plastic bottles. The third and final type of bins recently added are the split recycling/landfill bins. These receptacles are scattered all around campus and are accessible in every student area. The bins are primarily used for the common trash that students dispose of after eating a meal, as well as most recyclable materials including paper and bottles.
The Roar sat down with Mr. Humphreys to get a deeper look into how the new trash cans can make an impact on students and the Milken's campus.
What inspired you and the Operations and Safety Department to take on this project?
One of the objectives of the Operations and Safety Department is to identify areas of opportunity where we can make a positive and lasting impact on the student learning experience at Milken. In reviewing our '16/'17 areas of opportunity, the recycling program was identified as an area of interest, for it will have a lasting environmental impact with a goal we all share: landfill reduction.
Was there anything that led to these new improvements in recycling and trash disposal around campus? (Any specific problem that made this a priority for you and your department?)
Our program in the past consisted of only plastic bottles, paper and cardboard recycling. If anything other than plastic bottles, paper or cardboard ended up in the intended bin, all contents would have to be discarded as landfill waste. There were missed opportunities due to the contaminated recycling bins.
We chose to invest in new bins, new signage and new dumpsters to maximize our self-sorting recycling program efforts. With 100% student and faculty participation we would reduce our campus landfill waste by 40% by the end of 2017.
What else do you and your department have in store for improving Milken and its campus overall?
The Operations and Safety Department has the following campus improvements scheduled over the next several months.
Electric Vehicle charging stations

Middle School herb and vegetable garden

Upper School elevator cab renovation
With all of the attention on Milken's renovation of Buildings 3 and 4 entering the 2016-17 school year, smaller improvements and updates being made by the Operations and Safety Department may not have caught the eye of as many Milken students. But, the department is working towards maximizing our campus' potential through various upgrades. In addition to the new trash bins, Milken has added new and improved adjustable LED lights to the gym and automatic flushers in all restrooms. "I think it is great that Milken is looking for new ways to improve our campus. Although I am graduating this year and won't be present for the final result, seeing the campus grow from when I first entered my freshman year in 2013 has been amazing" Yaron Yasmeh '17 shares.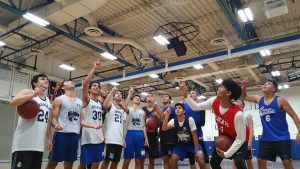 It is safe to say that today's middle and early high school students will be in store for an exciting jump into an all-new and improved campus in years to come.  
Leave a Comment