Top 7 Healthy Homemade Lunch Ideas to Bring to School
Sara Stolzenberg-Myers
Staff Writer
Kale Salad with Chicken Breast
Homemade salad is a quick and healthy option for school lunches. With the daily dose of nutritious greens and protein, it will leave you feeling refreshed and replenished for your next class. If you desire some crunch to your salad, throw in some lightly roasted almonds. To change things up, you can even add peppers, tomatoes, and avocado for a more interesting taste.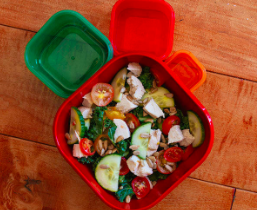 Pro Tip: bring some salt, pepper, and half a lemon to school in order to dress it on the spot. This avoids making a complete mess or simply facing a soggy salad.
Whole Wheat Wrap with Veggies and Hummus
A quick and easy lunch to make. The necessary ingredients you need to make this delicious lunch are: a whole wheat tortilla, hummus, and any of your favorite veggies. This wholesome wrap accompanied by some healthy sides makes for a filling and scrumptious lunch. Enjoy this classic with a mediterranean twist!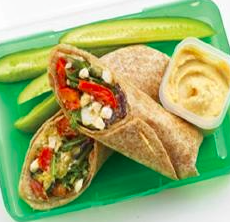 Turkey Burger Lettuce Wrap
While we are all secretly daydreaming about In-N-Out burgers during math class, there is a healthy alternative to satisfy your cravings. Lightly seasoned turkey burgers are both easy to make and perfect leftovers to bring to school the next day. Romaine lettuce acts as the perfect bun for the meat patties. Make sure to add some toppings in between and have fun with it!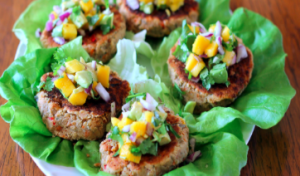 Quinoa-Arugula Salad
Fulfill your daily requirement of grains and greens with this tasty Quinoa-Arugula salad. These two ingredients together make a great salad base and allow you to move in any direction you wish, in regards to additions to the salad.
Pro Tip: add some grilled salmon or maybe some grated parmesan cheese. Either way, you will be walking to your 12:15 class with a happy mind and a happy stomach.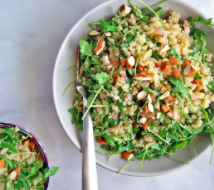 Cucumber, Feta, and Avocado Pita Pocket Sandwich
Embrace the Mediterranean lifestyle with a simple, yet delicious pita sandwich. Cucumbers add a delectable crunch, while the feta creates a zesty and flavorful bite. As for the avocado – who doesn't love avocado?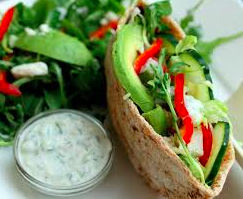 Pesto Gnocchi from Last Night
Have some leftover pasta from dinner last night? Bring it to school! If you want to make this lunch more healthy, add some protein to the pasta and a piece of fruit to complete the meal.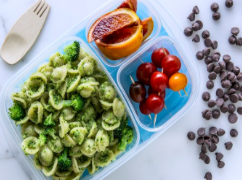 PB&J with a Twist
Bring back your favorite childhood snack with a new level of fun. Turn your normal peanut butter and jelly sandwiches into sushi rolls. Use your prefered choice of peanut butter and jelly, spread it on some tortillas, and roll it up. There you have it! For an extra sweet taste, sprinkle some berries on top.
Pro tip: For contrast in textures, use extra crunchy peanut butter for a more interesting bite!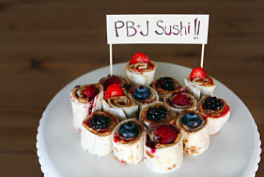 Leave a Comment