Kaitlin Banafsheha: The Creative Baller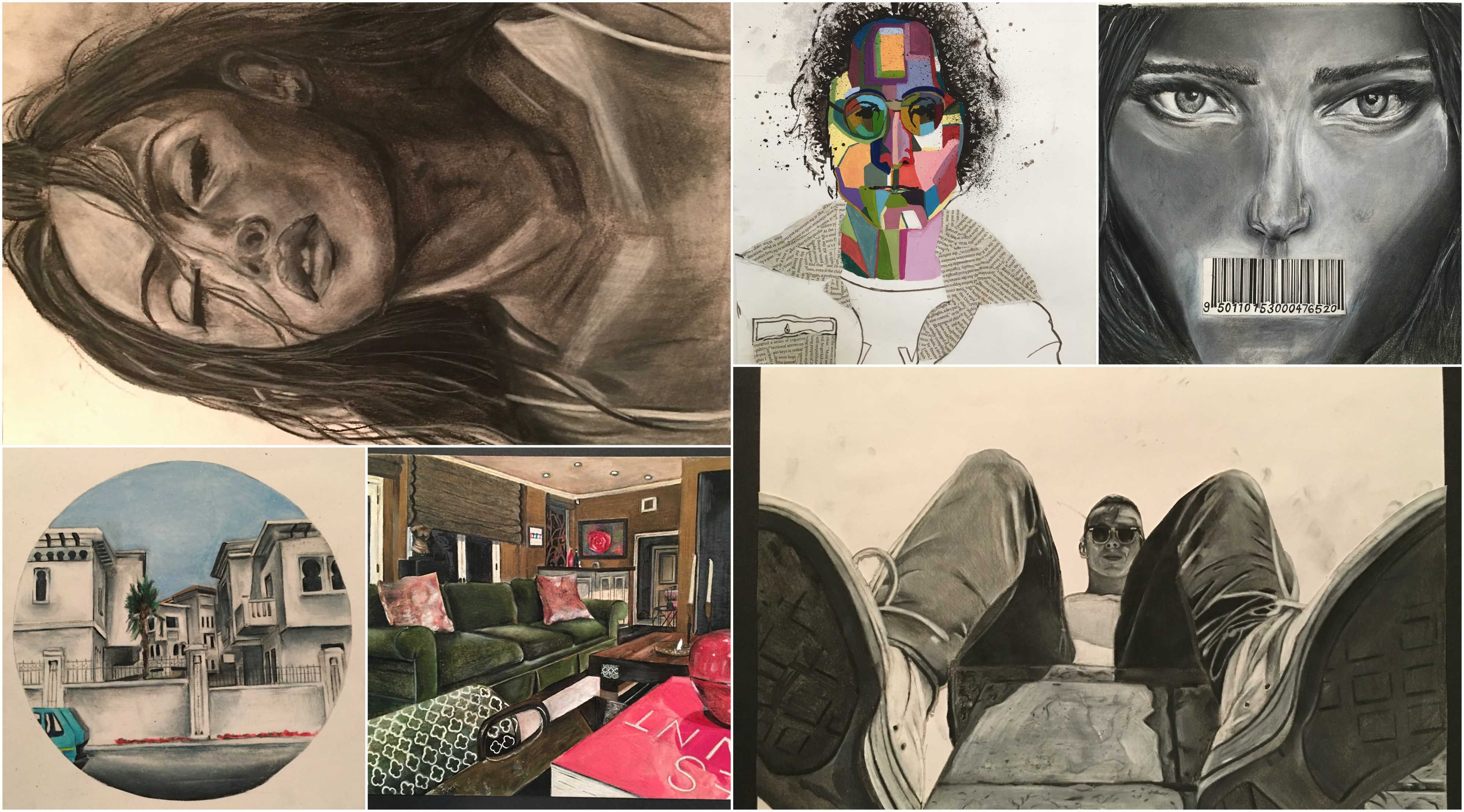 A collage of Kaitlin's work.  
Lauren Cohen
Voices Editor
Described by friends as humble, down-to-earth and "the most determined person I know," Kaitlin Banafsheha '17 is an extremely personable and admired member of the senior class. Not just friendly, she also enhances the Milken community as a varsity athlete and an avid artist. Kaitlin has been Milken's varsity basketball point guard since freshman year and in love with art since her experience in art therapy at the age of six.
We sat down with Kaitlin for further insight into her unique mind.
A penguin walks through that door right now wearing a sombrero. What does he say and why is he here?
The penguin asks me if he wants me to braid my hair. Wait, what? If he wants to braid my hair. Okay. He makes it really pretty with the Mexican beads and then asks if I want to go back to Mexico with him, and yeah.
What is your craziest memory at Milken?
I have too many, but one of them is probably getting a 58% on Dr. Scoville's biology test.
If you were 80 years old, what would you tell your children?
Oh my God, so many things. First, I would tell them to never feel discouraged when they can't do something because everyone has their capacities. Life is literally all about happiness, and if something is not making you happy, you don't have to do it.
Which Milken teacher is your spirit animal?
Oh. OOOH. I think that Scott Voltz is my spirit animal. Even though he's in Texas.
If there was a movie produced about your life, who would you play and why?
Oh! I would for sure play Jonah Hill, like a hundred million times Jonah Hill. I want to be in that body and like I want to just like talk like him.
Which kitchen utensil would you be?
I would be a knife, so I can protect people, but I can also hurt people when I want to. And I can also cut up some of my favorite veggies when I want some.
What are you known for? What kind of Milken student are you?
I think I'm known to be relatively quiet at times, but like with the things I love to do, like art. People know I'm more expressive in those ways.
Celebrity crush?
Obviously Channing Tatum is one of the hottest men alive. I also think that, um what's her name? Emily Ratajkowski is like the hottest woman on this planet.
What's your next concert?
Two Door Cinema Club
Describe your happy place.
My happy place is when I have a million things on my mind, but I don't feel it because I'm behind my easel and I've been there for at least 6 hours.
If you could do any job in the world, regardless of money, what would you want to do?
I would probably just own my own studio and have a little loft on top of my studio that would be like my house. I could just walk down to it, and people would come and buy paintings. That would be my only worry in life and nothing else would matter.

If you could live forever, how would you spend eternity?
I would be God. I want to be known as God. I want to see how the world is. I don't know, it would be awesome.
Leave a Comment