Tiyulim Week: New York Theatre
Sawyer Kroll
Editor-in-Chief
This past week, Milken students participated in the New York Tiyul where they explored several aspects of the New York theatre scene. Led by Mr. Menna and Ms. Frangipane, 15 students took part in a week of musicals, plays, meetings with Milken alumni and industry experts, and just experiencing the city.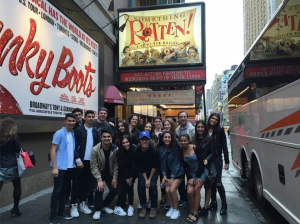 The group saw five shows in their five days in New York, including both straight plays and musicals. Some favorites included The Curious Incident of the Dog in the Night-Time, a Tony Award-winning play about a boy with autism, and the smash hit Hamilton, a musical about Alexander Hamilton with an innovative hip-hop soundtrack. Hamilton has become a cultural phenomenon; millions of fans, talk show hosts, and even President Obama have hailed writer and star Lin Manuel-Miranda as a genius. So it was quite the opportunity for participants to witness the original cast of this monumental show. Students were ecstatic about seeing Miranda from only a few feet away after the performance.
Throughout the week, students had the chance to meet with people involved in the theatre industry. Many were Milken alumni, including John Behlmann who has had a successful acting career with roles in movies like The Wolf of Wall Street and on Broadway like a starring role in The 39 Steps. He talked to students about his experiences in the industry.
"It was really cool to talk to him about auditioning for a big movie versus theater," said Sam Bloom '18.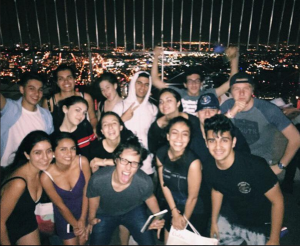 But the tiyul was not just theatre. Students also visited several favorite New York City spots including the Empire State Building at 1 a.m. and Ground Zero. Another highlight was a tour of NBC Studios.
Other less standard highlights were fueled by the fun group of people that were on the tiyul. One favorite was when Mr. Menna and Daniel Yadegar '18 missed the subway that left with everyone else.
Brandon Ptasznik '17 said, "I learned that the theatre industry is a vibrant and exciting community."
Students took away many things from the tiyul, from their theatre experiences to the great moments they had with each other.
"It was a great to experience New York from the shows to the food to the great people," explained Bloom.
photos courtesy of Sam Bloom '18
Leave a Comment