Popular 310 Eateries
Samantha Behar and Jennifer Clemens
Spotlight Editor and Creative Editor
After compiling a list of the most popular restaurants in the Valley, the Roar decided to make a restaurant guide for all the 310 area code kids out there.
Gracias Madre
Address: 8905 Melrose Ave, West Hollywood, CA 90069
Gracias Madre is a super-trendy vegan Mexican restaurant in West Hollywood. This restaurant is a perfect choice for anyone, whether or not they have dietary restrictions. Gracias Madre has delicious guacamole, sweet potato tacos, and corn tamales.  This is a perfect spot for sunny California days, since it has a large outdoor terrace. Jeremy Weinstein '17 says, "This is one of my favorite places to meet friends. It has a great vibe."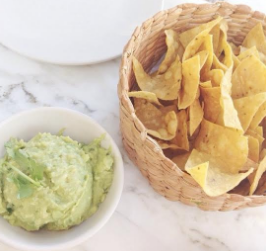 Lauren Deutsch's Instagram
Cecconi's
Address:  8764 Melrose Ave, West Hollywood, CA 90069
This modern-day Italian restaurant is open for all three meals of the day. Cecconi's uses only the freshest ingredients imported directly from Northern Italy. This restaurant also has locations in London, Berlin, Miami and Istanbul. Lior Eghbal '17 commented that, "a lot of [her] friends have had their birthdays there…It's a pretty place and it's right on Melrose." Some of their most popular dishes include the handmade spaghetti with lobster, the eggplant pizza and the blueberry and ricotta hotcakes.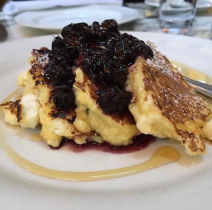 Cecconiswh's Instagram
La Scala
Address: 434 N Canon Dr, Beverly Hills
This 50-year-old restaurant is known for their classic Italian food. La Scala was the first restaurant in Los Angeles to make their own pasta and serve white truffles. Hannah Newman '17 says, "the location and the chopped salad make for a perfect lunch spot." They also serve a variety of soups, pastas, and pizzas. The Valley counterpart of this restaurant, Emilio's is in Encino and equally as popular.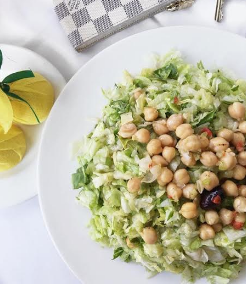 Tscbombshellbody's Instagram
Zinque
Address:  8684 Melrose Ave, West Hollywood, CA 90048
Zinque has a casual vibe and a large outdoor seating patio, which makes it a perfect place to come with friends. This trendy spot offers great French cuisine that is hard to find in Los Angeles. Their signature dish is the avocado tomato tartine. Michael Bolour '17's "favorite dish is the Le Bowl with chicken and avocado. It also comes with spicy sriracha aioli which makes it substantially better."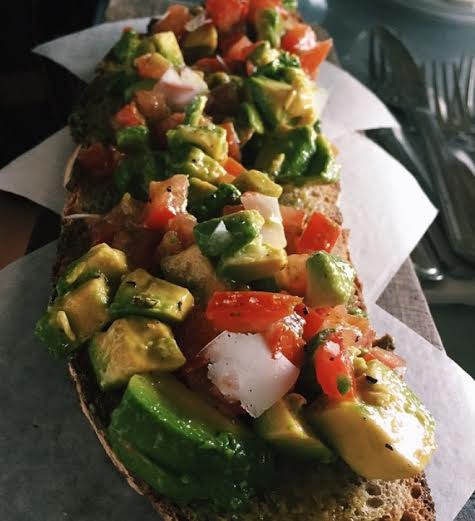 Britt Jacobson's Instagram
Diddy Riese  
Address: 926 Broxton Ave, Los Angeles, CA 90024
Diddy Riese is a hotspot among college students, since it is located right off of the UCLA campus. Known for its reasonable prices, their cookies are only 50¢. Diddy Riese serves only the freshest cookies since they bake them from scratch daily. Lauren Cohen '17 says, "I love…their shaved ice with ice cream- not many people order this dish, but I absolutely love it. It is a perfect combination of crunchy, sweet, and creamy."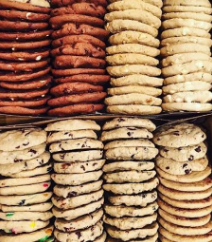 Diddyriese's Instagram
Gjelina
Address: 1429 Abbot Kinney Blvd, Venice, CA 90291
Gjelina has a rustic chic vibe, and is open three meals a day. Lauren Deutsch '17 said, "no matter what you are in the mood for, Gjelina has a variety of choices that will always suit your palette." Gjelina is a fun restaurant to go to since it has hipster customers, unique dishes and a prime location. This restaurant is known for their stone oven mixed mushroom and lamb pizzas.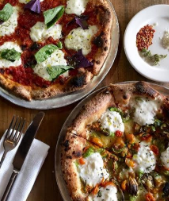 Jzeats' Instagram
Fig & Olive
Address: 8490 Melrose Pl, West Hollywood, CA 90069
Fig and Olive is good choice for any meal of the day. Kayla Cohen '17 loves going to Fig and Olive because "there are actual olive trees in planters inside the restaurant. The food is Mediterranean-style, so there are really good spices and oils." Some popular dishes at this restaurant are their specialty crostini, the mediterranean flatbread, the beef carpaccio and the truffle mushroom croquette.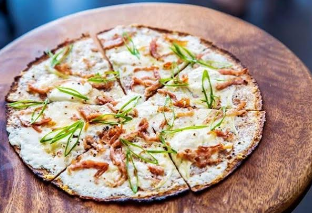 Lefooding's Instagram
Sweetfin Poke
Address: 829 Broadway, Santa Monica, CA
Sweetfin Poke is a relatively new restaurant that serves teas, taro chips & customizable poke bowls topped with house-made sauces. Ashley Solemani '17 is a Sweetfin Poke regular, and said that when she walks into the restaurant her  "mouth waters because [she] knows [she] is about to eat the best food [she has] ever eaten." Sweetfin Poke is the go-to place for a quick, healthy meal.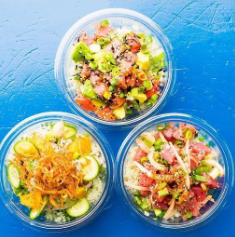 Foodsteez's Instagram
Bigg Chill
Address: 10850 W Olympic Blvd, Los Angeles, CA 90064
Bigg Chill is a frozen yogurt shop where you'll often run into many of your friends. Lexi Freund '17 says that she enjoys Bigg Chill so much, "because of its wide variety of flavors that are all fat-free or low-fat which makes it easy to enjoy a delicious treat without feeling guilty." Big Chill is a great option for a hot day or late night snack.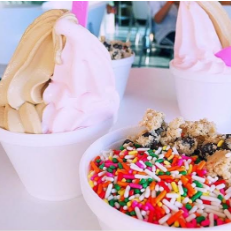 Thebiggchillofficial's Instagram
Urth Caffe
Address: 267 S Beverly Dr, Beverly Hills, CA 90212
Urth Caffe is known for their paninis, coffee, boba, salads, and breakfasts. Mira Berenbaum '18 goes to Urth Caffe on a weekly basis and thinks that "it has a nice environment and food is tasty." The prices at Urth Caffe are reasonable, and regardless of the time of day you go, it will always be full with many customers who love it.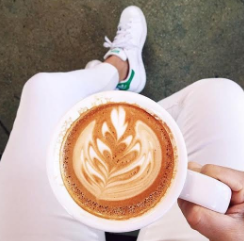 Kryzzzie's Instagram
Il Fornaio
Address: 301 North Beverly Dr, Beverly Hills, CA 90210
Il Fornaio is an upscale Italian restaurant in Beverly Hills good for lunch, or to have group events. Alex Ashoori '17 goes to Il Fornaio at least twice a week and would recommend the "Romaine and salmon salad. It is beyond delicious." This restaurant is in a great location because it is walking distance from shops and boutiques. Some of their most popular dishes include their linguini with clam sauce and their fresh tart pastries. A new location of Il Fornaio recently opened up in the Topanga Village.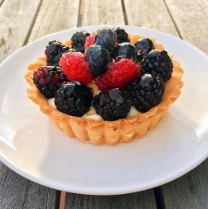 Ilfornaiorestaurants' Instagram
Let us know your favorites in the comments below!
Leave a Comment