Milken Hosts Second Annual Shark Tank Event
Michael Schulman
Staff Writer
Though Mark Cuban and Kevin O'Leary (Mr. Wonderful) were not in this tank, Milken's annual Shark Tank event was a great success. The two winners, Marcus Bernstein '18 and the Melmed siblings (Elle '16 and William '19), split the $4000 prize after giving their exceptional presentations to the Sharks and answering questions on the spot.
The Sharks were friends of the Milken community who devoted their time and expertise to help the student entrepreneurs craft persuasive business plans. This year's panelists were Brent Bushnell, Mark Hamade, Jonathan Kagan, Geoffrey Margolis, and Rob Rappaport.
Marcus Bernstein, a producer of high-end, customizable bodyboards, came in first place with his revolutionary bodyboarding company,  "Bud's Bodyboards." Unlike the standard styrofoam bodyboard, Bernstein has created a revolutionary, eco-friendly board made from a cork mixture. "I am really excited that all of my hard work paid off. I can't wait to move forward with my company," Bernstein said.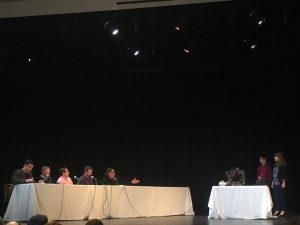 The Melmed siblings came in second place with their improved 3-D printers. Their simpler yet highly effective printer is $200, while their more advanced printer costs $1000. The Melmed siblings envision their printers being sold to schools, so that students like them can make their ideas come to life."We were so fortunate to have this learning experience," explained Elle Melmed. "We are so grateful to have this opportunity to learn from such amazing people."
The Sharks were very impressed with the entrepreneurial abilities of the Milken students.
One of the Sharks, Geoffrey Margolis, was extremely amazed by "their ability to answer our questions." Margolis went on to explain that all of the businesses, "with some improvements and adjustments can be very viable businesses" Margolis told us.
The program was run by Head of Curriculum Dr. Beachy, Middle School Math Teacher Marc Rudajev, and Student Ambassador to the program Oliver Pourbaba '16. Mr. Rudajev told us that the presentations have taken a "significant leap forward" since last year.
Congratulations to all the contestants: Marcus Bernstein '18, Elle Melmed '16, William Melmed '19, Elya Makabeh '19, Michael Nourafshan '16, and Asaf Zairi '18.
Leave a Comment