L'Dough L'Dough, From Generation to Generation, Baking Challah
Mira Berenbaum
Staff Writer
Both sides of my family have very unique backgrounds. My dad's side of the family loves history. My dad is a world-renowned Holocaust professor, and makes it his goal to teach the tragedies of the Shoah to ensure that nothing like it ever happens again. My mom's side of the family loves to cook. My maternal grandmother ran a catering company and loved to cook for friends and family during the Jewish holidays. This passion for cooking has been passed down from my great-grandmother to me. The Holocaust and the art of cooking are two different interests that I thought would never cross paths, until fairly recently.
Last year while at the club fair I saw Lauren Deutsch '17 and Daniella Haghighi '17 standing at a table for a club called L'Dough L'Dough. The name caught my eye and I decided to check it out. I learned that L'Dough L'Dough is a club where students bake challah with Holocaust survivors. In essence, this club combined two different aspects of my life. Not only that, but this club is an opportunity that will only exist for a few more years. By the time I have kids, there will be few, if any survivors alive. It is our responsibility to pass down knowledge of these horrors to our children, but we must be educated in order for that to happen.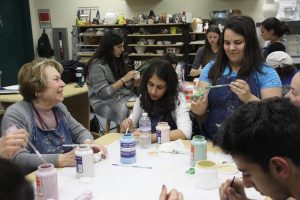 I wrote my name down on a list, not knowing what to expect. I went to the first meeting and loved it. I sat down at a table with some of my friends and a survivor. We helped the survivor braid her challah and listened closely to her story. She told us the story of how she went on a kindertransport and stayed in a convent throughout the war. This experience was incredible, and I knew I was going to come to every single meeting.
This year L'Dough L'Dough also participated in a two part seder plate project, in addition to the usual challah braiding. There we took the story of one survivor, and turned the story's theme into a seder plate. The survivor I spoke to, Eva, taught me that love and education are the keys to success. She told me, "You, you are a winner, always give love. I love you." My group and I decided to make the various pinch pots on the seder plate into hearts. We then wrote on each of the pinch pot one word to describe the moral of her story. My pinch pot had the word "learn" written on it, because Eva emphasized the importance of education so clearly. We then painted each of the pinch pots in a different color of the rainbow.
It is magnificent to think that this seder plate that we made together with Eva will be used at the child survivor seder through Los Angeles Museum of the Holocaust. Eva's moving story will sit on a table with many other interesting and captivating accounts. 
We are the last generation who will hear the first hand recollection of the tragedies of the Holocaust, and we must take advantage of that experience. L'Dough L'Dough is that opportunity, don't pass it up.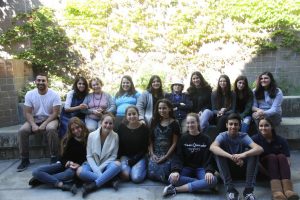 Leave a Comment