Co-Captain Dance Team Spotlight: Kayla Pournazarian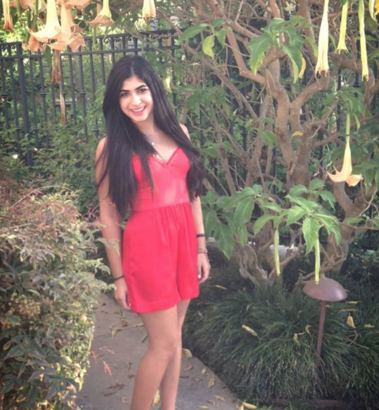 Natalie Pashaie
Editor-In-Chief
Senior Kayla Pournazarian has been on Milken's dance team since her freshman year. She started out on JV and worked her way toward becoming the Varsity co-captain as a senior. As the team closes another year of performances, entertainment, and enchantment, we sit down with Pournazarian to discuss her leadership position and what the team has been like this past year.
When did you start dancing?
"I began dancing at Dance for Kids in Brentwood when I was about five years old. I started with a couple ballet and tap classes and I immediately knew this is the sport I wanted to pursue in the future"
What inspired you to audition for the dance team?
"My sister was captain of Milken's dance team, and after seeing the amazing relationships my sister had with her teammates, I knew I wanted to be a part of that as well. I really enjoyed dancing and I think being part of a school team is an excellent way to not only grow as a dancer but to establish friendships and exercise teamwork rather than individualism."
What is some advice you would give to girls considering joining Milken's dance team?
"As cliche as this may sound, my advice would be to have fun, because although school can at times be a very stressful environment, remember this activity is not meant to add to the stress. This team is for creating relationships, growing as a dancer and team member. Have fun and don't take yourself too seriously. For those who feel they shouldn't join the team because they think their skills aren't up to par, don't worry about that, because if you truly want to be a part of this team and your mentality is in the right place, then your skills will get there and you will leave a beautiful everlasting mark on this team."
What is your favorite part of being on the team?
"My favorite part is being with all the teammates because no matter what grade anybody is in were all a family and genuinely have an amazing time together. Also, the moment right before ewe perform is such a powerful moment because all the nerves add up and you truly feel one with the team, the mindset, and were all ready – thats incredible."
Are there any times you get frustrated or have trouble balancing dance and schoolwork?
"Balancing extracurriculars and schoolwork is inevitably challenging. However, being able to balance several commitments makes us stronger and more reliable people as adults. Although it gets challenging at times, especially as a senior, it's all about planning ahead, and not procrastinating, as tempting as it may be."
What have you looked forward to most this year on Dance Team?
"I was excited to go to competition with our team- it is always so fun to go and compete in Newport Beach against other schools. It's a little retreat and we get to show how much we've progressed. We also get to perform in front of people we don't know, which makes it all the more interesting. I'm also looking forward to doing a solo because it will be my first one for Milken Dance Team and I'm really excited to have four years of culminating technique into one dance showing my progression and growth."
Why should students, friends, and faculty come to the dance showcase tonight?
"I think they should come because the dance team performance is a production of a year's work. How we've all grown shows through this show- it's also very personal and entertaining for the audience. We hope the audience has as much fun as we do… Everyone buy tickets!"
Be sure to buy tickets for Vanity: A Milken Dance Team Showcase either through the Milken website or at the door of the theatre for their annual performance, which takes place tonight at 4:00 and at 7:00. 

Leave a Comment