Sophmores Rule Varsity Basketball Senior Night
Jordan Brenner
News Editor
In the Boys Varsity Basketball team's home game against YULA last Thursday, those who doubted Milken school spirit were debunked. Hollander Gymnasium was filled to the point where it was tough to get standing room during the Wildcats 54-45 victory last week.
On senior night, two sophomores stole the show.  Milken controlled the lead throughout the game and seemed to be well on their way to an easy victory until crucial turnovers forced the Wildcat faithful to sweat out the last few minutes. Despite this, Tamir Saban '18 drained a clutch three pointer to seal the deal for Milken with just over a minute left. Saban, normally Milken's number one option on offense, was being double teamed for much of the game after dropping 25 points on the same YULA team a week earlier. This made his shot that much more impressive. With Tamir being closely watched for much of the game, Milken relied on Amitai Afenjar '18 for points. Amitai lead all scorers with 20 points and was a dominant presence for Milken down low on his way to a double-double.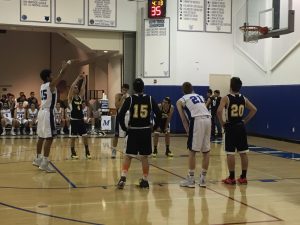 A major storyline coming into this game was how Milken would respond after losing to YULA team a week earlier. "Our loss in the final seconds in the game against YULA gave extra motivation to the team," said center Brian Pearlman '17, who also contributed a healthy 4 points and 2 blocks in limited minutes. Milken certainly achieved their goal of redemption after what many Wildcat supporters are calling their best performance of the year.
Parents of team members were honored prior to the game and the seniors enjoyed their own ceremony following the victory. Brandon Nemandoust '16 described his moment saying, "It was awesome. I knew it was coming the whole season but I didn't really know how it would go or what it would feel like. Once the moment finally came, it was unforgettable. To be honored with the 3 other seniors, who are like my brothers, was very rewarding. It was something I will never forget."
With this win, Milken clinched a spot in CIF playoffs and a home matchup with the number one seed, Viewpoint. This game should prove to be a challenging test for a scorching hot Wildcats squad. The game will be tonight at 7:00 PM.
Leave a Comment