Wildcats Lose to Buckley, Move to 1-1 in Liberty League Play
Josh Berenbaum
Sports Editor
Though the Wildcats led by three with two minutes to go, they could not hold on against Buckley. The league matchup gave Buckley a much needed victory and prevented the Wildcats from improving to 2-0 in Liberty League play.

The game went back and forth, with each team exchanging leads. The Wildcats opened up stronger than Buckley, and were especially dominant on the inside. Amitai Afenjar '18 had seven first quarter points from layups and free throws. Defensively, Milken contained Buckley to the perimeter, a strategy which backfired as Buckley hit three contested three point shots in the first quarter. The Wildcats led 14-13 at the end of the first quarter.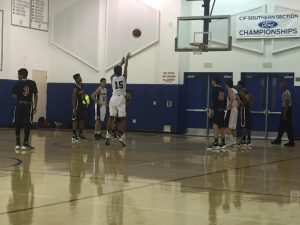 The Wildcats offense slowed down during the second quarter. Buckley was able to contain Afenjar, often employing double teams to do so. Shooters Tamir Saban '18 and Koby Dardashti '16 had quality shots go in and out of the hoop.  At halftime, Buckley led by a point, 24-23.
By the middle of the third, Buckley extended their lead to 6, the largest either team would hold in the game. But this lead did not last as the Wildcats charged back, led by strong defensive play by Idan Yohanan '17. Starting in the middle of the third, Yohanan was assigned to Buckley's Caleb Martin, who had scored 15 points in the first three quarters. He left the game briefly to be treated for injury, but returned only to be held scoreless by Yohanan.
The Wildcats held a small lead late in the fourth quarter, but Nish Muthusamy of Buckley made a 3 pointer to tie the game with one minute left. After a Wildcat possession that ended in a missed shot, Muthusamy made another three pointer giving Buckley a three point lead. The Wildcats fouled the Griffins to stop the clock but it was to no avail as Milken would lose 43-40.
Additional Notes
The JV and Frosh Soph Basketball teams each defeated Buckley.
Brian Pearlman '17 returned to uniform after his back injury but did not play. 
Leave a Comment