Farewell to Tiferet 2016
Lauren Mokhtarzadeh
Staff Writer
After countless meetings involving the consumption of Nagila pizza with your fellow tif' mates, it's time for Tiferet 2016's adventure in Israel. To you lucky sophomores who are leaving soon: here are some tips to help you as you embark on this new journey.
1. Everyone is your friend
Photo courtesy of Sharleen Mokhtarzadeh 
Be friends with everyone- When I say everyone, I mean everyone, including the AMHSI (Alexander Muss High School in Israel) staff, your madrichim, core teachers, school teachers, other groups on the AMHSI campus, and the Hod Hasharon locals. You can never have too many wonderful people in your life…especially Moshiko- he is the true homie.
2. Adapters
Photo courtesy of Google Images 
You can never have too many adapters. With the different electrical system in Israel, you have to bring many. You and your roommates will share them, lose them, and consequently be unable to charge your camera, phone, or laptop. I suggest bringing either many adapters or one large transformer.
3. Bring Hiking Shoes and Water Shoes
Photo courtesy of Lauren Mokhtarzadeh 
When the packing list says bring hiking shoes and water shoes, they really mean it. Most tiyuls that you go on involve a hike, and you're going to wish that you did not wear your new white converse sneakers. As the weather gets warmer, some tiyuls will involve water, so I suggest that if you do not want to walk or hike in wet shoes or socks, get water shoes. You can also buy the shoes that most Israelis wear….Blundstones. They are comfortable, stylish, and great for hiking.
4. The Bus (Rise and Shine, and give God your glory, glory!)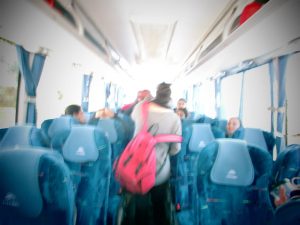 Photo courtesy of Lauren Cohen 
Take advantage of your bus time. You will be on the bus a lot, so keep it clean and get comfy. Every day of Tiferet is already planned and full of many things to do, so you will be really tired by the end of the day. Sometimes, going on a tiyul, taking a hike, and traveling to five other places happens in just one day. It's all fun, but very exhausting. The bus is there for you to catch up on your zzz's. If you do not want to sleep, your madrichim, core teachers, and friends are always there to talk to. Just looking out the window as you drive all around the gorgeous land of Israel is also recommended.
5. Your Madrichim
Photo courtesy of Lauren Mokhtarzadeh 
Your madrichim are your best friends, mothers, fathers, sisters, brothers- your everything on Tiferet. They will be there when you need to talk, when you want to watch a movie, or go out to dinner. They put so much time and effort in making sure that you all have a fantastic time during Tiferet. They have a HUGE impact on your Tiferet experience, so respect them and love them because they are, according to many, "the greatest people on earth."
6. Core Teachers
Photo courtesy of Lauren Mokhtarzadeh 
Photo courtesy of Lauren Cohen 
G-d Bless them. Your core teachers also have a huge impact on your Tiferet experience. You all have so much to learn, and they are there to teach you. They are filled with unlimited knowledge, inspiration, kindness, and are so easy to talk to. They not only teach you about the history of Israel and the Jewish people, but they teach you about yourself.
7. Core
Photo courtesy of Lauren Mokhtarzadeh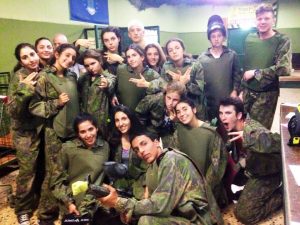 Photo courtesy of Cameron Hess 
Your core class is like your mini family. You have core class with them most mornings, do projects together, and learn together. Core is a very serious class, for you learn all about Israel and its history. It's like no other experience you will ever have. One day you will learn in the classroom about King David, and the next day you might go and see the ruins of his castle. It's amazing to be able to see where Jewish history happened and to learn at those exact places.
8. Food
Photo courtesy of Lauren Mokhtarzadeh 
If you don't already know, the food in Israel is amazing. In the Hod there are so many yummy options to choose from. Blue falafel, suduch, sabich, shakshuka, Cafe Neto, Landwer Cafe, Pasta Mia, Agadir, Pizza Zaza, and Moshiko are among the beyond satisfying establishments popular among Tiferet students. Moshiko and his juice stand will be your home in the Hod, and you will always find yourself there drinking one of his delicious smoothies. If you want to have a rather chill night, you and your friends could order in, sit outside your dorm or in the moadon, and just hang out.
9. Tif Family
Photo courtesy of David Ahdoot 
Your madrichim, core teachers, and all of your Tiferet fellows are your Tif 2016 family. Each person is an essential part in making this special Tif family, so get to know each other. Talk to someone you don't know, be nice to each other, respect each other, and support each other. For the next four months you will be experiencing everything together, will be living together, learning together, and creating memories together.
10. Roommates (aka the best people in the world)
Photo courtesy of Lauren Cohen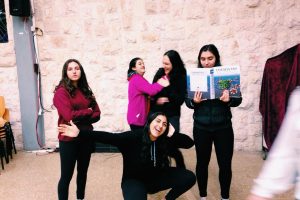 Photo courtesy of Rabbi Yardeni-Funk 
Your roommates are your sisters and your brothers. They are there for you like you will be there for them, through thick and thin. Be nice to each other, honest with each other, help each other, and love each other. Have dance parties together, room dinners, and definitely keep food in your room for a movie night or study session. Savor the time with your roommates, for the experience goes by quickly.
11. Your Experience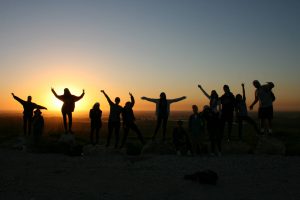 Photo courtesy of Lauren Mokhtarzadeh 
It all depends on you- have a positive attitude and make the best of what you have. With all that is currently going on in Israel, there have been new restrictions to the program, which is okay. Whatever needs to be done in order for you all to be safe, is the right thing. You will enjoy having more downtime in your dorm, chilling in the moadon, talking with your madrichim and friends, or having a dance party. You are never bored on Tiferet because you are always doing something. Each Tiferet group's experience is different, and that is the way it should be. Make your own memories, enjoy the beautiful state of Israel, and enrich yourself in it's history, because before you know it, you'll be back in Los Angeles.
My last words of advice to you:
 Learn about yourself, from the people around you, and about the history of Israel and the Jewish people.        Grow as a Jew, student, and human being.                                                                                                  Expand your knowledge.                                                                                                                              Create your own lifelong memories.                                                                                                              Drink a lot of smoothies from Moshiko.
Be safe, and                                                                                                                                                     Have an aaaaaamaaaaazing time! (don't worry, you'll get it soon). 
Leave a Comment