Lauren Mokhtarzadeh and Sophia Ghadoushi
Staff Writers 
Dear City Kids,
Here you will find the best places to eat in the valley. These amazing restaurants are all top picks chosen by locals. Brace yourselves: the delicacies listed below are exclusive to the valley.
1. Uba Tuba
Address: 18641 Ventura Blvd, Tarzana, CA 91356
Uba Tuba is known for their delicious fruity acai bowls. There is an abundance of different flavors and toppings. "I love going to Uba Tuba and getting an acai bowl with a lot of ripe fruit and honey," said Cameron Hess '17. This is a great place to get a healthy, energy-boosting snack after school or the gym.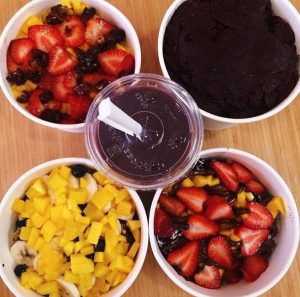 Ubatubaacai's Instagram 
2. Crave Cafe
Address: 14504 Ventura Blvd, Sherman Oaks, CA 91403
Crave is known for their long line, their amazing crepes and sandwiches, and their big menu selection. "The menu is huge! I have never been disappointed by their food. When you go make sure to get the crepes, they are the best!" said Hannah Newman '17. Crave is a great casual cafe to hang out at with friends, and never fails to satisfy late night cravings for crepes.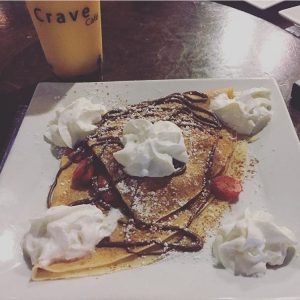 Beehnice's Instagram
3. Kushiyu
Address: 18713 Ventura Blvd, Tarzana, CA 91356
This is a fantastic place to have dinner with your friends or family. There are many traditional and innovative rolls and meat options available at this Japanese restaurant. "The long line at Kushiyu is worth having a spicy tuna crispy rice roll; I would eat it everyday if I could," said Lila Hanish '17. Sometimes, you can even spot Dave Grohl from the Foo Fighters there with his family at dinnertime.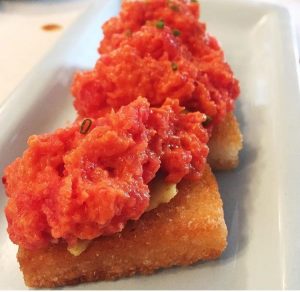 Canitryit's Instagram
4. Lakeside Cafe
Address: 16817 Ventura Blvd, Encino, CA 91436
This is a beautiful restaurant to have a meal at with the people you love. "Wow, it's a beautiful place filled with beautiful people and beautiful food. The Lakeside burger is my favorite," said Emma Lipovetsky '17. The burgers, sandwiches, salads, and truffle fries are among customer favorites. The scenery includes the view of a lake filled with ducks.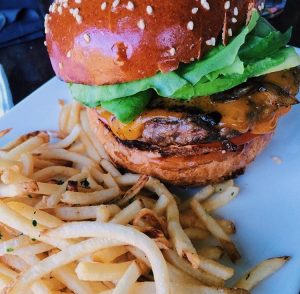 Emma Lipovetsky's Instagram
5. More Than Waffles
Address: 17200 Ventura Blvd #109, Encino, CA 91316
This restaurant is known for… their waffles. There are many combinations of waffles to choose from, but some choose to make their own combinations. Ice cream and fresh fruit are popular condiments at this waffle house. "I love the food so much I made my family go there for my birthday. The Nutella, banana, strawberry waffles are my favorite!" said Shaked Salem '17. If you go on a weekend morning, go early, because there will be a very long wait to sit down.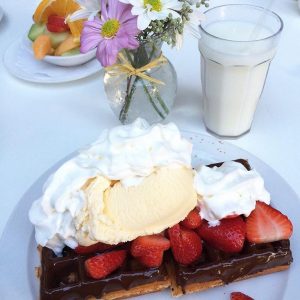 Foodandtravels's Instagram 
6. Sadaf
Address: 16240 Ventura Blvd, Encino, CA 91436
This restaurant is known for their modern Persian cuisine. You can get traditional Persian food like grilled steak and chicken kabobs, and a variety of rices, salads, and fresh stews. On some nights there's live music, and they have a bar area where you can watch the live sports game. They have amazing "crunchy tadek," make their "ghormeh sabzi" fresh, and brew hot tea for you to end your dinner with. "The only persian food I'll eat," said Alex Farahnik '17.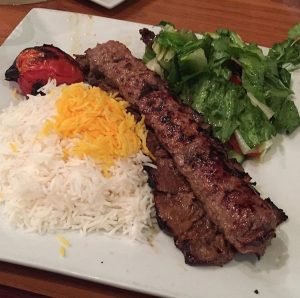 Glutenfreedelicious's Instagram 
7. Cici's Cafe
Address: 18912 Ventura Blvd, Tarzana, CA 91356
This is a fun place to have breakfast because of their extensive menu choices and great food. This is definitely the restaurant for people with a sweet tooth, considering their crazy creations of pancakes, french toast, and waffles. "I always go with my family, and I have to get the Green Tea pancakes," said Kayla Sharf '17. They have a massive menu selection including omelets, pancakes, sandwiches, and pasta.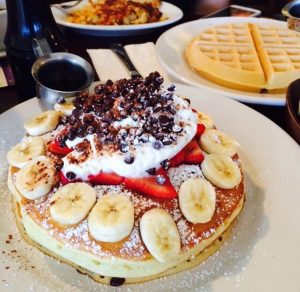 Izabel Banafsheha's Instagram 
8. Mac-O-licious
Address: 5217 Laurel Canyon Blvd, Valley Village, CA 91607
This is the restaurant for all mac and cheese lovers. There are many different kinds of delicious mac and cheese options to explore, from the  "5 cheese mac" to the  "Garden mac." "I really liked trying all the different kinds of mac and cheese they have. If you go get the Five Cheese Mac," said Jamie Weisenberg '16. There are also many salad, meat, soup, and dessert options to choose from.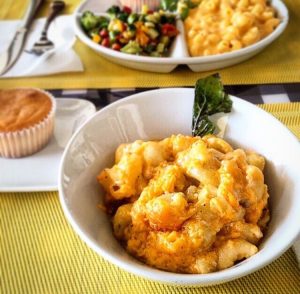 Dannyandleaeat's Instagram 
9. MidiCi Neapolitan Pizza
Address: 14612 Ventura Blvd, Sherman Oaks, CA 91403
This new Italian restaurant is a vibrant addition to the valley. The atmosphere is like a club, what with it's long lines, loud music, and quality food. "I went here with my friends, and it was so much fun and very delicious!" said Saba Amid '17. Most ingredients are imported from Europe, are organic, contain no GMOs, and are fresh.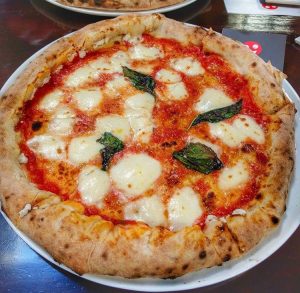 6gerson_la's Instagram 
10. Sol Y Luna
Address: 19601 Ventura Blvd, Tarzana, CA 91356
If you want authentic Mexican food, this is the place to go. "The decor is great, and the atmosphere is electrifying." said Michael Nourafshan '16. There are tasty virgin margaritas, freshly made guacamole, and mouth-watering burritos. burritos. It's a great place to go to satisfy nacho cravings, but make sure you get there early, asit is always packed during lunch and dinner.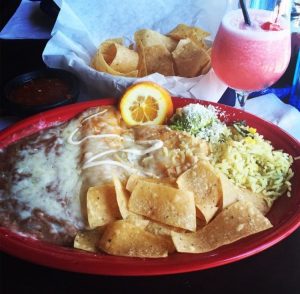 Payneitforward's Instagram 
11. Iroha Sushi of Tokyo
Address: 12953 Ventura Blvd Studio City, CA 91604
Iroha is most well-known for their spicy tuna sandwich, which is remarkable. "I got the spicy tuna sandwich, ate it, and wanted to order another one." said Daniella Haghighi '17. They have many different types of delicious rolls, soups, salads, and meats. It's a cute restaurant to go to when craving any kind of sushi.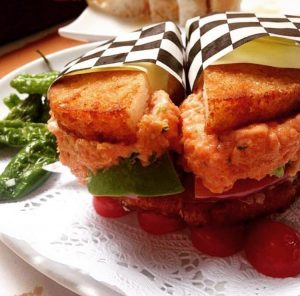 Foodiini's Instagram 
12. The Tipsy Cow
Address: 15005 Ventura Blvd, Sherman Oaks, CA 91403
The burgers and interesting milkshakes are just a few of Tipsy Cow's specialities. "This place is unbelievable. If you go make sure to get the milkshakes and donuts for dessert." said Michael Schulman '17. The atmosphere is casual, and you can choose if you want to sit at a table or at the counter. The menu has multiple things to choose from, from deviled eggs to kale caesar salad to vanilla bean lemonade.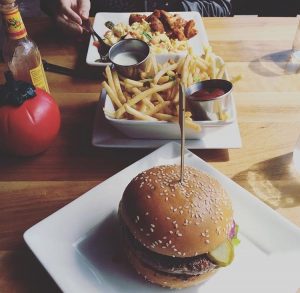 Amaduhjordan's Instagram 
13. Granville
Address: 12345 Ventura Blvd, Studio City, CA 91604
This is the place to get a great burger. This restaurant beautifully executes satisfying dishes in healthy ways. The restaurant is ornately decorated and is a great place to have dinner with friends. "They have really good burgers and the devil's chocolate cake was delicious." said Aaron Lawrence '17.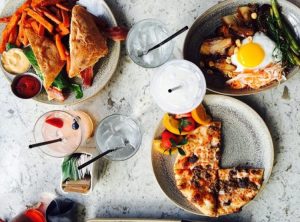 L2ica's Instagram 
14. Sweet Butter Kitchen
Address: 13824 Ventura Blvd, Sherman Oaks, CA 91423
Sweet Butter is perfect for any meal, anytime. They have so many mouthwatering options to choose from, and it is a nice place to have a meal with anyone. "I love going there with my friends over the weekend! The avocado toast is my absolute favorite." said Sammy Behar '17. You can sit down and enjoy your meal, or choose to order a pre-made salad, baked good, or drink if you are in a rush.
Alyc.ia___s Instagram 
Your Valley Girls,
Sophia Ghadoushi and Lauren Mokhtarzadeh