Color Games 2015!
Color Games 2015!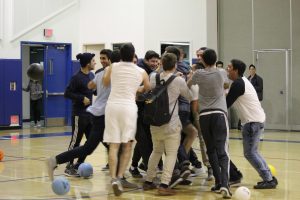 Alexa Pakravan
Staff Writer
Monday, December 14 marked the opening of Milken's annual Color Games! Everyone dressed in their grade colors and spirits were high, especially with winter break looming. As part of the festivities, there was a different battle every lunch between grades 9, 10, 11, and 12. All of the photos are courtesy of yearbook.
Monday – Guac Off in the Amphitheater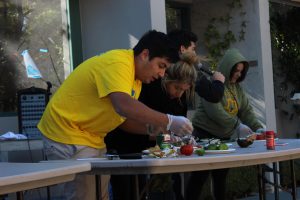 The opening event on Monday was the "Guac Off," where students competed in the Amphitheater by attempting to make the best guacamole. Juniors, Saba Amid '17 and Shira Wilf '17 brought the Junior class to victory.
Tuesday – Musical Chairs in the Theatre
On Tuesday, four representatives from each grade competed in the famous game of musical chairs. Due to time complications, this event ended in a draw, with no grade winning.
Wednesday – 3 Point Contest in the Gym
On Wednesday, students gathered in the gym for the three point contest. There were two competitions with two students competing in each. The winner of the two competed in the finals. Freshman, Blake Asherian '19 beat Sophomore Tamir Saban '18 by one point.
Thursday – Dodgeball in the Gym
Thursday's event was a brutal game of dodgeball. Surprisingly, the Seniors lost in the opening round to the freshman. The Juniors beat the Sophomores and after a hard fought battle between the Freshmen and the Juniors, the Juniors came out victorious.
Friday – Donut eating in the Amphitheater
Friday was the annual donut eating contest in the Ampitheatre. Students competed to see which students could finish three donuts without using their hands the fastest.  It was close, but the Juniors came out on top.
When the points were tallied in the end, the games concluded with the Seniors finishing in 4th place with 30 points, The Sophomores in 3rd place with 90 points, the Freshman in 2nd place with 120 points, and the Juniors in 1st place with 170 points.
Leave a Comment