Sam Feit '16 Ends Speculation, Commits to Gonzaga University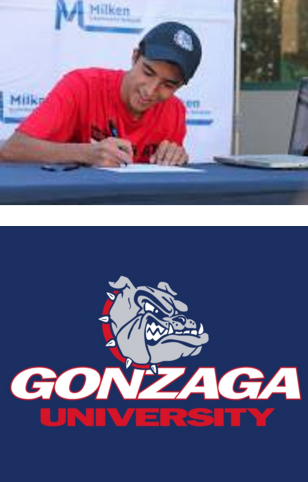 Josh Berenbaum and Micah Chasen
Sports Editor and Co-Editor In Chief
A few weeks ago, students at Milken Community Schools witnessed something that is a rare occurrence on campus. They saw senior, Sam Feit '16, commit to a Division I tennis scholarship at Gonzaga University. After a long recruitment process, Feit, surrounded by friends and family, ended any speculation as to where he would be playing tennis for the next four years.
Feit has long been known for his prowess on the tennis court. Last year, he led the Wildcats with an undefeated individual record and a Liberty League singles title. In addition to varsity tennis, Feit competes on the United States Tennis Association (USTA) junior circuit where he is consistently ranked in the top 10 in Southern California. On the college tennis site TennisRecruiting.com, Feit amassed a four star recruit classification, and was ranked 120th in their national rankings.
Feit received offers from the University of Oregon, the University of Miami (FL), and Cal Poly, but chose Gonzaga University over them all. Head Men's Tennis coach at Gonzaga University, Pete Macdonald, is very excited that Sam ended up choosing the Bulldogs, noting that "the first time [Macdonald] watched Sam play, [he] knew [he] had to get this guy to Gonzaga." Macdonald is especially a fan of Sam's serve and loves the fact that "Sam controls his own destiny on the court."
Macdonald hopes that after Sam's senior season with the Wildcats, Sam will slide right into both the singles and doubles lineups for the Bulldogs. And hopefully, Sam will be able to replicate his Liberty League success against West Coast Conference opponents and help lead the Bulldogs to victory.
Leave a Comment