Advice for Astronauts Review
Mira Berenbaum, Britt Jacobson, and Sawyer Kroll
Staff Writer, Voices Editor, and Community Editor
This past week, Milken's Performing Arts department premiered Walt McGough's Advice for Astronauts, the winner of Milken's Playwriting Prize last year. The performance was accompanied by three other short plays written by McGough: The Penguin Lasts Forever, Exposure, and The Dinosaurs Have a Request. This eclectic grouping of plays could be easily identified as untraditional and unique.
McGough won the Milken Playwriting Prize in 2014, beating around 100 submissions from around the world. McGough won $2,000 and had Milken students debut the submission. Based in Boston, he has written over 10 plays now. He loves theater "because it isn't real." Everyone is lying about who they are, and the "audience is fine with that". Most importantly, he believes that with theater one has the opportunity to express themselves and be a little wacky. McGough feels very lucky and honored to have won the Milken Playwriting Prize and see his words come to life.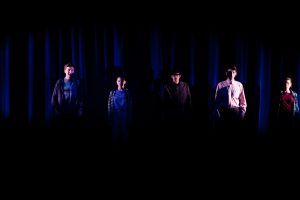 The first play of the night was The Penguin Lasts Forever. This play was fairly short, being only a couple minutes long, and definitely surprised the audience with its unorthodox structure. There were five characters playing the role of penguins, and speaking about their role in society. The play was composed of a burst of short, interrupted speeches rather than a traditional story-based script. The Penguin Lasts Forever's greatest success was its frank, sarcastic tone that elicited an abundance of laughs from the crowd.
The next play was Exposure staring Raphi Eidelman '19 and Jenna Fink '16. The play was centered on a boy and a bear on an iceberg. They were arguing about whether one character should kill the other, as both characters felt that they were being mistreated. After a long argument back and forth, a fake gunshot was suddenly fired. When asked how she felt about the play, Fink '16 replied, "It was cool to play the bear because I usually play the nice girl and the bear is really different. My favorite part is performing it and seeing how the audience reacts because it's a little different every night. Also the blood; the blood is fun." The whole dynamic between the polar bear and the boy was wacky, which is what McGough likes about theatre.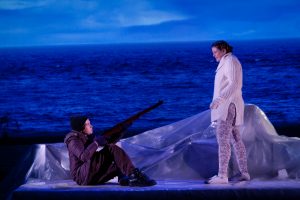 The last of the short plays, The Dinosaurs Have a Request, similar in composition The Penguins Have a Request, consisted of a group of eight dinosaurs presenting their opinion on the way society views them. They attempt to persuade the audience to stop spreading lies about them and their lives. Sarah Markus '16 played a slightly less patient dinosaur, who got extremely angry and shockingly started screaming at the audience.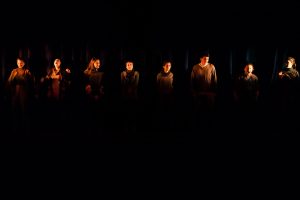 Finally, it was time for what the whole audience was waiting for: Advice for Astronauts. The distinctive style of this play set it apart from anything we've ever seen. Between the tribal drumming to raise the sun and an entire scene made up of the cast yelling and running around with flashlights, this play was one to remember. It started out with everyone living in peace and harmony, but then all the characters were arguing with each other. In the midst of all the chaos, Gisselle Etessami '17 stood up and made a declaration, which then caused all the characters to reconcile. When asked about her favorite scene in the play, Sarah Markus '16 said, "My favorite scene out of the entire play has to be when I go crazy. I am not just saying this because it happens to be my scene, if someone else did that scene I would still say it is my favorite. That scene happens to be the rawest scene out of the entire play. The scene shows a person who has a lot on her shoulders and when one big thing goes wrong, she just loses it. A lot of people can relate to this." Markus also said, "I just have to say that my fellow actors in these plays are just great. They are so talented, which helped make the scenes fun to rehearse. When you have a good group of actors rehearsing a scene then you are able to play with it as much as you want; the end results are usually amazing." Advice for Astronauts was surely a play to remember.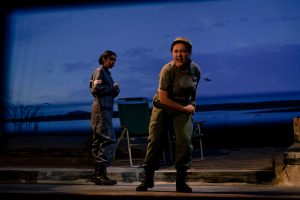 These plays could not have happened without the work of Director Mr. Robert Menna, Assistant Director Sarah Markus '16, Set, Projection, and Prop Designer Ms. Lily Bartenstein, Costume Designer Ms. Allison Dillard, and Lighting Designer and Technical Director Mr. Brian Byrne. Congratulation to the cast, crew, and staff on a job well done!
Leave a Comment