Spotlight Actor: David Bloom
Britt Jacobson
Voices Editor
This past summer, Netflix released, and widely advertised, Wet Hot American Summer: The First Day of Camp. Intended as a prequel to the 2001 movie Wet Hot American Summer, it featured many of the original actors from the film including Paul Rudd, Elizabeth Banks, Bradley Cooper and Amy Poehler. It also brought in some new characters, and as many of you might have realized, the actor who plays "Kevin" is in fact a Milken student, David Bloom '19.
When asked about his experience working on the show, David described it as "really great" especially in regards to working with "stars". On his first day, he began with a scene with Paul Rudd. The only thing possibly more intimidating than working with a huge star like that, might be having to "poop" while on camera. In one scene "Kevin" soils his swim trunks… Bloom only shot this scene on his second day, calling the experience "weird." "They had put a little green mark on the ground for me…" laughing, as he describes.
In many ways there are similarities between being a freshman in high school, and Kevin's first day of camp. Bloom explains that in both situations being new makes you the "smallest in the food chain." In this analogy, upperclassmen are like the CITs at camp, and as a newbie in both areas there is the commonality of not knowing anyone.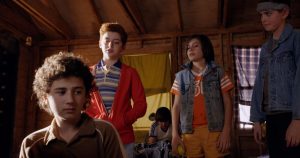 After his work this summer, he has become known around campus. Even while conducting this interview with Bloom in the library, two seniors sitting nearby approached him about his role. Despite saying that it must have happened over fifty times, he is not disturbed by it. "I like being recognized, I like that people like my work."
An added challenge to the transition into high school includes balancing Milken's schedule with acting. Bloom calls it "tough," explaining that at Milken's middle school, he missed two and a half months of school. He also expressed interest in joining Milken's performing arts programs if "work slows down."
Some upcoming work we can look out for him in include Amazon Prime Video's "Life on Normal Street," which is now in its second season.
View Comments (1)