Ryan Stiskin: The New Kid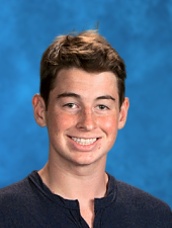 Jamie Weisenberg
Staff Writer
The new senior, Ryan Stiskin, is far from the stereotypical "big city boy." Coming from a small town, Ryan is excited to be at Milken. We sat down with Ryan in the hopes of getting to know better this new addition to the Milken class of 2016:
Where did you move from? Goshen, New York.
Why did you decide to move here? More opportunities. NY was boring and I have family here. California has a lot do to. I like LA because it doesn't feel like a city, unlike NY; it just feels nicer here.
Was the transition hard? Not really, because Ben, my cousin, helped me transition and meet new people.
What was most surprising to you? The most surprising thing was how welcoming everybody was and how good the food was.
What do you like most about Milken? The way the classes are set up, gives you a lot of free time and the people are really nice.
How is it being in a Jewish school for the first time? I am personally not Jewish so it is different for me, especially Hebrew, but it's not that big of a deal.
Favorite thing outside of school? Other than snowboarding, eating. My favorite food is sushi.
Go to Milken Mart item? Promax Bar.
Favorite subject? Science, but my favorite class at Milken is my creative writing class.
Hidden talent? Eating large quantities of food. I am also very proficient at playing video games.
Favorite video game? Halo 3.
Favorite color? Blue.
Favorite brand of water? Smart Water.
Do you think it actually makes you smarter? Yes
Favorite animal? Penguin
Do you have any pets? I am living with Ben right now, and he has a dog. I lived on a horse farm so I have a lot of horses back home. I also have 5 dogs and 6 cats back in NY.
Dog or cat? Dog. I really want a husky.
Favorite song? Say My Name by Odesza and All Along the Watchtower, Jimi Hendrix.
Favorite ice cream flavor? Cookie dough
Least favorite veggie? Asparagus
If you could meet any celebrity who would it be? Simon Cowell
Favorite Taylor Swift song? Is there one called thirteen?
Favorite pizza topping? I hate pizza.
Biggest fear? Chipping a tooth
Leave a Comment