Chef Penny Davidi Presents Fall Recipes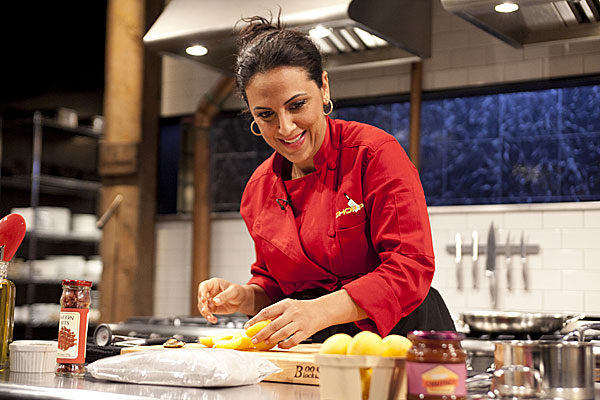 Sophia Ghadoushi
Staff Writer
As we enter the month of October, my mom, Chef Penny Davidi, has provided some delicious recipes for this cozy time of year. She is the executive chef at Pump in West Hollywood, and has been on shows such as Cutthroat Kitchen, Food Network Star, Guy's Grocery Games, and Chopped: All-Stars. These three dishes were inspired by autumn. From my family to yours, we hope these recipes will be your fall favorites!
BUTTERNUT SQUASH LASAGNA:
INGREDIENTS
3 pounds butternut squash, cleaned and cut, no need for perfect dice

3 tablespoons vegetable oil (Grape seed would be best)

4 cups milk (whole milk is ok to use)

2 tablespoons fresh sage

1 tablespoon minced garlic (add more if you like)

1/2 stick unsalted butter

4 tablespoons all-purpose flour

Lasagna sheets dry no-boil pasta

1 1/3 cups Parmesan cheese

1 cup heavy cream (must use, omit of you have to)

1/2 teaspoon salt

Fresh cracked black pepper
PREPARATION
Preheat oven to 450°F. and grease 2 large baking pans.
Toss squash with oil in a bowl and spread in a pan and roast in oven 10 minutes and seasoned. Stir squash and roast until tender and beginning to turn golden brown and caramelizing
While squash is roasting, in a saucepan bring milk to a simmer with sage. Heat milk mixture over low heat 10 minutes and pour into a measuring cup.
In a large heavy saucepan cook garlic in butter over low heat, until softened. Mix in flour and cook roux, stirring, 3 minute, careful not to get too clumpy.  Remove pan from heat and whisk in milk mixture in a stream until smooth. Return pan to heat and simmer sauce, whisking occasionally, about 10 minutes, or until thick. Stir in squash and salt and pepper to taste.
Reduce temperature to 375°F. and butter a baking dish
Pour 1-cup sauce into baking dish (sauce will not cover bottom completely) and cover with 3 lasagna sheets. Spread half of remaining sauce over pasta and sprinkle with 1/2 cup Parmesan. Repeat!
Cover dish with aluminum foil and bake for 30 minutes. Remove foil and bake until top is bubbling and a little browned. Let it sit for a few minutes before you cut into it.
PUMPKIN PANCAKES:
INGREDIENTS
1 1/4 cups unbleached all purpose flour

3 tablespoons sugar

2 teaspoons baking powder

1 1/4 teaspoons pumpkin pie spice

3/4 teaspoon salt, Kosher Salt

1 1/3 cups whole milk

3/4 cup canned pumpkin

4 large eggs, separated

1/2 stick unsalted butter, melted

1 teaspoon vanilla extract
Vegetable oil

Maple syrup (Real Vermont would be best)
PREPARATION
Whisk first 5 ingredients in large bowl to blend. Add milk, pumpkin, egg yolks, melted butter and vanilla in a bowl to blend. Add pumpkin mixture to dry ingredients; whisk until smooth. Use an electric mixer, beat egg whites in another bowl until stiff peaks. Fold whites into batter in 2 segments. Coat large nonstick skillet with oil; heat over medium heat. Pour batter by ladle or measuring cup into skillet. Cook until bubbles form on surface of pancakes and bottoms are brown, about 1 1/2 minutes per side. Serve with Vermont Maple syrup.
PAN SEARED SALMON WITH PUMPKIN SEED AND CILANTRO PESTO:
INGREDIENTS
4 6-ounce salmon fillets

1/2 cup shelled pumpkin seeds

1/2 teaspoon coriander

1/2 cup cilantro (Use Kale, Mint or basil if you don't like Cilantro)

1/2 garlic head chopped

1 tablespoon fresh lime juice

Kosher salt and freshly ground black pepper

2 1/2 teaspoons plus 1/4 cup extra-virgin olive oil, divided

1 lime, cut into wedges
PREPARATION
Heat some of olive oil in a pan and sauté pumpkin seeds. Once they start changing color and looking toasty, place on paper towel and drain the oil.
For the Pesto: Pulse 6 tablespoons pumpkin seeds, cilantro, coriander seeds, and garlic in a food processor until coarsely chopped. While the machine running, slowly add lime juice, 1/4 cup oil, then 1/4 cup water, and blend till it forms. Add salt and pepper to taste
Heat up a pan with oil and add salmon fillets season with salt and pepper. Cook the Salmon until just opaque in center do not overcook!  3-4 minutes per side. Remove and place on platter and spoon pesto over the Salmon.
Bon Apetit!
Leave a Comment