NFL Fantasy: Week 2 Featuring Ms. Mallor
Josh Berenbaum, Jordan Brenner, and Justin Leff
Sports Editor, News Editor, and Wildlife Editor
Fantasy football is a cultural staple of many Milken students. This season, the Roar will be presenting a weekly advice column. The column will not only feature picks from resident analysts Jordan Brenner, Josh Berenbaum, and, Justin Leff, it will also highlight teachers, and their selected players for the week. This week features Jewish Studies teacher, Ms. Jessie Mallor.
Without further ado, here is the week 2 column.
Leff's Loves
QB — Tom Brady: The Patriots have a tough matchup this week against the Buffalo Bills, but don't expect this to stop Brady from scoring huge fantasy points. With the Bills strong run defense likely to take away most opportunities from the array of Pats running backs, Brady will need to air it out to win this one.

317 Yards 3TDs
RB — Justin Forsett: Forsett was a bust last week against a tough Denver run defense, but this week, against the awful Raiders defense, expect a big bounce back. Don't forget that Forsett has a career averaged 5.0 YPC, and last year, with 235 carries, he had an average of 5.4 YPC. This guy is a monster.
138 Yards 2TDs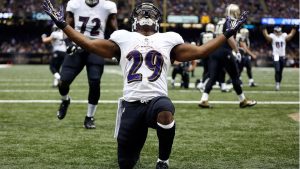 RB — Chris Ivory: Ivory destroyed the Browns last week, with 2 TDs in 20 attempts. He also had over 90 yards…now he's getting ready to run over a terrible Colts run defense.
120 Yards 1TD
WR — Julian Edelman: As mentioned above, Brady will be throwing plenty on Sunday, and Edelman is his number one target. In PPR leagues, Edelman will be a top 10 receiver.
112 Yards 1TD
Sleepers — Terrence Williams: No Dez Bryant means a lot more action for Williams who is now the number 1 WR on America's team. Romo threw him 8 touchdowns last year, and that number will increase by a lot this year.

90 Yards 1TD
Jordan Brenner's Pick:

QB Carson Palmer–After a performance that reminded the fantasy world of the quarterback he was, Carson Palmer is in line to continue his dominance against the Bears. In week one, the Bears gave up 3 touchdowns to opposing receivers. Expect Carson Palmer to meet or exceed his week 1 brilliance because of another favorable matchup.
315 Yards, 3 Touchdowns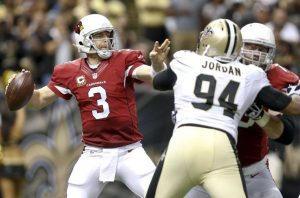 WR Jarvis Landry– However he is already a great WR3/Flex in most standard leagues, Jarvis Landry will establish himself as a top WR2 in PPR formats not only in week 2, but throughout the fantasy year. Facing a Jaguar defense that is not especially impressive, Ryan Tannehill will feast after a down week in week one. Expect Landry, Tannehill's top target to have a great week.

7 Receptions, 85 Yards, 1 Touchdown
WR Brandin Cooks– After a disappointing week one for the entirety of the Saints offense, expect Drew Brees' number one target, Brandin Cooks to breakout. Facing a Buccaneer defense that surrendered 42 points to the Titans in week one, there is much reason to believe that the Saints, and specifically Brandin Cooks will have a monster week.
6 Receptions 130 Yards, 1 Touchdown
Beware of Starting Tom Brady–Tom Brady will likely not completely bust this week. However, facing a stellar Bills defense that devoured Andrew Luck and the Colts, fantasy owners need to pay attention to the very real possibility that Tom Brady will struggle in week two. Tom Brady will not match his week 1 performance where he thrived against the Steelers subpar defense.
250 Yards, 2 Touchdowns, 1 Interception

Josh Berenbaum's Selections:

Tight End– Jordan Reed Targets, targets, targets. Jordan Reed was the Redskins' most targeted receiver in Week 1, making 7 catches on 11 targets. One catch was for a touchdown, and you should expect Reed to be targeted similarly with leading receiver Desean Jackson sidelined for the week. The best part is that Reed is available in more than half of ESPN leagues.
78 yards, 1 TD
RB-Chris Johnson– Incumbent Andre Ellington is doubtful to play this week, giving Chris Johnson one last shot at the spotlight. He is expected to be the featured running back week 2, against a Bears defense that had a hard time slowing Eddie Lacy down. Available in half of leagues, Chris Johnson has a chance to regain the form that won him the NFL Offensive Player of the Year in 2009. 
92 Yards, 2 TD
WR Alshon Jeffrey– Jeffrey disappointed his owners in the first week of the season, but the Cardinals defense allowed 180 yards to opposing receivers last week and shouldn't be any better this week. Jeffrey may have also been injured last week, while this week he should be back and healthy. Expect a significant increase in production from the Bears top Wide Receiver.
108 Yards, 1 TD
RB Carlos Hyde– It should not need to be said that the top scorer from week 1 should be in your starting lineup, but here it is: he should be in your starting lineup. Carlos Hyde looked elite Week 1, and he should continue to perform at a high level, even if he is not the best player this week. Hyde will probably return to Earth this week, and perform like a top running back anyways.
96 Yards, 1 TD
Sit Quarterback Tony Romo– The Quarterback's best friend is a wide receiver, and Romo's best friend Dez Bryant is sidelined for the next couple games. Byron Maxwell, the Eagles' shut down corner, should have a much easier time covering Terrance Williams after drawing a tough assignment in Week 1 in Falcons superstar Julio Jones. Waiver wire options include Marcus Mariota and Nick Foles, who should both have better games than Romo as they play poor defensive teams.
227 Yards, 1 interception, 1 touchdown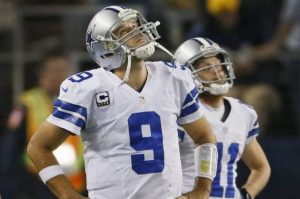 Ms. Jessie Mallor

Hello fellow fantasy football addicts! It would be hard to imagine someone more excited than I am about this week's upcoming match-ups. After a lot of reflection and some really in-depth research, I am fully prepared to make my recs.

My man Adrian P. is fully in the house this week! What up Adrian!!!! His punting, knitting and long-range free throws have never been tighter than they are right now, and his newfound vegan air-only diet seems to be really paying off. If you don't have this guy on your team, then beg, borrow or steal to get him! 897 FFFFFGPs??? Whaaaat?
After that, my advice is to put Alshon Jeffrey on the back burner. At 57 years old, this guy is really too old to be playing. Plus, my digging has turned up a late-in-life chicken allergy that flares up whenever the wind blows north by northeast—and in the AFL, that's a real problem. His 382 PPPGFs put him at a low-value 882728th in week 11, and that ain't right, y'all. I recommend dropping him and re-investing in Odell Backscallion, whose fireworks in the relatively new position of lightning back shook up the Aloe Vera Stadium last Saturday. Backscallion's capacity to get his low-end QB6 some much needed PPP–wow, that's all I can say.
Finally, the match-up between the Jets and the Tuscon Geysers has me on tenterhooks! Tom Brady (his dubious political ideas aside) is ON FLEEK in his starring role as center guard, and his counterpart Ellington Sue McWhorter-Vorter is just plain LIT when it comes to his pushing, rushing, flushing and passing. Together, he and Dez Bryant make an unstoppable left-field unit. This game is really going to be one for the ages, and I expect to see some really high total points, not to mention a mind blowing halftime show thanks to the sponsorship of Monsanto and the Bolshoi Ballet. CAN'T WAIT!
Leave a Comment