Why You Should Care About YOZMA Even If You Are Not A Part Of It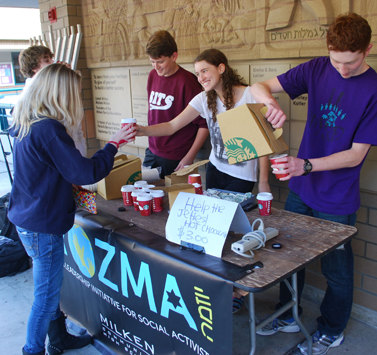 Natalie Pashaie
Staff Writer
YOZMA meets primarily Thursdays at least twice a month. It is the social action program at Milken that everyone hears about and knows about, but unfortunately, not everyone cares about.
It states on the YOZMA application:
"YOZMA is the social action arm of Milken Community Schools. Through a leadership-based curriculum and lenses of Torah, students work collaboratively in groups to envision, plan, teach and implement ideas and actions for one particular cause throughout the academic year. YOZMA is student-driven and faculty-guided."
There are seven factions of YOZMA. The Global Response group, which focuses on global emergency outreach, the Children group, which focuses on children's needs in the United States, and the Heart Action group, which focuses on assisting the elderly. That is not all, though- there is the Greening group, which focuses on education, action and awareness for a greener Milken, Hunger and Homelessness, which focuses on completing local service projects, the Israel group, which focuses on advocacy support and celebration of Israel, and the Jewish World Watch group, which advocates against genocide in Darfur, Sudan, and the Congo.
All of this advocacy may be overwhelming. So unbelievable, that the student body tends to dismiss it entirely. There are those who are a part of YOZMA, and those who are not. After all, something so incredible and impressive probably is not true. The students love to pride themselves on being activists just as much as the school does, but they don't really do anything.
That could not be farther from the truth. Milken facilitates and supports a student body of ambitious, hard working, insightful, and intelligent students who actually desire to take part in social action. Here's the proof:
The Global Response group raised hundreds of dollars this year through a fundraiser in the Milken Mart for Pencils of Promise, an organization supporting the building of schools around the world for children who otherwise would not be able to access education. The Children's group hosted their first toy drive and sent toys to places like the Midnight Mission and Hope of the Valley Rescue Mission. They also hosted their 2nd annual Red Hand Day event, where they raised awareness about the use of child soldiers around the world. The Greening group planted vegetables that would eventually be harvested and sent to food pantries. Those in the Heart Action group visited old age homes such as Sunrise of Beverly Hills and bonded with it's members.
…And those aren't even all the groups.
When asked what her favorite part of the program is, Milken junior and member of the YOZMA Israel group Julia Taban shares that "Being apart of YOZMA allows me to expand my horizons and learn new things and explore ideas I had never even thought of." Fellow junior Rebecca Kianmahd and co-chair of YOZMA's Children's group adds that "It is hard to pinpoint my favorite thing, but it is probably the opportunity to work with so many students who also love to take part in social action and who have a similar passion for working with children. We also have the chance to hear successful speakers in some of our meetings and it is an amazing experience to hear their success and how it connects to our work in YOZMA."
All the social action that has been done throughout the year related to YOZMA deserves to be recognized, rather than dismissed. It is a program that truly exemplifies a large part of what makes this school so unique. Not only does YOZMA help students help the world, it also teaches students how to foster their ambitions and visions for social change and turn them into a reality. That's a pretty big deal.
View Comments (1)